Pop singer Ariana Grande has suspended upcoming tour dates in the wake of the deadly suicide bombing that claimed 22 lives after her concert in Manchester, England, according to her management.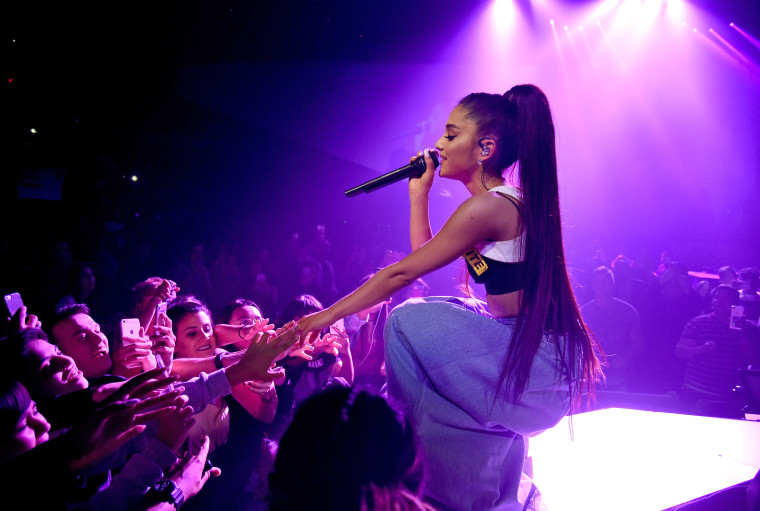 Grande's management team announced in a statement Wednesday that it had suspended the "Dangerous Woman" tour "until we can further assess the situation and pay our proper respects to those lost."
Grande's performances in London that were scheduled for this week, as well as all shows through June 5, have been cancelled, the management team said.
"We ask at this time that we all continue to support the city of Manchester and all those families affected by this cowardice and senseless act of violence," the singer's management said in its statement. "Our way of life has once again been threatened but we will overcome this together."
The pop singer has not made a public statement following the Monday night attack, but turned to Twitter to say that she was left "broken" and speechless in its aftermath.
"Broken. from the bottom of my heart, i am so so sorry. i don't have words," she said in the post.
The suicide attack left 22 dead and 59 injured, with many of those in life-threatening condition, Britain's Prime Minister Theresa May said Tuesday. The victims included children and young people attending the concert at Manchester Arena on Monday.
May announced during a televised statement Tuesday night that the United Kingdom had raised its terror level to "critical" — the highest category — meaning that another attack "may be imminent."
She also announced that British troops would be deployed to assist police in protecting the public and major landmarks in the wake of the attack.
Police said on Wednesday that suspected bomber Salman Abedi was part of a terrorist network and not acting as a lone-wolf. Six suspects have been arrested so far. That includes the suspect's brother Hashem Abedi and his father, whose name was not immediately available. They were arrested in the Libyan capital of Tripoli, NBC News' U.K. partner ITV News reported. Four other men were also detained in south Manchester in connection with the case.
Multiple intelligence and law enforcement officials told NBC News that Abedi was also on the radar of the U.S. intelligence community before the attack.
Meanwhile, fans of fellow pop star Justin Bieber have flooded social media, pleading with him to cancel his upcoming British tour dates following the attack, according to Reuters.