Pop singer Ariana Grande said she felt "broken" after a suicide attack late Monday killed at least 22 people — including some children — and wounded another 59 after her packed concert in Britain's Manchester Arena.
"From the bottom of my heart, i am so so sorry. i don't have words," tweeted Grande, who was unharmed by the blast, to her more than 45 million followers.
Her manager, Scooter Braun, also posted condolences to the victims on social media and said "tonight, our hearts are broken."
Related: Music Legend Says Daughter 'Home Safe' After Attack
"We mourn the lives of children and loved ones taken by this cowardly act," he added. "We are thankful for the selfless service tonight of Manchester's first responders, who rushed towards danger to help save lives."
The culprit behind the bombing was killed in the attack after detonating the improvised explosive device, authorities said. He was identified Tuesday as 22-year-old Salman Abedi, who sources told NBC News had a British passport. The suspect set off the bomb near one of the venue's exits as the predominantly younger crowd let out of the arena around 10:30 p.m. local time.
The chaos set off a night of distress for parents who spent hours frantically searching for their children missing after the attack.
Florida-born Grande, 23, has been on the U.K. leg of her "Dangerous Woman" world tour, which began in February.
She is scheduled to play London's The O2 Arena on Thursday, but her publicist has not announced whether she plans to continue with her upcoming dates.
Grande gained a worldwide fan base of teens and preteens after becoming a child star on Nickelodeon's "Victorious" in 2009 before getting her own spinoff, "Sam & Cat."
She released her first album in 2013, racking up two Top 40 hits and earning acclaim as a vocalist with a high-flying range in the style of Whitney Houston and Mariah Carey.
The ponytailed "Problem" singer has since won three American Music Awards, six Teen Choice Awards and was nominated for four Grammy Awards, most recently this year for her latest album, "Dangerous Woman."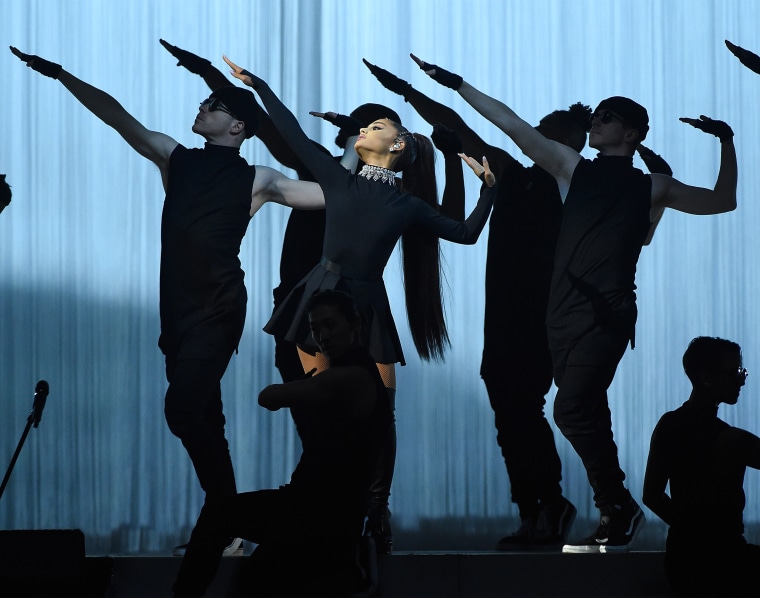 The tour has included pink balloons and fans wearing bunny ears in honor of Grande's "Super Bunny" alter ego.
PHOTOS: Deadly Explosion Targets Ariana Grande Concert in Manchester
Manchester Arena — one of the largest indoor venues in Europe with 21,000 seats — is set to host another concert on Thursday. It was not clear if the performance would take place.
Other artists in the pop world shared their sympathies with the victims, and Miley Cyrus said on Instagram that she was "wishing I could give my friend @ArianaGrande a great big hug right now."