MANCHESTER, England — Split-second decisions during the terrifying moments after a suicide bomber targeted Ariana Grande fans leaving a pop concert transformed many regular people into heroes. Here are some of their stories.
'I just did it instinctively'
Paula Robinson had just been out with her husband celebrating their 13th wedding anniversary when the blast struck near the 21,000-capacity Manchester Arena.
The 48-year-old nursing assistant was just about to order a drink from a nearby bar when she heard "a really loud bang."
Seeing the chaotic swarm of terrified children and teenagers streaming out of the venue — many of them crying out for their parents who were due to collect them — Robinson knew she had to act.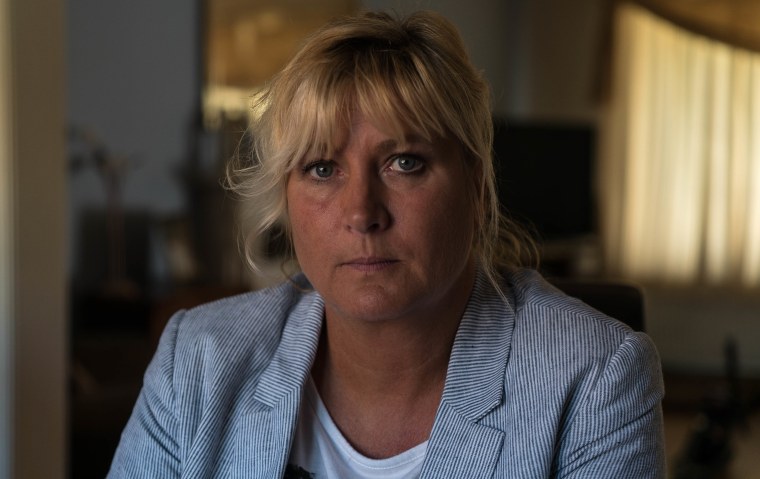 "People were just running out and running in every direction," she said in an emotional interview with NBC News. "There were a lot of children and they were shouting for their dads [who] must have been picking them up."
After seeing two children saying that they had no phone, she took charge.
"I just went over, got hold of them, and me and my husband just said, 'Come with us, we'll ring your dad, let's just get safe,'" she said.
The couple ran to a nearby hotel, which they figured they could use as a meeting point for kids separated or unable to contact their parents. Soon they picked up a large crowd of followers.
"I was just shouting to people to make their way there, if you can't find your mom and dad," she said, beginning to tear up as she recalled those frantic moments.
In all, dozens of children went with her to the hotel, leading many of them being reunited with their families.
She posted on Facebook that she had a large group with her, a message that went viral and led to her being hailed as a hero.
But she disagrees.
"I didn't do it as a hero, please, I feel ridiculous," she protested. "I just did it because that's what I was doing … I just did it instinctively … I didn't have a plan."
Not all of the parents who called her were so lucky, however.
"I do know that one of the parents I spoke to … their little girl isn't OK," she said.
"So I'm sorry if I'm crying but it's just…" Robinson added through tears before trailing off.
'I was trying to keep this girl alive'
Phil and Kim Dick were in the arena's entrance hall to collect their youngest daughter and granddaughter.
They ended up tending to seriously injured children even as they searched for their own family members.
Kim comforted a 14-year-old girl and contacted her parents to reassure them she was alive.
"There was an almighty bang, the loudest I've ever heard, and a flash," she told ITV's "Good Morning Britain" on Wednesday. "There were bodies everywhere, then a deathly silence. And then people crying and moaning and screaming. I was screaming, 'My babies, my babies.' I didn't know what to do."
She added: "In the rubble and the air there was a little girl staggering towards me as if she was going to fall. She was covered in blood, her hair was all burned and there was blood coming out of her mouth and her shoulder. I just grabbed her and held her."
Phil found himself searching the nearby bodies looking for their relatives.
"My husband kept coming back and saying, 'Can't find them' and going back into the arena," she recalled. "There was blood pouring from this little girl and I was asking people, 'Help, help,' and screaming, 'My babies are in there.' It just seemed to go on forever."
Phil revealed how she was determined to keep the young victim alive.
"She kept closing her eyes and I was talking to her," Phil said.
He recalled telling his wife: "'I'll go find the girls, you just look after this little girl,' and I went back in. We didn't know at that time whether our daughter and granddaughter were among the injured."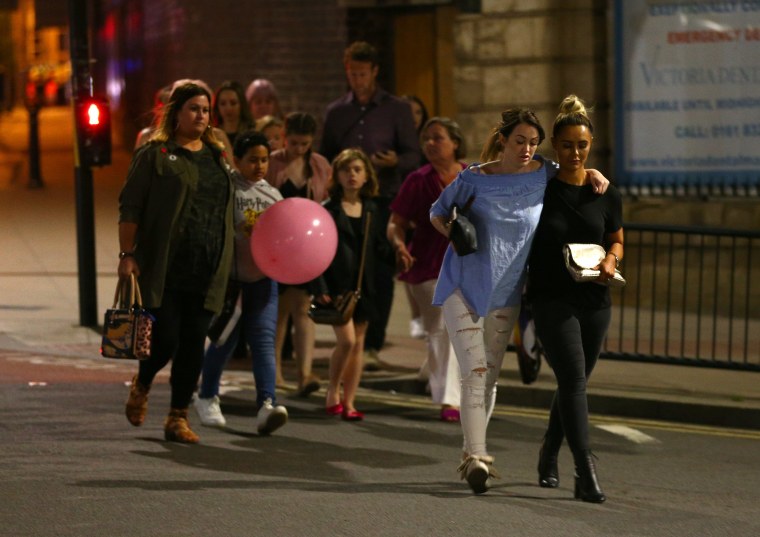 Even after Phil located their missing family members, Kim continued to care for the youngster.
Kim said: "This little girl, I was so scared she was going to die. She was shaking, she was so cold. I was sat in a pool of blood, holding her saying, 'The ambulance is coming, the ambulance is coming.'"
The couple later learned that the girl — whose name is Freya — suffered several broken bones and severe lacerations but survived.
'There were bodies everywhere'
Also waiting for their daughter were Elena Semino and her husband, who were waiting by the ticket office when the explosion occurred.
"My husband and I were standing against the wall, luckily, and all of a sudden there was this thing," she told the Associated Press. "I can't even describe it. There was this heat on my neck and when I looked up there were bodies everywhere."
She had suffered wounds to her neck and leg, but nevertheless dashed straight into the maelstrom to find her daughter.
Her husband, who suffered a minor injury, stayed behind to help an injured woman, according to the AP.
Semino later found her 17-year-old daughter, Natalie, and her friends, safe.
The aunt who saved her niece
The Star, a newspaper based in the nearby city of Sheffield, paid tribute to a local woman named Kelly Brewster.
The 32-year-old died after shielding her sister and her sister's 11-year-old daughter from the explosion, the newspaper reported.
She was killed, and while her sister, Claire, 34, and niece, Hollie, sustained what the paper described as "horrific shrapnel wounds" they survived and were being treated in hospital on Wednesday.
Alexander Smith, Yuka Tachibana and Kelly Cobiella reported from Manchester. Alastair Jamieson and Mac William Bishop reported from London.