MANCHESTER, England — The suicide bomber who killed 22 people after an Ariana Grande concert was part of a network that included his brother, who was arrested Wednesday as he was allegedly plotting a terrorist attack on the Libyan capital of Tripoli.
The revelation came as British troops were deployed to protect landmarks in major cities and six more suspects, including suspected bomber Salman Abedi's father were arrested.
"It is very clear this is a network we are investigating," Manchester police chief Ian Hopkins said. "We are carrying out extensive searches."
Meanwhile, NBC News reported that the 22-year-old Abedi was also on the radar of the U.S. intelligence community.
Abedi's brother Hashem and his father, Ramadan, were arrested in Tripoli by the local militia, NBC News' U.K. partner ITV News reported.
Hashem Abedi had been under investigation for more than a month and was arrested after receiving 4,500 Libyan dinars ($3,230) from his brother, Libyan Interior Ministry officials said in a Facebook post translated by NBC News.
Related: Ariana Grande Fans Suffered 'Same Injuries' as Kids in Syria
A 20-year-old engineering student back in Manchester, Hashem Abedi admitted being in Britain when his brother was preparing to launch the attack after an Ariana Grande concert — and said they both belonged to ISIS, according to the post.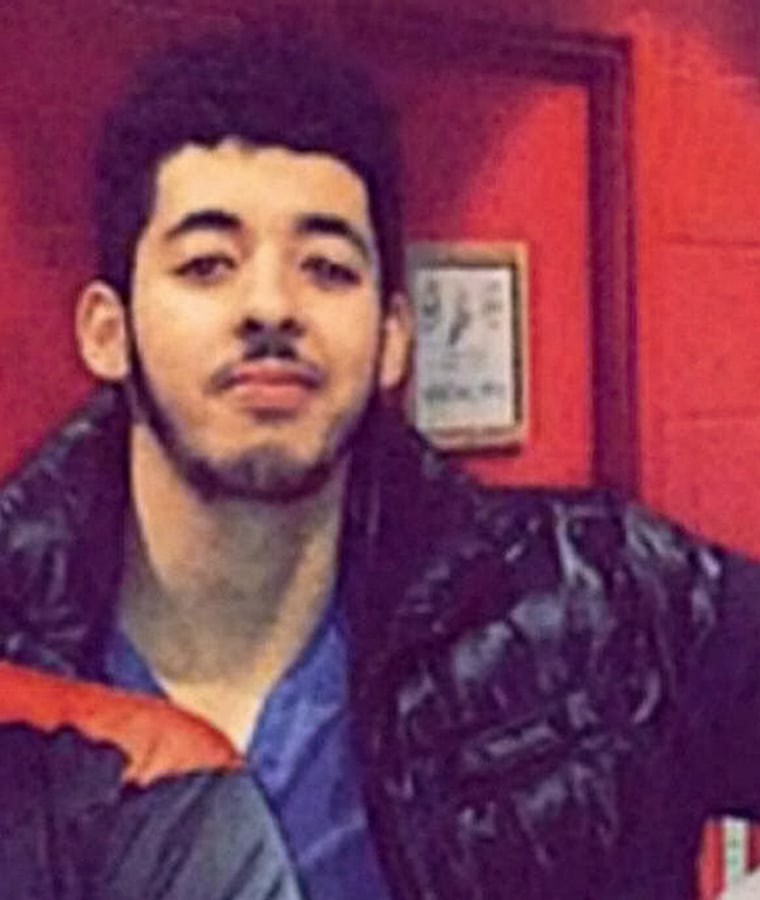 Hashem Abedi left for Libya on April 16 but was in "constant contact with this brother," the post said.
Four men also suspected of being part of the plot were also arrested Wednesday in south Manchester. Later, police announced the arrest of a woman after heavily-armed officers raided an apartment complex in the Blackley neighborhood in north Manchester.
Police said Thursday morning local time that the woman was released without charge.
None of the people in police custody have been identified. And police are trying to identify who put together the bomb that investigators say Abedi carried into the Manchester Arena on Monay and detonated at the close of the Grande show.
Earlier, interior minister Amber Rudd told the BBC that the bombing suspect Abedi "was known" to intelligence services. She added that up to 3,800 soldiers would be put on Britain's streets.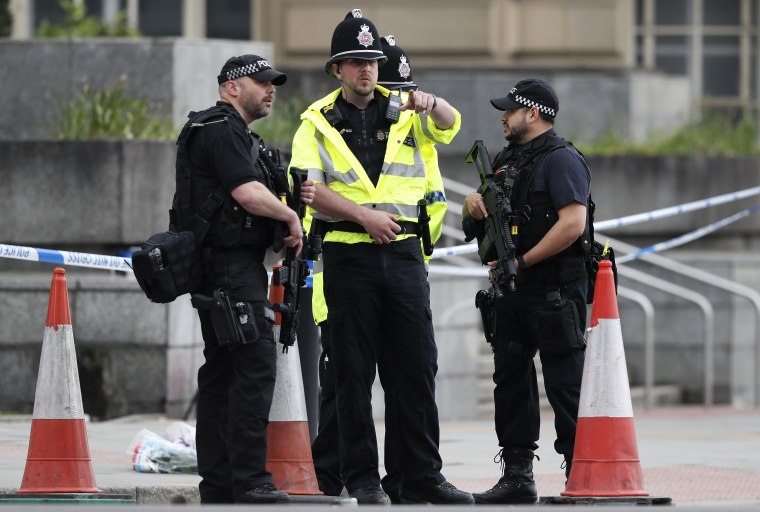 The presence of heavily armed troops in urban areas is highly unusual in the U.K. More than 90 percent of police officers tasked with protecting London's 8.5 million residents do not carry guns.
The United Kingdom raised its terrorist threat level to "critical" — the highest category — after the deadly terror attack.
Troops were sent to key locations in London, such as Buckingham Palace, the prime minister's residence at 10 Downing Street, Parliament and foreign embassies.
Related: How Heroic Strangers Saved Kids' Lives After Concert Bombing
Earlier, a U.S. intelligence official who has direct knowledge of the investigation had told NBC News that Abedi's device was "big and sophisticated," using materials hard to find in Britain — meaning "it's almost impossible to see he didn't have help."
Abedi, whose family is of Libyan descent, had ties to al Qaeda, received terrorist training abroad and traveled to Libya within the last 12 months, the source added.
A "follow-on" attack is possible, the official said.
France's interior minister said Wednesday that Abedi is believed to have traveled to Syria and had "proven" links to ISIS. He did not provide details.
ISIS claimed responsibility for the attack on Tuesday but did not provide any evidence.
Manchester police said they believe they have now identified all of the bombing victims. One of them was an off-duty police officer, according to Hopkins.
A Polish couple was also killed and another Pole described as "a father of a family" was injured, the country's Ministry of Foreign Affairs said in a statement.
Separately, London police said they had arrested a man with a knife near Buckingham Palace, adding in a statement that the incident was not thought to be "terrorist related."
An ethnically and religiously diverse city of 530,000, Manchester became home to many Libyan exiles in the 1980's who fled the repressive rule of Moammar Gaddafi. He was deposed and killed in 2011.
F. Brinley Bruton reported from London. Richard Engel reported from Manchester. Corky Siemaszko reported from New York.