MANCHESTER, England — Salman Abedi, the 22-year-old British man believed to have killed 22 people in a suicide-bomb attack, had ties to al Qaeda and had received terrorist training abroad, a U.S. intelligence official told NBC News on Tuesday as the United Kingdom raised its terrorist threat level to the highest category.
The U.S. intelligence official, who has direct knowledge of the investigation, said Abedi, whose family is of Libyan descent, was identified by a bank card found in his pocket at the scene of the explosion after an Ariana Grande concert at Manchester Arena. The identification was confirmed by facial recognition technology, the official said.
Abedi had traveled to Libya within the last 12 months, one of multiple countries he had visited, the official said. And while he had "clear ties to al Qaeda," the official said, Abedi could have also had connections to other groups.
Members of his own family had even informed on him in the past, telling British authorities that he was dangerous, according to the intelligence official.
The U.S. official said Abedi's bomb was "big and sophisticated," using materials hard to obtain in Britain — meaning "it's almost impossible to see he didn't have help."
The official said investigators were concerned that Abedi could have been part of a terrorist cell, the extent and allegiances of which remain unclear. A "follow-on" attack is possible, the official said.
British Prime Minister Theresa May echoed the warning in raising the country's threat level from "severe" to "critical," saying Tuesday that "a further attack may be imminent." Under the order, armed military personnel will replace police guarding "key sights" and events like concerts and sports matches, May said.
And London Mayor Sadiq Khan told residents to expect to see armed officers and military personnel on the streets. "They are there to help our police service to keep us safe and guard key sites," he said.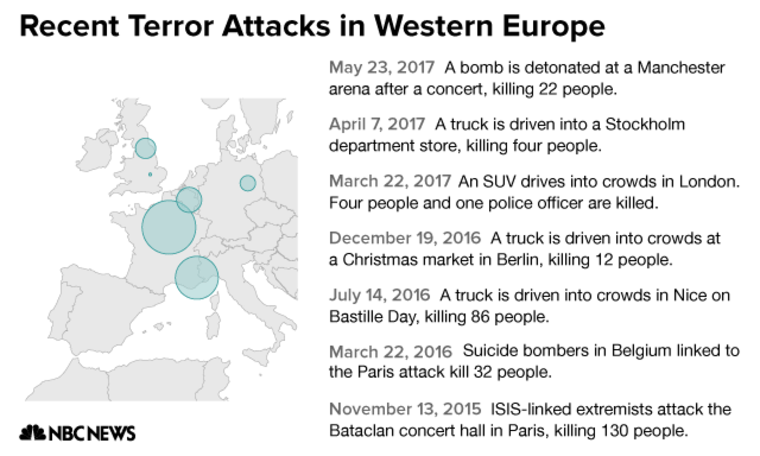 Police said Tuesday that Abedi was responsible for the deadliest terrorist attack in the United Kingdom since four suicide bombers killed 52 London commuters on three subway trains and a bus in July 2005.
A spokesman for the University of Salford in Manchester told NBC News that Abedi enrolled there to study business management in September 2015. He re-enrolled last September, but he hadn't attended classes for several months, the spokesman said.
ISIS has claimed credit for the deadly attack, but so far neither British nor U.S. authorities have been able to link Abedi to the fanatical Islamic organization, which has inspired other lethal terrorist attacks in Europe.
Abedi, however, was known to British police and intelligence services, government sources told NBC News.
Speaking Tuesday night from Downing Street, May said that while investigators were still working to determine whether Abedi acted alone, "the work undertaken throughout the day has revealed that it is a possibility we cannot ignore that there is a wider group of individuals linked to this attack."
Earlier, Ian Hopkins, chief constable of the Greater Manchester Police, warned residents of this diverse city against any reprisals.
"We understand that feelings are very raw right now and people are looking for answers," he said. "We will not tolerate hate towards any parts of our community."
Hopkins amplified on that theme at a heart-wrenching vigil in the city's Albert Square, where thousands of faces were glazed by tears as the mournful tones of Samuel Barber's "Adagio for Strings" were played in remembrance.
"Today is a day we all hoped and prayed we would never see," he said. "We must all stand together and not let the terrorists defeat us."
As condolences from President Donald Trump and other world leaders poured in, Queen Elizabeth II and Prince Philip observed a moment of silence for the Manchester victims at Buckingham Palace.
So far, police have identified only three of the victims: Saffie Rose Roussos, 8, Georgina Callander, 18, and John Atkinson, 26.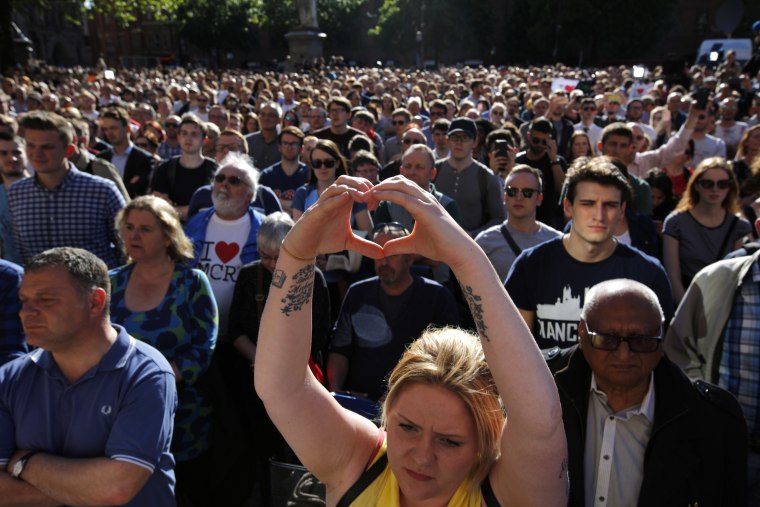 Meanwhile, NBC News has learned that the MI5 intelligence agency and other British investigators were questioning Abedi's 23-year-old brother in connection with the attack. They are trying to determine what drove Abedi to set off a bomb in Manchester Arena, which was crowded at the time with teenage girls — Grande's fan base.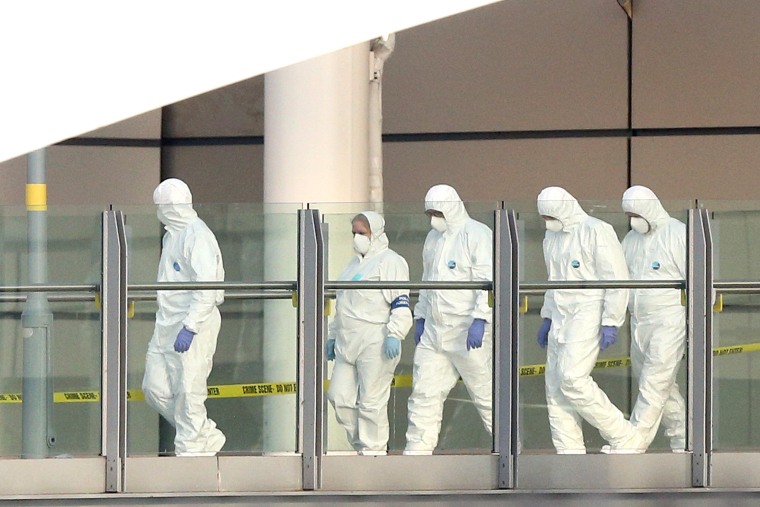 In Washington, Rep. Michael McCaul, R-Texas, chairman of the Homeland Security Committee, said on MSNBC that the timing of the attack was "very interesting." He noted that it happened right before the British elections and after Trump visited Saudi Arabia and Israel.
"I wonder if there's some connection between these visits and how he's condemned the radical Islamist terror, and then the response we see in Manchester," McCaul told MSBNC's Andrea Mitchell.
Former President Barack Obama tweeted support for Britain.
It was 10:33 p.m. local time (5:33 p.m. ET) Monday, and Grande had just wrapped up her show as jubilant fans were filing out of the exits amid a sea of pink balloons when Abedi detonated his bomb, killing himself instantaneously, police said.
In a sickening flash, a fun evening was transformed into carnage and chaos, and video shot inside the 21,000-capacity venue showed terrified teenagers screaming and struggling to get out of harm's way.
Alison Pritchard, 34, who works as a waitress, recalled hearing "an almighty explosion behind us."
Her friend Carole Taylor, 49, a teacher, told NBC News that she turned around to see "this plume of smoke coming over and all this sort of debris and embers floating from the roof."
"When it exploded, it just rocked your whole body," she said. "It went right through us. People started screaming."
Initial reports indicated that some of the 59 people who were hurt — some with life-threatening injuries — were injured during the stampede for the exits.
Within hours, a police bomb disposal unit carried out a controlled explosion just south of the arena in an area called Cathedral Gardens. The suspected bomb turned out to be a pile of clothes.
Then, just before noon Tuesday, police nabbed the 23-year-old South Manchester man in connection with the blast.
And around 2 p.m. Tuesday, Manchester police executed a search warrant at a residence in the Whalley Range neighborhood about 4 miles south of the arena, where they carried out a second controlled explosion. It was not immediately clear what they blew up this time.
Richard Engel and Alexander Smith reported from Manchester. Tom Winter and Corky Siemaszko reported from New York. Alex Johnson reported from Los Angeles.