LONDON — A three-day weekend of security headaches loomed in Britain amid fears that members of a terrorist network linked to the Manchester bomber remained on the run.
Monday is a public holiday across the U.K. and several high-profile music festivals and sporting events are scheduled — bringing huge crowds together.
A blast targeting fans leaving an Ariana Grande concert killed 22 people and injured scores more on Monday night.
Police believe 22-year-old bomber Salman Abedi did not act alone. Manchester police arrested another man in connection with the attack on Friday, bringing the total number of suspects currently in custody to eight.
Thousands of troops were subsequently deployed on Britain's streets.
London's Metropolitan Police also said they would increase the number of armed officers on duty as the city hosts the FA Cup soccer final at the 90,000-capacity Wembley Stadium on Saturday, while 82,000 fans will attend rugby's Aviva Premiership Final.
For the first time in British history, armed police are also patrolling trains.
The presence of police and troops carrying guns is highly unusual in Britain's urban areas. More than 90 percent of the police officers tasked with protecting the capital's 8.5 million residents do not carry guns.
Security was also being stepped up ahead of the BBC Radio 1's Big Weekend music festival in the city of Hull, a two-hour drive east of Manchester. It features acts including Katy Perry, Lana Del Ray, Lorde and Kings of Leon.
Several soccer teams in England and Scotland said end-of-season victory parades and other celebrations would be cancelled in the wake of the attack.
Related: Grieving Manchester Shows Off Its 'Stiff Upper Lip'
St. Pancras station, one of London's main transport hubs, was packed on Friday as thousands tried to get a head start on the long weekend.
John Masters, 41, was catching a train to visit his niece in Kent, a county east of London, said no one should live in fear.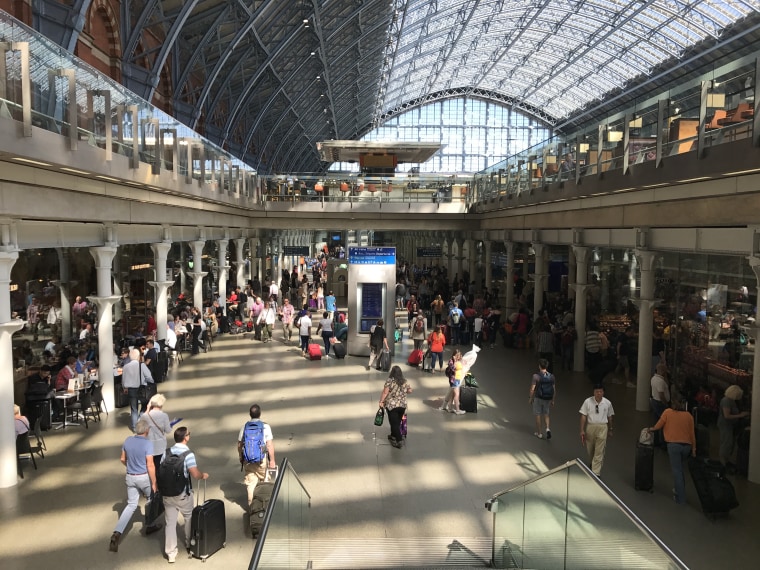 "Fate is fate. I've got no fear. Everyone has got the right to carry on," he said checking the display board.
Benjamin Prichici, 24, who was playing the piano in the station's open concourse agreed, "I'm not worried," he said. "I think British security is pretty good. I just hope attacks won't happen anymore."
Others said they had become more vigilant but said the threat wouldn't stop them from travelling.
"I'm more aware of my surroundings," said Chris Hayes who was taking a train to Nottingham to meet friends. "But otherwise it's business as usual, we continue as normal."