President Donald Trump on Thursday called the alleged intelligence leaks following the Manchester Arena bombing "deeply troubling" and ordered the Justice Department to find out who was behind them.
Trump's statement, released by the White House during a summit with world leaders, didn't mention Monday night's terrorist attack in Manchester by name, but it came after British Prime Minister Theresa May said she would tell Trump that security intelligence must remain tightly held between the longstanding allies.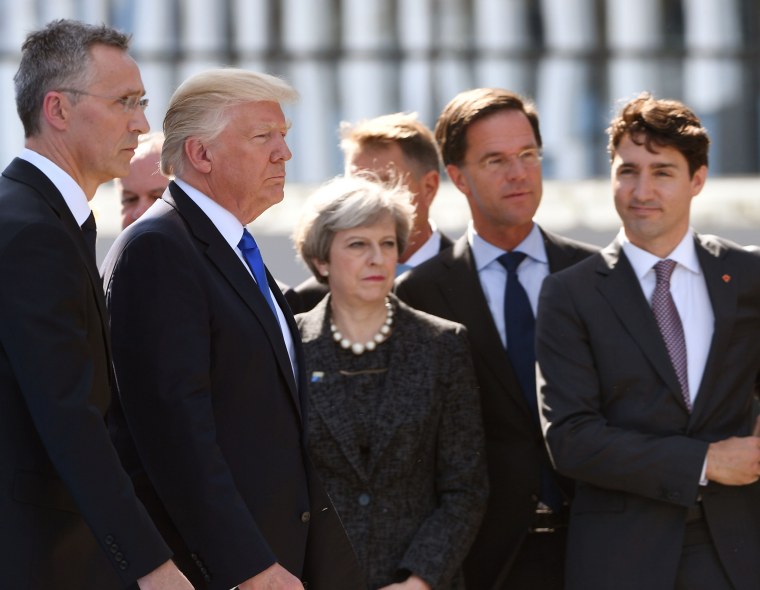 British authorities are continuing to investigate the suicide bombing outside of an Ariana Grande concert that killed 22 and was carried out by a Manchester-born man whose family is accused of having terrorist ties in Libya, officials said.
British counterterrorism police briefly suspended sharing of intelligence with U.S. authorities after The New York Times published photos of evidence collected from the crime scene — a public display that they said "undermines our investigations."
A senior U.S. law enforcement official told NBC News that the same photos were provided by British authorities to American investigators. The Times didn't disclose how it obtained the photos.
Intelligence sharing resumed Thursday night, British police said after Trump made his remarks.
"While we do not usually comment on information sharing arrangements with international law enforcement organizations, we want to emphasize that having received fresh assurances, we are now working closely with our key partners around the world including all those in the 'Five Eyes' intelligence alliance," said Mark Rowley, Britain's top counterterrorism investigator.
"Five Eyes" refers to the United States, Britain, Canada, Australia and New Zealand.
Related: Manchester Bomber Known to U.S. Authorities Before Attack
May had said she would make it clear to Trump during Thursday's NATO summit in Brussels that she wants the countries' shared intelligence to be protected.
"We have a special relationship with the USA. It is our deepest defense and security partnership that we have," May told reporters. "Of course, that partnership is built on trust, and part of that trust is knowing that intelligence can be shared confidently."
U.S. Attorney General Jeff Sessions said he spoke with British Interior Minister Amber Rudd on Wednesday about the alleged leaks.
Such leaks "cannot be tolerated and we will make every effort to put an end to it," Sessions said in a statement Thursday. "We have already initiated appropriate steps to address these rampant leaks that undermine our national security."
Trump reiterated in his statement that he wants the Justice Department to review the matter and said any culprits would be "prosecuted to the fullest extent of the law."
"The alleged leaks coming out of government agencies are deeply troubling," Trump said. "These leaks have been going on for a long time and my Administration will get to the bottom of this."
The president has repeatedly expressed aggravation with high-profile leaks, some of which played a part in the resignation of National Security Adviser Mike Flynn. In February, Trump directed the Justice Department to investigate "criminal leaks" and claimed that those leakers were holdovers from the Obama administration.
Related:Manchester United Win Brings City Together After Concert Bombing
Trump, while in Jerusalem on Tuesday, condemned the Manchester bombing and said "dozens of innocent people, beautiful young children, [were] savagely murdered in this heinous attack upon humanity."
The suspected bomber was identified as Salman Abedi, 22, who was previously on the radar of the U.S. intelligence community. Multiple U.S. officials told NBC News that he had traveled to Libya and may also have entered Syria.
But it wasn't immediately known whether Abedi had any training or specific ties to foreign terrorist groups.
At least six people have been detained so far in connection with the case, including Abedi's brother and father, both of whom were taken into custody in the Libyan capital, Tripoli, NBC News' U.K. partner, ITV News, reported Wednesday.
"It is very clear this is a network we are investigating," said Ian Hopkins, chief constable of the Greater Manchester Police.