MANCHESTER, England — The deadly suicide bombing after an Ariana Grande concert sparked a nationwide increase in security with troops deployed on Britain's streets for the first time since 2003.
The country was at the highest possible terror threat level but onlookers may well have not realized it.
Streets were busy and laughter could once again be heard from outdoor cafes, as residents of Manchester — known as Mancunians — began the onerous task of trying to carry on with their lives Wednesday.
The British concept of the "stiff upper lip" — epitomized by the "keep calm and carry on" ethos born out withstanding German bombing during the Second World War — was very much on display.
Just a few hours after Monday's blast, one local radio host invoked that so-called "blitz spirit," along with a devastating 1996 IRA bombing, and insisted that Manchester had not been intimidated before and would not be this time.
However, the usually vibrant and friendly northern English city is not yet back at full strength following the suicide attack.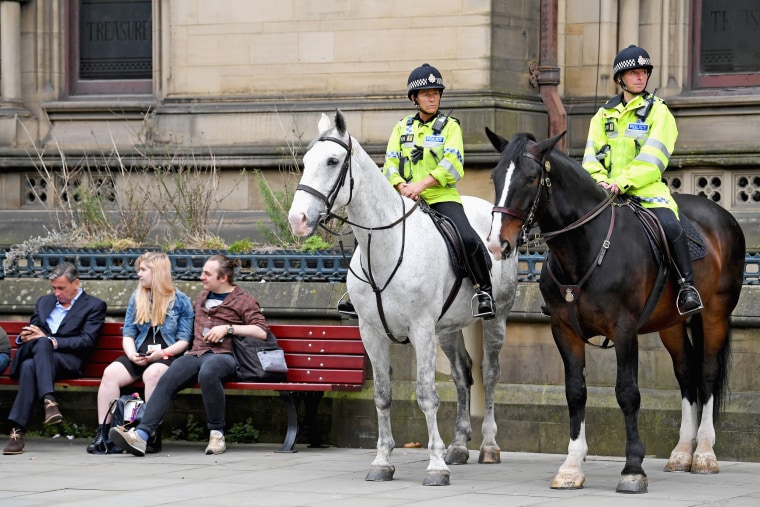 A series of evacuations and police operations betrayed a still-jittery atmosphere, understandable so soon after the tragedy less than 48 hours before.
"It's all pretty nervy," said Marcus Murray, a 27-year-old software engineer.
He came home from work to find a police officer stood in the doorway of his building holding a gun — a rarity in the U.K. where firearms are rare even for authorities.
Murray's apartment building was at the center of an operation featuring officers carrying rifles and security personnel dressed in military fatigues.
"The policeman holding a gun told me I can't come in basically," he said.
Elsewhere in the city, even evacuations that may well have been innocuous took on a sinister edge in the minds of those being asked to move.
At one point during the day a local gym was evacuated, leaving those turfed out on the streets to wonder whether they were in danger. It turned out to be harmless fire alarm.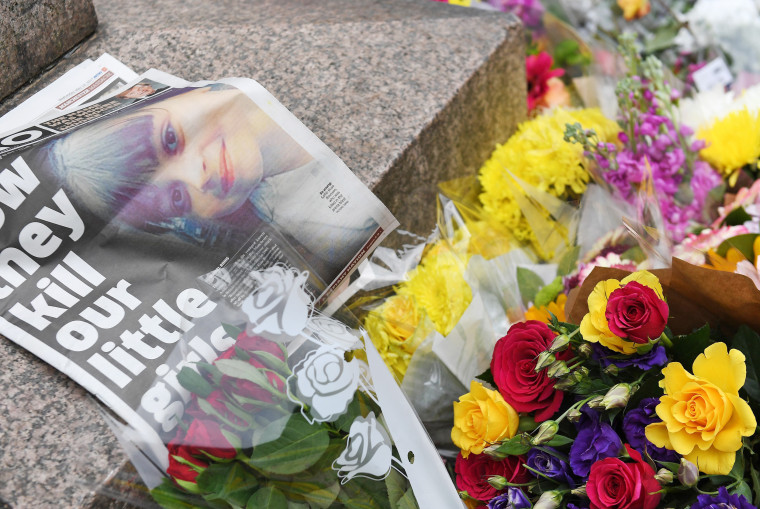 Their concern was not baseless. Earlier, Manchester police chief Ian Hopkins had said that it was "very clear this is a network we are investigating."
There were plenty of signs that Manchester was hurting under its brave face. The gangs of journalists and camera crews, for one. And the piles of flowers and candles that adorn the floors of several central squares.
That, coupled with the fact that a chunk of the city center remains behind blue police tape, blocking trams, cars, workers and pedestrians from their normal routine.
However, Manchester police said that unlike elsewhere in the country no troops would patrol the city's streets.
One restaurant manager summed up the mood.
"It's better than it was yesterday, but it's not Manchester yet," said the man, who asked not to be identified because it was against his company's policy to speak with the media.
Wednesday night will see Manchester United face Dutch soccer giants Ajax in the Europa League final in Stockholm, Sweden.
Normally bars around the English city would expect busy crowds during the game, but with other events cancelled around the country there is a question mark about whether some fans will instead choose to watch the match at home.
"It's like there's something missing in the air, that energy," the restaurant manager added. "People are around but they are keeping their heads down," he said. "I hope by the weekend it will be back to normal. But at the moment I've never known anything like it."