Security was tight but the mood was exuberant Sunday at a historic cricket stadium in Manchester, where thousands of music fans turned out to see Ariana Grande and other pop stars pay tribute to the victims of last month's suicide bombing in the English city.
"Tonight is all about love," a teary-eyed Grande told the crowd of thousands at the "One Love Manchester" concert. The lyrics to her hit love ballads seemed to take on special resonance in the wake of the May 22 attack: "I'm stronger than I've been before," Grande sang in "Break Free" as the audience cheered.
Police had said additional security measures would be in place for the show, which comes a day after a terrorist incident in London and nearly two weeks after violence struck outside Grande's show at the Manchester Arena. Grande's manager, Scooter Braun, said in a statement on Sunday morning that the concert at the Old Trafford cricket ground would "not only continue, but will do so with greater purpose."
Related: Ariana Grande Visits Injured Fans in Manchester Ahead of Charity Concert
"We must not be afraid, and in tribute to all those affected here and around the world, we will bring our voices together and sing loudly," Braun said.
The high-energy performances on Sunday evening appeared to buoy the crowd.
"Manchester, let the world hear your resilience," said Pharrell Williams, whose performance of the 2013 track "Get Lucky" also seemed to reflect the spirit of defiance in the face of terrorism: "We've come too far to give up who we are," Williams sang. "So let's raise the bar and our cups to the stars."
Photos: First Responders Rush to Scene of London Attack
In heartfelt remarks, Miley Cyrus called for peace and understanding: "For me," she said, "the most important responsibility we have on this entire planet is to take care of one another."
Grande closed the show with a touching rendition of "Over the Rainbow."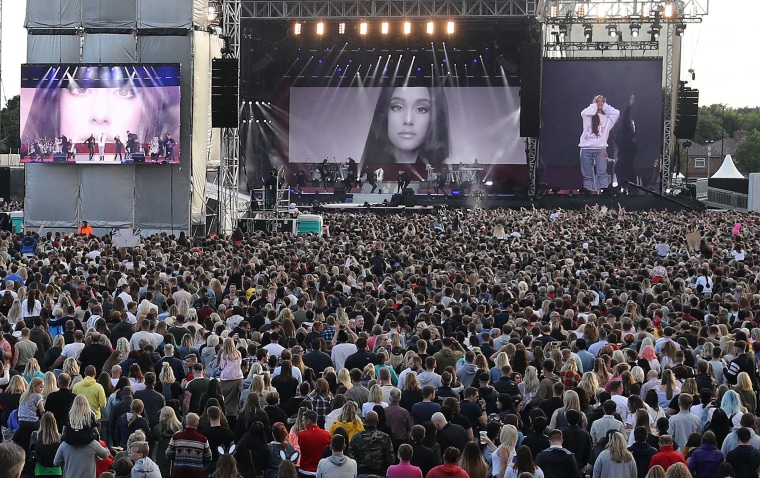 The concert, which raised money for victims of the Manchester bombing, also included performances by Justin Bieber, Katy Perry and Coldplay. Another high-profile event was taking place in Manchester on Sunday: A friendly charity match for Manchester United footballer Michael Carrick, in honor of his long career at the club.
Manchester police said security at both events would include a "significant number of officers from both GMP and colleagues from other forces, some of which will be armed." Additional checks will be done on bags, and the public is urged to leave them at home.
"Please remain vigilant at all times and report anything suspicious that causes you concern" to an anti-terrorist hotline, Greater Manchester Police Assistant Chief Constable Garry Shewan said.
The May 22 suicide bombing outside the Manchester Arena killed 22 people and injured dozens more, including children. Police have called the bombing a terrorist attack.