MANCHESTER, England — The relative triviality of sports — and a triumph on the field — provided emotional release for this city in mourning.
Manchester United kicked off against Dutch soccer giants Ajax in the Europa League final in Stockholm on Wednesday night. The winner would lift the continent's second most prestigious trophy.
Usually vibrant Manchester has been subdued since a suicide bomber targeted young fans leaving an Ariana Grande concert on Monday, killing 22 people and injuring scores more.
Before the attack, the soccer game had been billed as a huge event. It presented a chance for United to end what has been a frustrating season on a high.
While sporting events and concerts have been canceled in Britain, soccer officials agreed to go ahead with the game under heightened security in the Swedish city.
At Mulligans, a small Irish bar just off Manchester's Deansgate thoroughfare, the mood was not quite somber but it appeared the drinkers' hearts were elsewhere.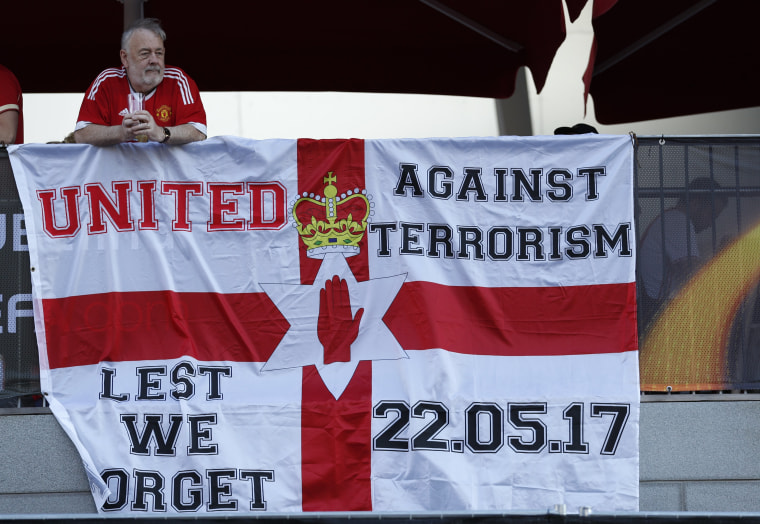 This red-bricked pub was busy, but there were none of the usually boisterous chants and songs that usher in the start of big games here.
This all changed moments before kickoff, during what was supposed to be a minute's silence for the victims of the bombing.
In the pub, almost everyone rose to their feet, many linking arms and closing their eyes in a display of this city's shared pain.
When some people forgot to stand, one person shouted: "Get on your feet, everyone!" in a tone that suggested it would be best to comply.
The silence was short-lived. Chants of "Manchester, Manchester, Manchester" rang out in Mulligans — clearly not just referring to their team but the wounded city as a whole.
It was as if this outpouring had released something previously bottled up; now the night was about more than soccer. Victory here would not mitigate the unbearable effects of the bombing, but instead presented a chance for the city to come together.
Many Manchester City fans — the blue half of this town — would ordinarily wish defeat on their bitter rivals.
Instead, City tweeted a message of support before the game that suggested those divisions had been superseded by something more important.
The match itself was not the nervy encounter many had anticipated. Goals from French midfielder Paul Pogba and Armenian forward Henrikh Mkhitaryan saw United cruise to a relatively straightforward 2-0 win.
Many commentators wondered beforehand whether this week's events would affect the players' mental preparation.
If anything, the emotion spurred them on, the final whistle prompting the players and coaching staff to rush the field in giddy abandon.
"We won for Manchester, we worked for them, for the country," Pogba said after the game. "We play for England, for Manchester and the people who died."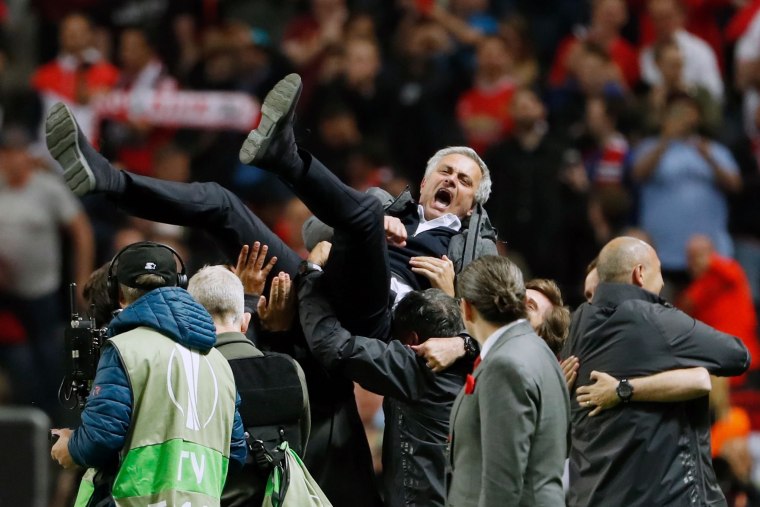 United manager Jose Mourinho was jubilant but also put things in perspective: "If we could, we would change peoples' lives for this cup — we would not think twice."
At Mulligans, the goals had changed the mood. Now, old United favorites such as "Take Me Home," "United Are the Team For Me," and other songs with profane lyrics filled the air. Beer flowed and strangers embraced.
Walking back through the city, shouts of "United, United" echoed through the streets.
Manchester is known for its technical innovation, its history of manufacturing and its culture. But soccer remains a huge part of this town's identity.
United's win allowed people to come together after a terrible week and remember what makes this city great.