Hundreds of people cheering, holding candles and flashing heart signs lined the road leading to a shooting-scarred Washington state high school Monday morning, delivering an uplifting welcome to students searching for normalcy.
The buses rolled up to Marysville Pilchuck High School 10 days after freshman Jaylen Fryberg invited friends to sit with him at lunch and then shot five of them — mortally wounding three — before committing suicide.
Three hundred to 400 alumni and 50 to 80 police officers greeted the students in the gymnasium as they came off buses, said Rob Lowry, the school's co-principal. "The first thing they noticed was there were lines of first responders there," Lowry said — a decision intended to send a message of security and safety.
And it wasn't just the students who came together. Residents flocked to the school with signs that read, "We stand with you," and chanted "Tomahawk!" — the school's athletic nickname. A U.S. flag was hung over the road from a fire truck, and parents and alumni decorated the outside school walls with signs of welcome.
After days of tearful gatherings and vigils, many students on buses wore smiles as they watched supporters make heart signs with their hands. Some of the teens flashed the same sign back.
"Today was a good day in Marysville," said Becky Berg, superintendent of the Marysville schools, who said she was "thrilled" that as many as 90 percent of students chose to return to campus Monday. "It's always a good day when our kids are together."
There were no classes. Instead, students attended an assembly and then milled around.
"It was a wonderful way to come back to school," said Miles Holden, 15, a sophomore. "It helped to be in a room full of people who are going through the same thing as you."
The cafeteria was closed, its eventual fate up to the school district.
"It was eerie looking at the cafeteria but good to come together," Miles said.
At the end of the day, some of the students stopped to look at a fence that has been turned into a memorial for the victims: Shaylee Chuckulnaskit, Zoe Galasso and Gia Soriano, the 14-year-olds who were killed, and Nate Hatch, 14, and Andrew Fryberg, 15, who remain hospitalized.
"The hardest thing was to see the fence. It just reminds you that everyone was happy at one point and how many people are struggling," said Michael Strope, 17, a junior. "It was intimidating to come back. Today was about readjusting. I am not completely better, but it started the healing process. "
Police still haven't revealed what motivated Fryberg to ambush the teens, two of whom were his cousins. The shooter was popular and had recently been voted the school's "homecoming prince," and many students were friends with both him and the victims. Fryberg was a member of the Tulalip Tribes, which said it had been targeted by threats that had some kids fearful to return to school.
Keith Red Elk, whose daughter Jessica is a senior, said he hoped the turnout would help the kids face their fears. "We are here to show them it is OK to come back," he said.
Deborah Parker, a member of the tribal council whose son is a senior at the school, said: "I drove my son to school, and he seemed to be a little bit nervous, but we worked hard as a family to watch over him.
"Those were his friends. Those were his relatives," Parker said. "So coming back to school today was a slow-moving process. Once we drove up and saw all of the cheers, it became emotional."
Afterward, representatives of Sandy Hook Elementary School in Newtown, Connecticut — where a gunman killed 20 pupils and six staff members in 2012 — passed on to the school district and to the Tulalip Tribes a Native American dreamcatcher plaque that it received from Columbine High School, the scene of a similar massacre in Littleton, Colorado, in 1999.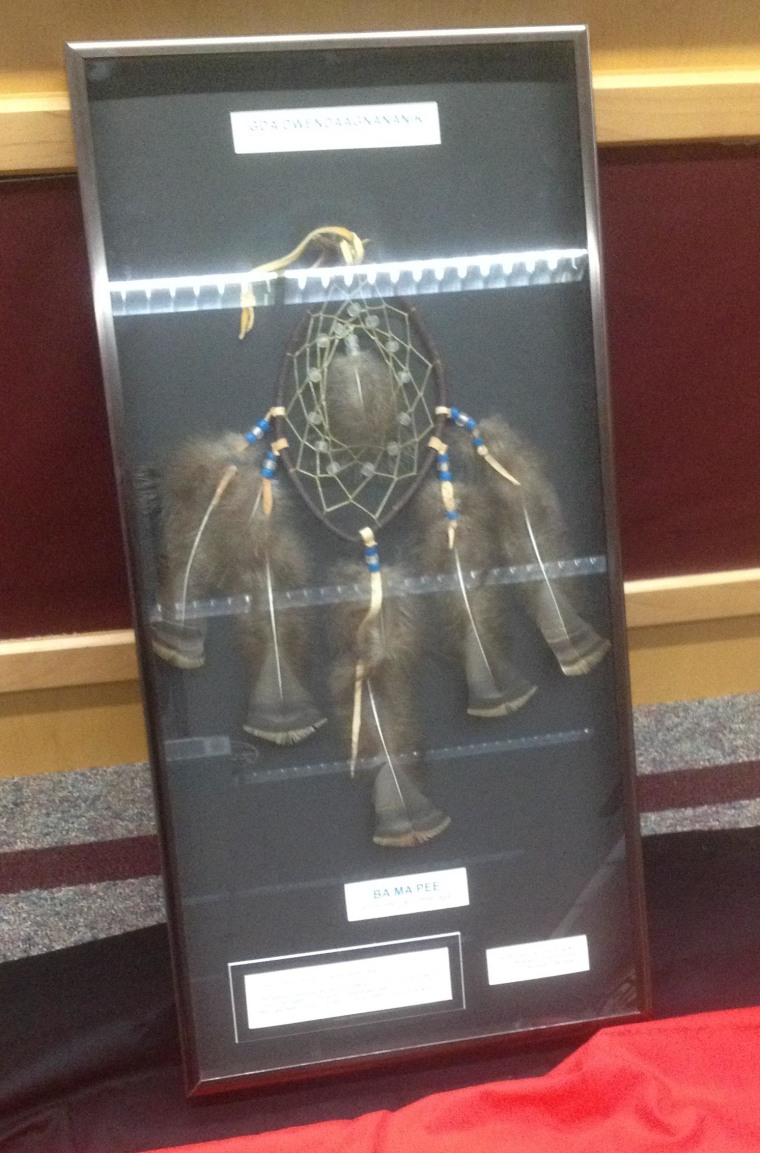 Stephanie Hope Smith, a member of the Newtown Rotary Club, said the plaque "is more than just a dreamcatcher. It is made of love, compassion and hope."
"It is our hope that you should never have to pass it on," Smith said.
M. Alex Johnson of NBC News contributed to this report.