A Washington state high school student who opened fire on a cafeteria table full of students, killing one, before fatally shooting himself was described by classmates as a happy, popular football player who'd recently gotten into a dispute with another student.
Two law enforcement sources identified the gunman as Jaylen Ray Fryberg, a freshman at Marysville Pilchuck High School, north of Everett. He pulled out a small handgun and opened fire on a table full of students about 10:30 a.m. (1:30 p.m. ET), killing a girl and wounding four other people, three of them critically, police and witnesses said.
The names of the slain victim and those wounded weren't released, but police said all were under the age of 18.
"He seemed like a nice guy, and he had lots of friends," Erick Cervantes, 16, a junior, told NBC News.
Police didn't release a motive in the attack, which prompted a school lockdown that sent students running to hide in classrooms. But classmates said that Fryberg had recently gotten into an argument with another student that had racial overtones, and law enforcement sources said he may have been in recent disputes over a girl. In posts on Twitter, Fryberg seemed heartbroken over a breakup.
Fryberg was smiling and waving just last week at the school's homecoming ceremony, where he was crowned freshman homecoming prince. "He seemed like a normal kid," Madison White, 16, a junior, told NBC News.
But Friday, witnesses described him as blankly staring at his victims as he pulled the trigger.
"Sometimes the look I saw in his face was different, especially today," Erick said. "He looked very mad."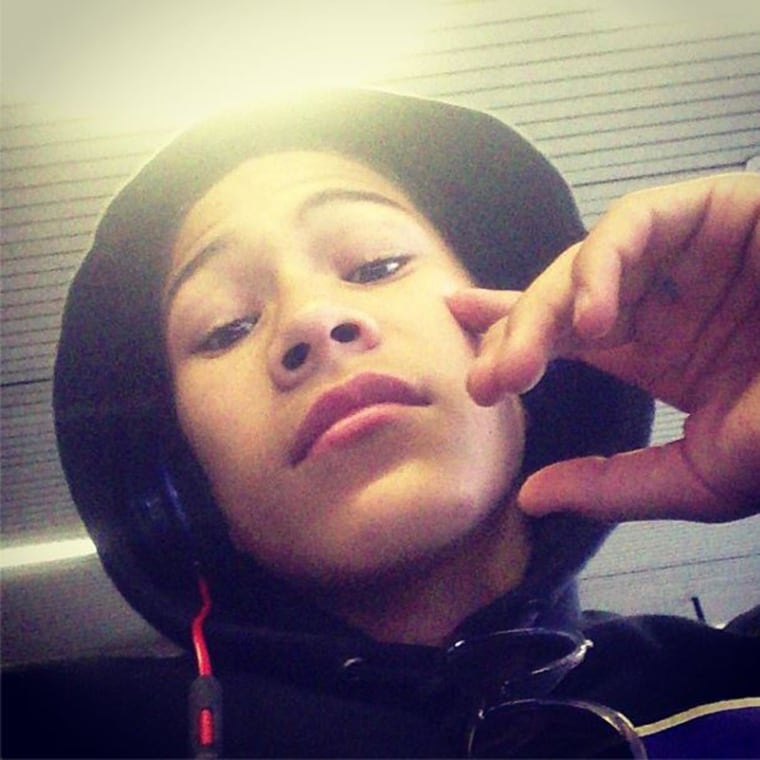 "This is just a huge shock to everybody. For the most part, he was a really happy kid," Bryce Vitcovitch, a member of the school's football team, told NBC station KING of Seattle.
Bryce and other students said Fryberg "did have an incident the other day when a kid was being somewhat racist, and he punched him." Alan Perez, another student who was in the cafeteria during the shooting, said Fryberg "got into an argument with someone who made a racist comment" a couple of weeks ago.
"I'd understand if he was angry about that, but other than that, he wasn't bullied or anything like that," Alan told KING. "He seemed like he was really happy. He seemed like a popular kid."
Fryberg's social media accounts include photos of him wearing traditional Native American dress and making numerous references to the Tulalip Tribes and hunting.
"The fact that tribal members were involved makes it extremely hard," said Herman Williams, chairman of the Tulalip Tribes. "We've always watched it on TV, but now we can say, 'Wow, here it comes in our door.'"
A law enforcement source told NBC News that the gunman Friday used a small pistol. Doug Dawson, special agent in charge of the Seattle office of the federal Bureau of Alcohol, Tobacco, Firearms and Explosives, said the weapon was legally acquired.
More recently, Fryberg appeared to have been shattered by a breakup with a girl.
Fryberg had a very active Twitter account that included many tweets and photos referring to a girl he was dating. But on July 20, he stopped tweeting for more than a month, resuming in late August with a series of heartbroken tweets.
"I hate that I can't live without you," said one. Another said: "Tell me what your plan is.... You can't make a bond with anyone like the bond me and you have right now.... Tell me what your going to do..."
Three days ago, Fryberg tweeted: "It breaks me... It actually does... I know it seems like I'm sweating it off... But I'm not.. And I never will be able to..."
His last tweet came Thursday: "It won't last.... It'll never last...."
IN-DEPTH
SOCIAL
Tracy Connor and Michael Kosnar of NBC News and Sofia Jaramillo contributed to this report.