The case count for the measles outbreak linked to Disneyland is steadily ticking upwards. Health officials in more than a dozen states are tracking down thousands of people to try to make sure they don't spread the virus any further.
It sounds bad, but European health officials say they're looking at the United States with envy.
To them, America's current total of just over 100 measles cases looks comparatively good.
"In Europe, we are looking at the American continent as the example of measles elimination."
Last year, Europe had 3,840 measles cases. Italy alone had 1,921 cases. And that's an improvement over 2013, when there were more than 10,000 cases across Europe. France has had more than 23,000 cases in the past five years.
In comparison, the United States last year had 644 measles cases in 27 states.That's the most since measles was declared eliminated in the U.S. in 2000. When you look at that another way, it's about the same rate Britain had in 2014, when 137 cases there equaled a rate of 2.1 cases per million people. But it's much lower than Italy's rate of 32 cases per million or the Czech Republican's rate of 21 per million.
"In Europe, we are looking at the American continent as the example of measles elimination," said Niklas Danielsson, senior expert in the Vaccine Preventable Disease Programme at the European Centre for Disease Control (ECDC).
Even with regular outbreaks, the United States and other countries in the Americas have been able to stop outbreaks before they spread out of control — at least ever since the bad epidemic years of 1989-1991, when 55,000 measles cases were reported and 123 children died. Soon after federal health officials recommended in 1989 that kids start getting two vaccines instead of one, measles virtually vanished.
"We look at it with some envy," Danielsson told NBC News.
In both the U.S. and Europe, one simple thing underlies the outbreaks — a lack of vaccination. If 95 percent of people in a community are fully vaccinated against measles, it creates enough "herd immunity" to prevent outbreaks.
But the reasons why people go unvaccinated differ from country to country. Some European countries mandate vaccination, others actively encourage it, and still others leave it up to people to decide. Danielsson says none of these approaches seems to really affect vaccination rates.
Some of the countries that mandate vaccination do little or nothing to enforce it.
Doctors blame the Disney outbreak on parents who have chosen not to vaccinate their kids for philosophical reasons. California, especially, has communities where affluent, well-educated parents have banded together and decided not to vaccinate.They question the safety of the vaccine and the motivations of the government.
Many of the people among the 644 U.S. cases last year were Amish living in Ohio, who had skipped vaccines for cultural reasons — although they quickly got vaccinated after they saw the results.
There were affluent vaccine-doubting parents in Britain and France, and religious objectors in the Netherlands. "They live together in what is referred to as the 'Bible belt' in the Netherlands," Danielsson said.
But there are other factors that explain the larger measles outbreaks in Europe, experts say:
Roma people across the continent fall through the cracks of government-provided healthcare.
In Italy, there is a lack of access to vaccines.
In some of the former eastern bloc countries, there are disorganized health care systems.
"We have countries that, very early on after the introduction of the measles vaccine eliminated measles and maintained measles-free (status) since then," Danielsson said. Three examples: Bulgaria and Portugal had no cases last year; Greece had one.
"Then there are other countries that reduced the transmission of measles but never really eradicated it." They include Poland and the Czech Republic.
The solutions vary, too. In Britain, a full-court press has returned vaccinations to desired rates and brought measles cases way down.
"They spent a lot of time and effort trying to do a catch-up vaccine campaign," said Dr. Jonathan Read, an expert on population health at the University of Liverpool. Britain went through wave after wave of outbreaks of measles and mumps after the now-discredited reports by Andrew Wakefield in the 1990s linking measles, mumps and rubella (MMR) vaccines with autism.
"It was the legacy of those times coming to fruition."
Vaccination rates in Britain plunged to 85 percent and measles cases rose: 1,000 cases 2011, 1,900 in 2012 and again in 2013. A mumps epidemic made more than 56,000 Britons sick in 2004-2005.
Now vaccination rates are back up to 95 percent and just 137 cases were reported in Britain in 2014. Measles cases were mostly among children aged 10 to 19 who missed the normal vaccination schedule during the vaccine scare years, Read said.
"It was the legacy of those times coming to fruition," he said.
That's what U.S. officials fear will happen now. Read's research indicates it's not so much the total number of unvaccinated people that matters. It's whether they live together. Think: affluent communities in California's Marin County, Amish communities in Ohio, and religious objectors in the Netherlands.
Britain's outbreaks were in Manchester, Liverpool and Wales, where most kids in a town will attend the same schools, but not in crowded London, where even close neighbors may move in very different circles. "You don't need that many kids who aren't vaccinated, as long as they are congregated together, to have an outbreak," Read said.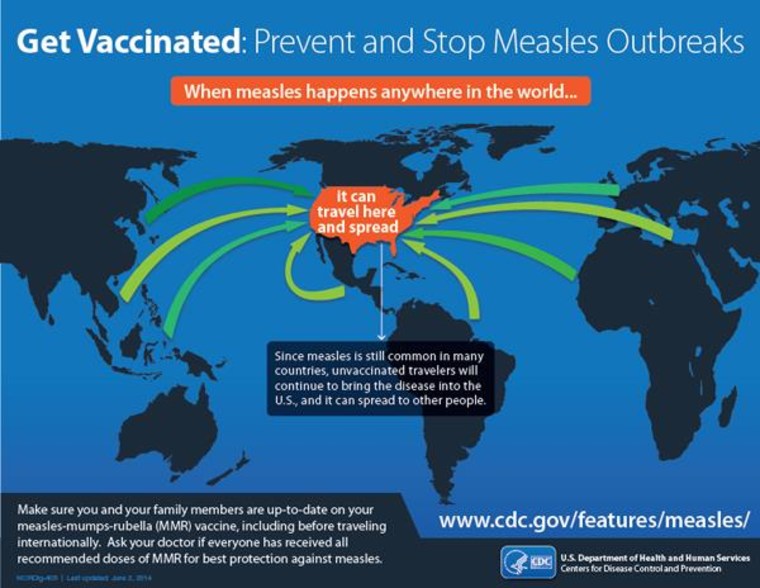 So what is the U.S. doing right?
"There is a strong focus on detecting outbreaks early and trying to stamp them out," Danielsson said. "I think a very important thing is that in the United States and the entire American continent, you stopped endemic transmission in all the countries on the continent at roughly the same time and this never happened in Europe."
New measles cases in the U.S. are always fueled by an imported case, either an unvaccinated American traveler, such as Amish volunteers who brought measles with them from the Philippines, or visitors from countries with high measles rates. But an infection can only take hold if there are vulnerable, unvaccinated people around to catch it.
In Europe, cases are often carried from one country to another — from Germany to Bulgaria, for instance, and then back again. "It's sort of a ping-pong," Danielsson said.
Requiring vaccines as a condition for attending school also seems to help U.S. success. "As far as I know, no European country does this," said Danielsson.
What does work in Europe is a combination of encouraging vaccination and then making it easy.
In Sweden, for instance, the vaccine is free and the culture embraces vaccination. "There's an outreach system to parents with young babies," Danielsson said. "Although there is nothing compulsory, there is an active approach by the nurse in the outreach system to encourage parents to have their children vaccinated." Vaccines are given at school. Sweden had 25 cases of measles in 2014.
"Although they were making the fuss, they went and got their kids vaccinated."
Another difference: in Scandinavia, most people tend to trust their governments. Britons may not always love their government but they love their National Health System, with its lifetime, free medical care. In Italy, one of the countries with a high rate of measles, trust in government is low and vaccines are not routinely given at school or by pediatricians.
In the U.S. parents who oppose vaccination frequently say they don't trust the government or the medical establishment, and they certainly do not trust the pharmaceutical companies that make the vaccines.
But Read said, in Britain even the most adamant parents can be won over.
"After the MMR scares, the sort of well-to-do middle class, as far as we can tell from the data, they might have made a lot of noise," he said, "but they went and got their kids vaccinated anyway."