The deadly and mysterious MERS virus, which arrived in the United States for the first time this month, is not yet a global health emergency, the World Health Organization said Wednesday.
But the spread of the virus — it's now confirmed in 571 people and was reported in a traveler to the Netherlands for the first time Wednesday — is a situation of concern and urgency, WHO said. It's killed 171 people.
WHO experts urged Saudi Arabia, the main source of the infection, to do more to control the infection and to cooperate with experts to study it and understand it better.
"Most urgent is the need to strengthen and improve infection practices in hospitals," WHO's Dr. Keiji Fukuda told reporters after a meeting of WHO's International Regulations Emergency Committee.
"We saw many examples where infection control practices have broken down."
But there's no evidence the virus has changed in a way that makes it easier to catch. It spreads from one person to another, but not very well, and usually only with close and prolonged contact. Genetic tests and close looks at who has been infected and how suggest it's still not very transmissible, Fukuda said. That's one reason the committee has not declared an emergency.
"We saw many examples where infection control practices have broken down."
And careful hygiene should go a long way to control the virus, he said. "Wearing gloves at the right time, wearing masks at the right time … washing your hands," he said. "We don't think there are esoteric methods needed to control this infection."
Fukuda says the WHO has the attention and, for now, the cooperation of countries such as Saudi Arabia where MERS is most common. "Some people call them teachable moments," Fukuda said. "I think this is one of the moments we have before us."
WHO and other experts agree that studies are desperately needed on how much of the population is infected with MERS, especially in Saudi Arabia where the vast majority of cases have been. MERS is a coronavirus, in the same family of viruses as many common cold viruses, and it's possible that people can be infected and get symptoms no worse than a sniffle.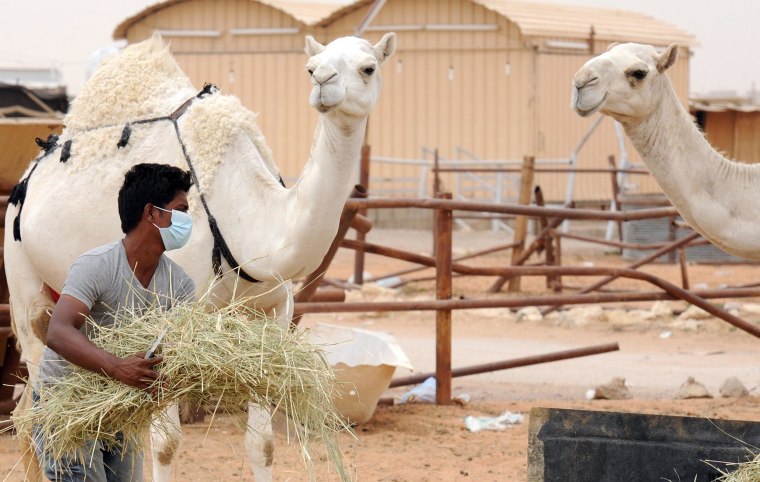 And while camels have been identified as a carrier of the virus, most patients have had no contact with camels, so doctors are asking how the virus gets into people. "I am hopeful that given the new shared sense of responsibility and urgency that we will get to see these studies go forward," Fukuda said.
"Right now we don't have a good handle on what is the route for the virus to go from somebody who is infected to somebody who is not infected." One question — is it carried on droplets of mucus or saliva that people might cough out? "Whether it remains on the surfaces of walls or buildings or utensils in hospitals, certainly I don't know that information right now," Fukuda said.
Middle East Respiratory Sydrome (MERS) virus was first seen in 2012 and most cases are linked to the Arabian Peninsula, although it's now been seen in 18 countries, including the newly reported case in the Netherlands.
Saudi Arabia has seen a big jump in cases in the past few weeks and hospital officials around the world are on alert because some of the clusters are clearly happening in hospitals.
"Most urgent is the need to strengthen and improve infection practices in hospitals."
Both of the men who carried MERS to the U.S. worked in hospitals where MERS patients were treated — one in Jeddah, one in Riyadh.
Experts have noted that both men showed up in U.S. emergency rooms without warning others that they might have MERS, despite frequent warnings that anyone who has serious respiratory symptoms and who has recently been in the Middle East should think MERS right away and take precautions against infecting anyone else.
Fukuda said Saudi hospitals are working hard to control MERS but experts saw some clear groups — for instance, health workers wearing gloves, which is good, but not always changing them in between patients. Sometimes a worker would wear the same mask all day, instead of changing masks between each patient.
"Awareness may be different from hospital to hospital," Fukuda said.
There's no specific treatment for MERS. Patients get what's called supportive care — intravenous fluids, oxygen or a breathing tube if needed, and pain medications.
The first U.S. MERS patient has fully recovered and been sent home from the hospital in Indiana where he was treated. There's no evidence he infected anyone else. The second is in isolation in a hospital in Orlando.
Twenty healthcare workers who treated him before they knew he had MERS are also in isolation, although experts doubt they were infected. Two health workers who treated the patient did get sick and but test results released Wednesday show they did not have MERS.
Family members and people who were exposed to the Florida patient in the hospital there are also being watched and tested, just in case. And health officials are tracking down everyone on four flights the traveler took to get to Orlando from Jeddah.