In one art piece, a black statue face down on the wood surrounded by yellow police tape and four orange traffic cones.
In another, a painting of a white and black hand clasped together covering up a smashed window behind it.
In yet another, an image displaying a man on his hands and knees digging through rummage of a burned down boutique.
A year after the fatal shooting of Michael Brown by a white police officer sparked racial reckoning across the nation, the country's artists have responded with pieces that reflect the renewed sense of grassroots activism. The artists were moved by the deaths of Michael Brown, Freddie Gray, Eric Garner and Walter Scott —African American men who died in police custody.
"Artists have a responsibility to record history," Andre Guichard, artist, Curator and co-owner of Gallery Guichard Fine Art Gallery in Chicago said. "This is part of American history."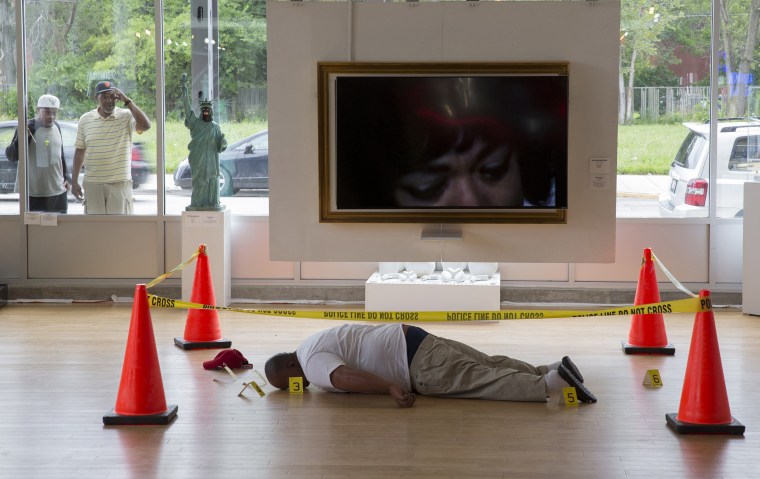 The gallery's controversial exhibit "Confronting Truths: Wake Up!" has sparked national conversation. The exhibit is made up of 50 installations, but the life-size mannequin of Michael Brown faced down in the display has generated a debate about the graphic nature of the art.
Brown, a black unarmed teenager, was fatally shot by a white police officer, Daren Wilson, on August 9, 2014 in Ferguson, Missouri. His death sparked riots, unrest and a national conversation on race and police brutality in the minority communities they serve.
The artistic response has been as varied as the mediums.
At the Newseum, there are artifacts such as protest posters, press passes and reporters' notebooks from Ferguson on display. There is also a "talk back board" that asks visitors a question regarding the way they felt about media coverage in Ferguson. Staff members plan to change the question as August 9th approaches.
"Artists have a responsibility to record history. This is part of American history."
Olubukola Gbadegesin, an art historian and assistant professor at St. Louis University, said the artistic response to the Black Lives Matter movement is part of an age-old tradition of protest art.
"This is a revitalization of (an) art movement that is extremely old," Gbadegesin said. "Protest art has been around for decades."
A lot of artists are thinking about political subjects in the forefront of his or her experiences in the last month, Gbadegesin explained.
A poster stating "I AM MAN" or something as simple as a protest sign represents protest art. Gbadegesin said most are discarded after the protest event is over but some do get national attention.
Some art historians and curators stress that artifacts belong in the community they originated from because it was made for that community, "It belongs where those people can connect and form a relationship with that art,"Gbadegesin said.
RELATED: Artwork in Response to Renewed Sense of Grassroots Activism
Collecting items from Ferguson has become part of the Missouri Historical Society's mission statement.
"This event is really something that needed to be documented from every perspective," said Chris Gordon, director of library and collections at the Missouri History Museum in St. Louis.
"I don't like to use the term 'Ferguson'," he said "because it is a bigger issue than one community."
Although the museum does not have an exhibit planned right now, they collect the pieces, process them and will make them available for researchers. "We would certainly fail if we did not go out and try to document it not only through artifacts but by collecting digital images which is primarily what happens these days to capture this history," he said.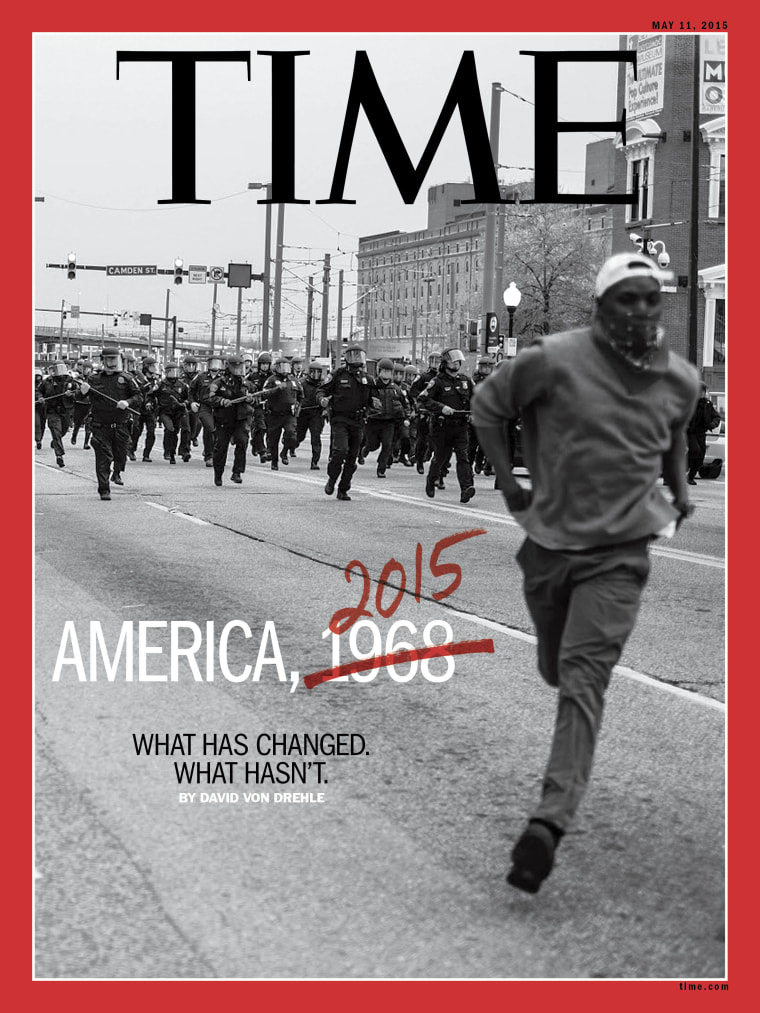 And the way these events are being documented is changing.
"The medium by which artists are able to get their work to people…that might represent something new," said Aaron Bryant, a curator at the Smithsonian Institution National Museum of African History and Culture. "Social media is now becoming a way artists are mobilizing and reaching communities."
The National Museum of African American History and Culture will be home to a photo of a young girl at a Baltimore City Hall rally by Devin Allen and "New Age of Slavery", a watercolor painting done by Patrick Campbell.
Allen rose to prominence when he posted pictures of riots in Baltimore on Instagram. One of his photographs became so popular it landed on the front cover of TIME magazine.
Campbell's "New Age of Slavery" piece went viral on Facebook. Social media has enabled artists like Allen and Campbell to reach people all over the world within seconds.
The National Museum of African American History and Culture will not have a specific exhibition dedicated to recent events. However, they are acquiring some pieces for their collection, Bryant said.
Bryant said it takes a while to think about the impact of such movements on art. The museum collects certain items to tell a full and balanced story in order to help visitors understand why people think this event is so significant.
Bryant said "The movement is still unfolding."