The new top cop in Ferguson, Missouri, has his work cut out for him.
Andre Anderson — a former amateur boxer, Army alum and 24-year veteran of the Glendale, Arizona, force — is tasked with reforming Ferguson's scandal-scarred police department. He will also have to rebuild confidence in a community ripped apart by last summer's racial unrest.
"There's a lot of work to be done," Anderson, dressed in a crisp white uniform, told reporters on Wednesday. "I'm ready to roll up my sleeves and get to work."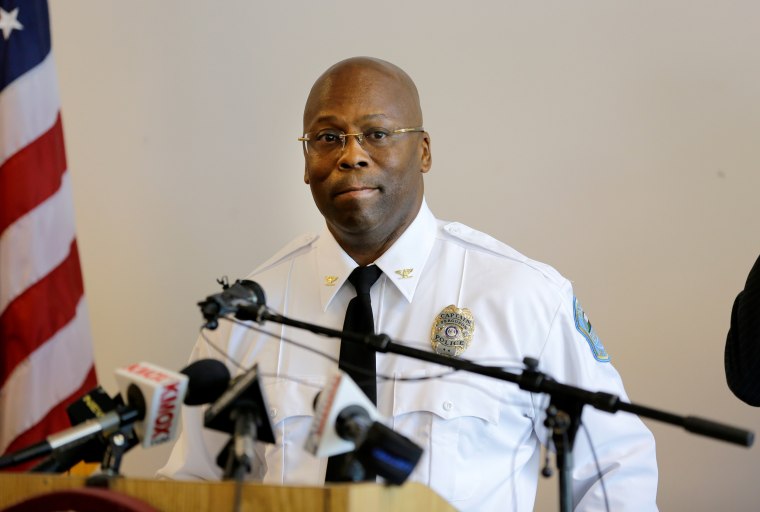 Anderson, 50, is taking a six-month leave from his Glendale post to serve as the interim police chief in Ferguson — a role that could become permanent at the end of his service, Mayor James Knowles III said Wednesday.
It's a can-do attitude that officials say they want in a leader of the 45-officer department. Anderson is walking into a city that saw several resignations in March after the release of a damning Justice Department report that found a culture of racism in the police department and municipal offices.
That revelation came after the Aug. 9 shooting death of 18-year-old Michael Brown, an unarmed black teenager, at the hands of a white Ferguson police officer, Darren Wilson. Brown's killing touched off weeks of fiery protests and threw a national spotlight on the St. Louis suburb of 21,000. The unrest was reignited last fall when Wilson was not indicted by a grand jury.
Police Chief Tom Jackson was among the city officials who resigned. Assistant Police Chief Al Eickhoff was named as interim chief — until the city decided it wanted an outsider to help institute the federal task force recommendations to fix Ferguson.
That search led to Glendale — a city of over 226,000 — where Anderson, as police commander, has led over 80 detectives and 125 patrol officers. Ferguson's mayor said he likes that Anderson is familiar with community policing.
"I think Andre has the right mentality toward policing, he has the right mentality toward people," said Knowles. He acknowledged that for some residents, it's a "bonus" that Anderson is black. Eickhoff and Jackson are white.
But "all humans is what he looks at," Knowles added. "He doesn't look at people in specific categories."
Anderson on Wednesday said he wants to see the department incorporate bias awareness training and build up a force that reflects the demographics of Ferguson. Black residents make up almost 70 percent of the city — but just 3 percent of the police department.
"There's a lot of work to be done. I'm ready to roll up my sleeves and get to work."
Anderson grew up in Philadelphia, and at age 12 took up boxing, according to a 1999 profile in The Arizona Republic. He was tough, fighting his way as an amateur in the ring while also serving in the Army. He won two professional fights, according to the newspaper.
But his budding boxing career was sidelined in 1988 after he was hit by a car while fixing a flat tire. He worked as a prison guard before joining the Glendale police in 1991. Among his passions: Mentoring at-risk youth and teaching them to box.
Turning around Ferguson will be one of the biggest bouts of his life.
He said Wednesday that he wants residents to join him in an effort to improve the city and forge better relationships between themselves and officers.
"I am asking the city of Ferguson, community members — mainly the community members — and leaders if we can set a course in the history books that clearly proves that peace prevails," Anderson said.