A few days after the rioting began in Ferguson, Missouri, earlier this month, Damon Lynch III and Iris Roley flew down from Cincinnati with a document they believed could help bring peace.
Lynch, a pastor, and Roley, a small business owner, had been leading voices against Cincinnati police in 2001, when an officer's shooting of an unarmed young black man triggered riots there. The scene in Ferguson was eerily reminiscent of that experience, and the activists felt a duty to share the story of how their divided city healed itself and became a model for community-police relations. "I'd hate to see Ferguson waste this opportunity for change," Lynch explained.
Their first stop after arriving in Missouri was an Office Depot, where they ran off 100 copies of the document: a historic agreement between the Cincinnati police and local civil rights groups that served as the framework for an arduous reform process. They stuffed each stack of more than 20 double-sided pages into a white envelope and wrote their names and numbers on the outside, along with their message: "A Way Forward." Then they hit the streets.
It was Saturday, a full week since Ferguson Police Officer Darren Wilson had shot and killed 18-year-old Michael Brown. A brief period of calm had been shattered overnight by a new wave of violence, triggered in part by local police's release of a video that appeared to show Brown stealing a box of cigars from a liquor store minutes before the confrontation with Wilson. Maybe Ferguson wasn't quite ready for their message. They continued anyway.
They stayed four days, handing their packets to officials, academics and civil rights advocates during the day and joining the protests and rallies at night. And they tried to identify the street-level leaders who would be needed to guide their community out of this mess. They saw the anger and fear, and felt the sting of tear gas. "But the main goal was, 'How does Ferguson get reformed?'" Lynch recalled.
The way forward may still seem impossible. But the Cincinnati project is widely seen as a proven path, and perhaps Ferguson's best hope.
One of the people Lynch and Roley met was Tony Rothert, legal director for the American Civil Liberties Union of Missouri. Rothert didn't know much about the Cincinnati story. After they told it, his initial response, he said, was: "That's great, but how did you get there? How did you get started?"
The first step, the activists told him, was arguably the toughest.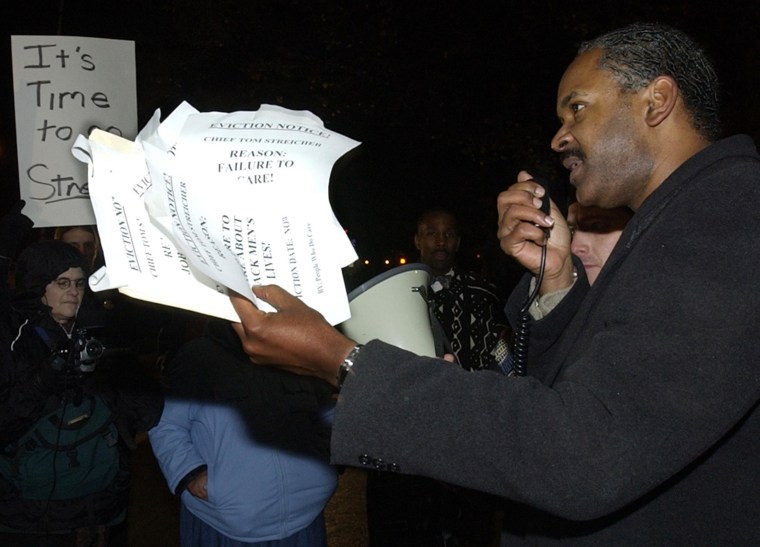 In Cincinnati, things once seemed just as grim as they do in Ferguson. The April 2001 shooting of 19-year-old Timothy Thomas set off four days of looting and rioting, the boiling over of long-simmering distrust between police and the black community. The Cincinnati Black United Front, of which Lynch and Roley were members, organized a devastating boycott of downtown businesses. Police staged a work slowdown. Crime increased. The U.S. Justice Department stepped in to monitor the situation.
But even with the federal government looking over Cincinnati's shoulder, some forward-looking leaders realized that true reform required a genuine desire for change. They initiated a parallel trust-building effort that explored in painful detail each side's long history of concerns and complaints — which then-Police Chief Thomas Streicher called a "living autopsy." It took a long time just to get everyone to sit at the table voluntarily.
"Once people get organized, they become focused on what they want, and that's when the shift happens," Roley said.
The result was the Collaborative Agreement of 2002, signed by the local ACLU, the Black United Front, the city government and the police union. It outlined a series of reforms that would profoundly alter the way police and blacks dealt with each other. A related deal with the Department of Justice went a step further, adding a federal monitor to oversee compliance.
After six years, the federal government stepped away. Left in place was a new culture of law enforcement, and a growing confidence among blacks. Police began closely tracking the use of force and traffic stops, and readily shared that information with the public. They adopted a "problem-oriented policing" strategy to focus on the most troublesome places and people. They trained officers to be more mindful of citizens' concerns. They improved recruiting. They set up an "early warning system" to identify rogue officers. The city also created a Citizens Complaint Authority to investigate police shootings, other uses of force and accusations of misconduct.
Streicher led the police department through those changes before retiring in 2011. He now runs a consulting business, helping other cities navigate similar crises. His partner is one of his former antagonists, an ACLU lawyer who sued him multiple times. In the early days of the Cincinnati talks, Roley "wouldn't have spit on me if I was on fire," Streicher said. But when the rioting broke out in Ferguson, she called him and said, "They're going to need our help."
"I need your help, whether you trust me or you don't."
Streicher said that if he were leading the Ferguson police, he'd start by seeking out the most influential people in the business, religious and advocacy communities. "I'd tell them, 'I need your help, whether you trust me or you don't.' Some will help, and some will say, 'You should have come to me before.' But a voice of reason will emerge."
Whether that will happen in Ferguson is an open question. The city remains in crisis mode. Federal, state and local officials have said they will review policies, ranging from police militarization to the lack of black officers, that fueled the riots. But frustration and skepticism run rampant. Police are still on the defensive, with citizens filing lawsuits alleging improper use of force during the protests. NBC News sought comment from the local police chief, as well as current and former leaders of other police agencies in the St. Louis region. Only one of them responded, but that person declined to speak publicly.
The uncertainty is why people who were involved with the Cincinnati agreement insist that Department of Justice monitoring is crucial. Federal oversight kept opposing sides at the table in the early days of negotiations. "A lot of it was forced, initially," said Robin Engel, who heads the Institute of Crime Science at the University of Cincinnati and helped police implement reforms.
And yet there is movement.
Inspired by Lynch and Roley's visit, the Missouri ACLU has begun exploring ways to bring people together for initial talks, Rothert said. "The experience in Cincinnati has shown that the police and the community can put things into place so they are much more effective in making everyone's life better," he said. "I hope everyone realizes that we can't just go back and hope everything will go away."
Roley, meanwhile, has returned to Ferguson on a second visit, this time at the request of residents. She's telling them more about the Cincinnati story, and encouraging them to get organized and to focus their attention on police reform. It's a hard sell, because many cannot imagine working alongside the police — and many officers probably think the same thing.
"Before you get to collaboration, there's a lot of organization and work that has to happen in the community," Roley said. "That is the blueprint. But first, residents have to believe in it. And then the police will be forced to change."