Ferguson, Missouri, police Officer Darren Wilson alleged that Michael Brown taunted him, telling him he was too cowardly to shoot him, before Wilson fired 12 rounds and killed the unarmed teenager, according to a transcript of Wilson's interview with detectives the day after the Aug. 9 shooting.
According to grand jury records released Monday night, Wilson was asked several times by two Ferguson police detectives on Sunday, Aug. 10, what he was thinking during the confrontation. Wilson replied:
"He's gonna kill me."
"How do I survive?"
"How do I live through this, basically?"
Later in the interview, Wilson said Brown was physically uncontrollable and, "for lack of a better word, crazy. I've never seen that. I mean, it was very aggravated, aggressive, hostile. Just, you couldn't, you could, you could tell he was lookin' through ya."
Wilson's account to police closely matches what court records show he told the grand jury in four hours of testimony in September. Brown was so large and menacing, he testified, that "I felt like a five-year-old holding onto Hulk Hogan," adding, "That's just how big he felt and how small I felt just from grasping his arm."
The question of whether Wilson believed he was at personal risk could have been central to any determination of whether the shooting was justified under state law. In announcing that a grand jury had declined to indict Wilson on any charges, St. Louis County prosecutor Bob McCulloch told reporters Monday night that while other witnesses disagreed, several testified that Brown did turn and advance on the officer.
"As tragic as this is, it was a not a crime," McCulloch said.
'How do I live through this, basically?'
Wilson told the detectives that the fatal confrontation began when he saw two black men walking on the center yellow line of the roadway as he was responding to a radio call reporting a theft of mini-cigars called cigarillos at the Ferguson Market.
"I told 'em, 'Hey guys, why don't you walk on the sidewalk,'" Wilson told the detectives. "The first one said, 'We're almost to our destination.'"
"'Okay, but what's wrong with the sidewalk?'" Wilson asked the subjects, at which point, one of them said, "F--- what you have to say," according to Wilson. Wilson said he called for backup and then backed his marked police car up about 10 feet toward the two men, and then things got out of hand.
Wilson gave investigators a detailed, almost second-by-second account of his take on the incident in an interview that lasted more than a half-hour.
According to Wilson:
When Wilson tried to get out of his car, Brown cursed and shut the door. The window was open, however, and Brown — "swinging and punching at me from outside the vehicle" — made at least three attempts to get into the car at through the open window. Brown landed at least two "solid blows" with a closed fist on Wilson's face, the officer said.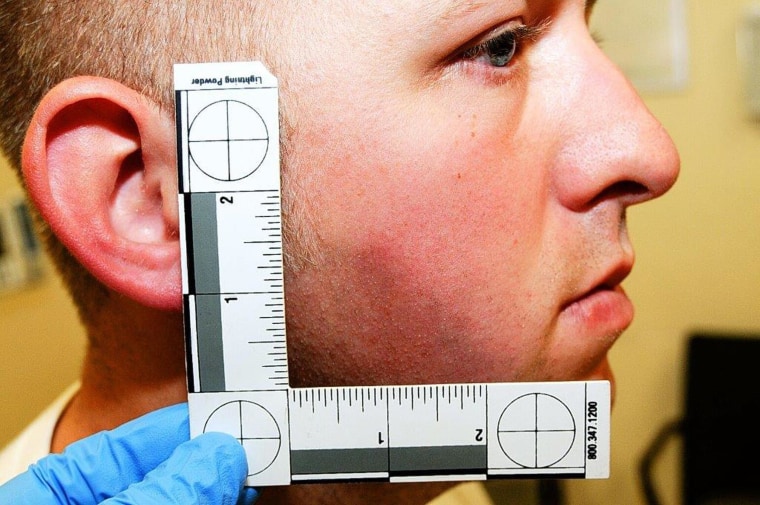 When Brown turned to hand his companion, "several packs of cigarillos" that had been reported stolen, Wilson used the opportunity to grab Brown's arm, but Brown was too big and powerful to control.
"I was already trapped and didn't know what he was gonna do to me but I knew it wasn't gonna be good," Wilson said. Because Brown had him pinned, Wilson couldn't reach his Mace canister, he said. And he wasn't carrying a Taser, so he pulled his SIG Sauer .40-caliber P229 handgun.
The teen allegedly taunted the cop, telling him, "You're too much of a p---y to shoot me," Wilson told investigators. Then, according to the transcript, Brown grabbed his gun, and "my firearm was in his control around my hand."
Wilson managed to redirect the weapon toward Brown so that it was "somewhat lined up with his silhouette and pulled the trigger" twice, but "nothing happened" — apparently because Brown had jammed his fingers between the hammer and the slide, preventing the gun from firing, Wilson said.
'My firearm was in his control around my hand.'
The third time Wilson fired, glass flew everywhere, and there was "blood all over my right hand," the officer said. Brown, looking shocked, charged at the vehicle, managed to wedge the top half of his body inside the car "and attempted to hit me multiple times," Wilson said — "fist, grab, I mean just crazy."
Wilson tried twice to fire again, he said, but his weapon apparently jammed both times. By that point, Brown had started running away, he said.
Wilson said he got out of the car, called again for backup and began pursuit. Brown "stopped, he turned, looked at me, made like a grunting noise and had the most intense aggressive face I've ever seen on a person," Wilson said.
Brown started running toward him, Wilson said, darting his right hand under his shirt and into his waistband and keeping it there. "I fired multiple shots," Wilson said, but "he was still in the same state: still charging, hands still in his waistband, hadn't slowed down."
Wilson fired two more series of multiple shots — one or more of which "hit him in the head and he went down right there," Wilson said.
"I got on the radio and said, 'Send me every car we got and a supervisor,'" Wilson said.
Tom Winter, Monica Alba, Aliza Nadi, Mark Schone and Lindsay Perez of NBC News contributed to this report.