Darren Wilson, the former police officer whose killing of Michael Brown sparked riots in Ferguson, Missouri, a year ago, says he hasn't read the U.S. Justice Department's report detailing the city's systemic racism and has no plan to, according to a lengthy profile of him in the New Yorker.
"I don't have any desire," Wilson told the magazine. "I'm not going to keep living in the past about what Ferguson did. It's out of my control."
The article is the first in-depth look at Wilson's life since the Aug. 9, 2014, shooting, for which he was exonerated of criminal wrongdoing but remains the target of a wrongful death lawsuit. It marks his first public remarks since last November, when he was interviewed by ABC News.
Wilson, 29, declined to talk about his shooting of Brown, citing the pending lawsuit. He repeated what he told ABC, saying: "I did my job that day."
Asked if he thought about what kind of person Brown was, Wilson told the magazine, "Not really, because it really doesn't matter at this point."
The article reveals many of the open wounds that remain in Ferguson a year after Brown's death. That includes his relatives, who said there's nothing that can be done to make things right.
"Anger and hatred," a cousin, Sabrina Webb, said after being asked how she felt about Wilson. "There's no forgiveness."
Since resigning from the Ferguson Police Department in December, Wilson has become a near-recluse, buying a house surrounded by surveillance cameras on a dead-end street outside St. Louis, according to the profile.
He lives there with his second wife, Barb Spradling, along with her two children and their newborn daughter. Their names are not on the deed, and they remain concerned about threats made against him and their infant child.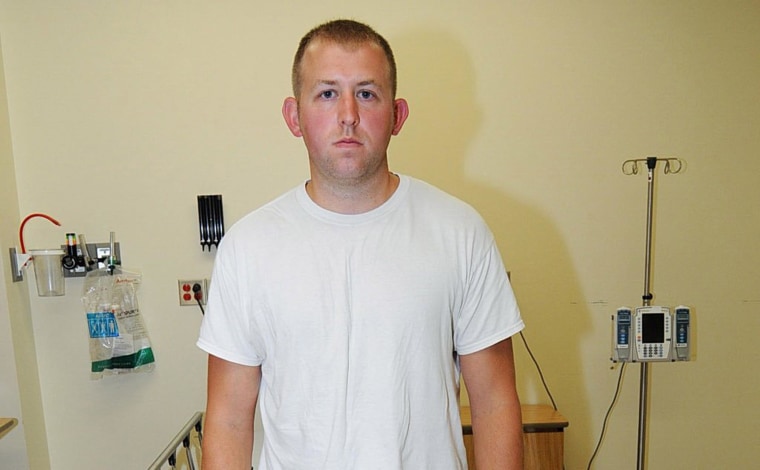 Wilson rarely goes out in public, and when he does, he tries to remain unrecognizable, sometimes wearing sunglasses and a hat. He has been unable to find a job in law enforcement, although he says he would like to return to the Ferguson force for just one day, to show people he was not "defeated."
The son of a con-artist mother who raised him in a middle-class, predominantly white area outside St. Louis, Wilson described himself as wayward young man until he found a sense of purpose after becoming a police officer in the predominantly black suburbs north of St. Louis. He struggled to relate with the people he was working to protect, but he said he enjoyed the work, first in Jennings and after in Ferguson.
Wilson said that he saw instances of biased policing, but denied it was systemic.
That assessment contradicts the findings of a Justice Department report that found a criminal justice system rigged to target blacks.
The New Yorker also tracked down some prior instances of what an expert said was Wilson's mishandling of people's civil rights in routine stops of people walking in the street.