A federal judge on Monday dismissed a $40 million civil rights lawsuit that alleged police used excessive force against protesters in Ferguson following the death of Michael Brown.
In a 74-page ruling, Judge Henry Autry sided with Missouri law enforcement saying the protesters "have completely failed to present any credible evidence that any of the actions taken by these individuals were taken with malice or were committed in bad faith."
The lawsuit, which was filed by nine individuals, alleged that local police unlawfully arrested, beat, tear-gassed and shot rubber bullets at them during the Ferguson riots.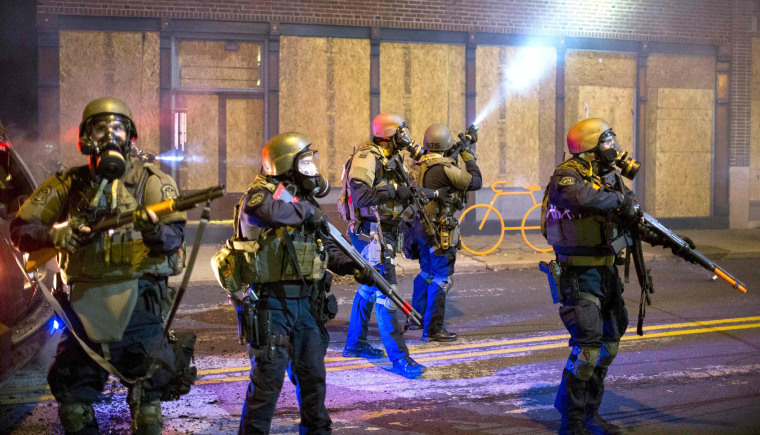 The judge did not agree, instead saying protest participants "were advised to disperse" but ignored "repeated warnings."
Read More: Darren Seals, Ferguson Protest Leader, Found Fatally Shot in Burning Vehicle
He also granted immunity to the officers from the lawsuit.
"The decision was unfair and not consistent with applicable law," Gregory Lattimer, one of the attorneys representing the protesters, told NBC News Monday evening. Lattimer said he felt "disappointment and frustration," upon reading the judge's decision.
The local chapter of the NAACP expressed similar sentiments. "We are disappointed in the end result that plaintiffs' didn't get what they wanted," said Adolphus Pruitt, president of the St. Louis NAACP.
Mass race-infused protests broke out throughout the streets of Ferguson in the wake of the 2014 killing of Michael Brown, an unarmed black teenager who was shot by officer Darren Wilson, who is white.
Read More: The Killing of an Unarmed Teen: What We Know About Brown's Death
Wilson later resigned from the force after dodging an indictment by a grand jury.
But Lattimer says he has already filed a notice of appeal in the the 8th U.S. Circuit Court of Appeals.
"This is a battle we will keep fighting," he said. "We will end it in the right way and get justice for these people."