As protesters took to the streets across across the country following a grand jury's decision not to indict the police officer who fatally shot unarmed black teenager Michael Brown, online debate about the case and the aftermath raged on social media. Twitter users sent more than 3.5 million tweets mentioning the Ferguson, Missouri, case by 11 p.m. CT on Monday.
Twitter on Tuesday released an animated heat map of the U.S. showing geo-tagged Twitter mentions of "Ferguson" or "#Ferguson" from 6-11 p.m. local time. A separate Twitter Data post showed figures spiked at around 52,200 tweets per minute around 8:30 p.m. CT, when St. Louis County Prosecutor Bob McCullough announced that a grand jury found "no probable cause exists" to indict Officer Darren Wilson.
McCullough indirectly referenced Twitter in his public statement about the grand jury's decision, blaming news media and social networks for impeding the investigation. "The most significant challenge encountered in this investigation has been the 24-hour news cycle and its insatiable appetite for something, for anything, to talk about," he said. "Following closely behind were the nonstop rumors on social media."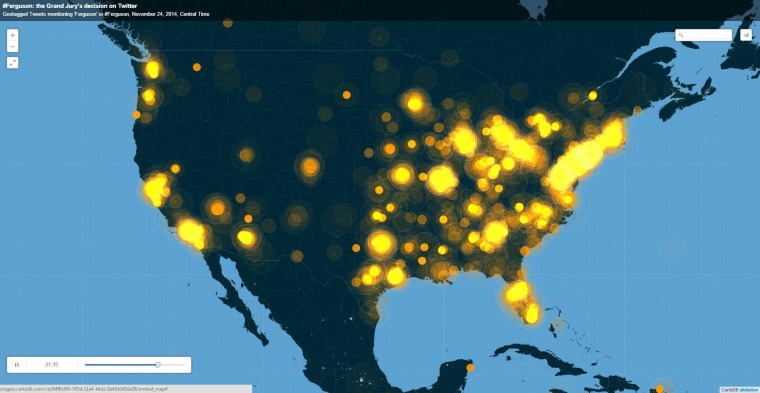 IN-DEPTH
SOCIAL
-- Julianne Pepitone and Emmanuelle Saliba