A video that shows Michael Brown hours before he was shot to death by police in Ferguson, Missouri has sparked a new wave of anger ─ but no more clarity ─ about a 2014 killing that prompted a national debate on race and policing.
A crowd of protesters gathered outside Ferguson Market & Liquor Sunday night, calling for a boycott of the store where the footage was shot. Three people were arrested, two for assaulting a police officer and another for allegedly stuffing a rag into a police car's exhaust pipe and trying to light it, authorities said. Also during the protests, someone from a dark-colored car fired six or seven shots toward the protest, striking a police cruiser but injuring no one, police said. The car got away.
St. Louis County's top prosecutor on Monday mocked the filmmaker behind the footage's release, calling his work "pathetic" and an "attempt to distort and turn this into something it wasn't."
The documentary, "Stranger Fruit," debuted at South By Southwest in Austin, Texas on Saturday. It includes parts of a previously unreleased surveillance video inside Ferguson Market & Liquor early on Aug. 9, 2014, several hours before Brown's fatal confrontation with police. It shows Brown place an object on the counter, which the clerk smells. Brown is then given a box of cigarillos and begins to leave but returns and hands the cigarillos back to the clerk.
The film's director, Jason Pollock, has said the footage shows Brown trading marijuana for the cigarillos and leaving the boxes at the store for safekeeping.
That, Pollack has said, raises questions about police assertions that Brown had been suspected of robbing the store of cigarillos later that day ─ an encounter that was also caught on surveillance footage but was released by police a few days after Brown's death in an attempt to explain why he was stopped soon afterward by the officer who shot him.
In the documentary, Brown's mother, Lesley McSpadden, says in the film that "there was some type of exchange."
Brown's family, which has sued Ferguson for Michael Brown's death, declined to comment this week on the video, a spokesman for the family's lawyer said.
But the market and chief prosecutor dispute the filmmaker's interpretation.
"There was no transaction, no deal made for what he [Michael Brown] had in that bag, "Jay Kanzler, a lawyer who represents the store's owners and workers, told NBC News.
Kanzler said no one from the film interviewed him or his clients about the footage.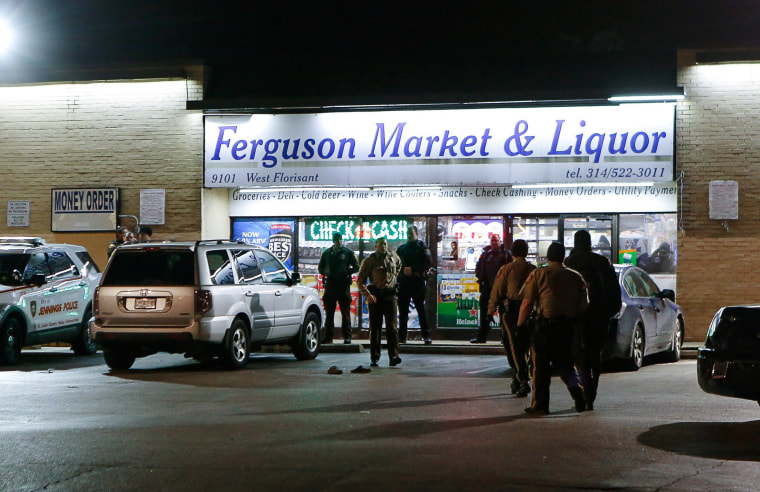 Robert McCulloch, the St. Louis County prosecuting attorney, called a Monday afternoon press conference where he called Pollack's film "poorly edited" and "an attempt to generate his 15 minutes, which he got."
McCulloch released unedited copies of the surveillance footage, which he said shows a failed attempt to barter cigarillos for something that might have been drugs. After Brown returned the cigarillos, and some cold drinks, to the clerks, they put the items back on the shelves, McColloch said.
That encounter, McCulloch said, had nothing to do with the later alleged robbery, and had no bearing on the shooting ─ which is why authorities never presented it to a grand jury, and never released it publicly.
The grand jury declined to indict the officer who shot Brown, Darren Wilson.
The assertion that Brown returned to the store just before his death to pick up something he'd bartered for "is just stupid," McColloch said.
The footage, culled from a single camera, does not shed new light on the shooting itself.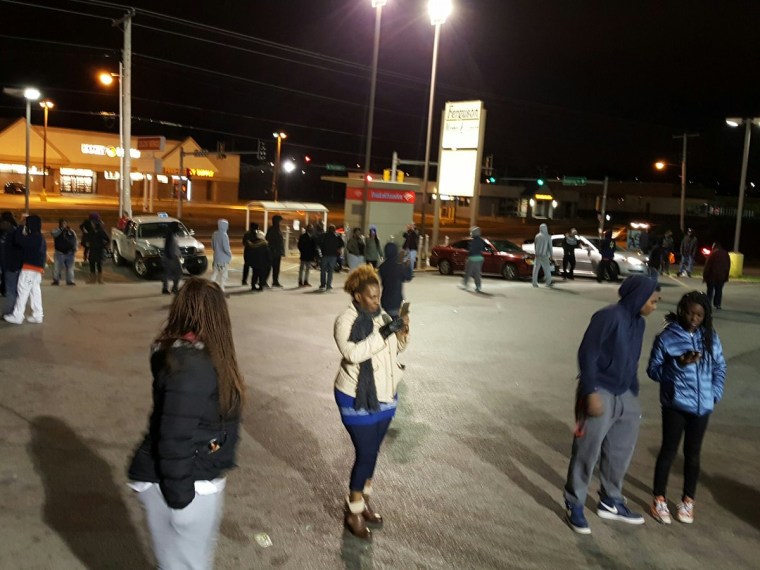 Critics of the police's handling of the shooting and its aftermath have accused authorities of maligning Brown's character by releasing the earlier video, which shows Brown pushing a worker and taking cigarillos.
To those critics, the emergence of the new video helps prove their point.
"We are interpreting a video. It can be interpreted in multiple ways, that's true. But it's also likely true that police know about this and decided to run with a story that was likely inaccurate," said Brendan Roediger, a professor at St. Louis University School of Law.
Kanzler said the newly released video was handed over to authorities at the same time as the footage showing Brown forcing his way out of the store.
"I'm not sure why it has not been talked about before," Kanzler said.