The killing of an unarmed black teenager by a white police officer turned Ferguson, Missouri, into ground zero in the national dialogue about community policing and racial bias. But in the wake of a blistering Justice Department report that has forced six police and city employees to resign or be fired — coupled with more unrest this week — the St. Louis suburb's fate is returning to the hands of perhaps its most powerful group: the voters.
On April 7, three of six City Council seats will be up for grabs, and the election in the city's Ward 3 will be particularly symbolic: It includes the street where 19-year-old Michael Brown was fatally shot by Officer Darren Wilson last August. It's also where two black candidates — Lee Smith, a retired long-time Ferguson resident, and Wesley Bell, a young college professor and local municipal judge — are squaring off in a district known for its historically low voter turnout.
But no matter who wins, a black candidate is guaranteed a seat on the City Council in a community that, despite being 70 percent black, has only ever had two black council members and never had a black mayor. In this election, an unprecedented four of the eight candidates running are black. Voters at the ballot box will get a chance to reshape the city's leadership, and in turn, make decisions to help fix Ferguson.
The high electorate interest was evident at a packed candidates' forum on Thursday night, where Smith and Bell each spoke about how important it is for the local government and police to realign their interests toward all residents.
The Department of Justice's report blasted Ferguson police for a pattern of racial bias that puts a financial burden on black residents. From 2012 to 2014, police were more likely to arrest black people or pull over black drivers over whites, the report found.
"Our city government, and more specifically our city manager, instituted a theory of [being] revenue driven rather than safety driven," Smith, a grandfather and Ferguson resident for 27 years, told the audience. "That type of attitude has created a lot of the divisiveness within our community," he said, adding that it gave the impression officials were "more concerned with getting dollars than building the community."
But both Smith and Bell said at the forum that they don't want the city's police force to be replaced by an outside authority.
In an interview Friday with NBC News' Lester Holt, Ferguson Mayor James Knowles III defended police, saying he disagreed with the implication in the DOJ report that most officers unfairly targeted black residents. "We've seen that there's been some bad apples out there, but I don't think that is indicative of the entire police department," Knowles said.
Among the spate of resignations was Police Chief Thomas Jackson and two police officers who resigned. City Manager John Shaw also stepped down.
Bell told NBC News that while the entire force doesn't need to go, he wants more interaction between police and residents, including officers showing up at community events in order to foster goodwill. That, in turn, could lead all residents to show a civic interest, he added.
"Our institutions, our courts, our police departments need more representation of the community, need more diversity," Bell said, adding that he sees reform as "an opportunity to set an example, not only in Ferguson, but a broad example to the world."
Bell likened the resignations and firings as a "French revolution" moment for Ferguson, although he said he was still shocked that they were even any demonstrations this week because there "really wasn't anyone else you could fire." The unrest turned violent late Wednesday when two police officers were shot outside of police headquarters. They were released from the hospital that same day, and the manhunt for the gunman continued Saturday.
Bell, Smith and the candidates in the other council races are scheduled to address residents again Sunday during a voter forum. At Thursday's event, Smith said he's seen how Ferguson, population 21,000, has changed from a place where you would feel safe walking down the street to one where there's suspicion. Like the other candidates, Smith called for unity.
"We can be one," he said. "And this 'I love Ferguson' will be more than rhetoric — it'll be a reality."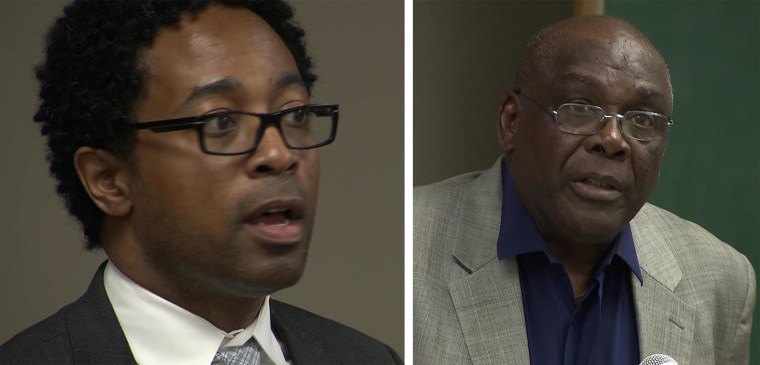 IN-DEPTH
SOCIAL
— Erik Ortiz and Ron Allen