A young man was shot by police after allegedly opening fire on plainclothes officers late Sunday in the Missouri town marking the one-year anniversary of unarmed black teenager Michael Brown's fatal shooting by police.
U.S. Attorney General Loretta Lynch condemned the attack on the officers and other violence that occurred during what was supposed to be peaceful weekend commemorations in Ferguson, Missouri.
"As we have seen over the recent months and years, not only does violence obscure any message of peaceful protest, it places the community, as well as the officers who seek to protect it, in harm's way," Lynch said in a Monday speech at a National Fraternal Order of Police conference in Pittsburgh.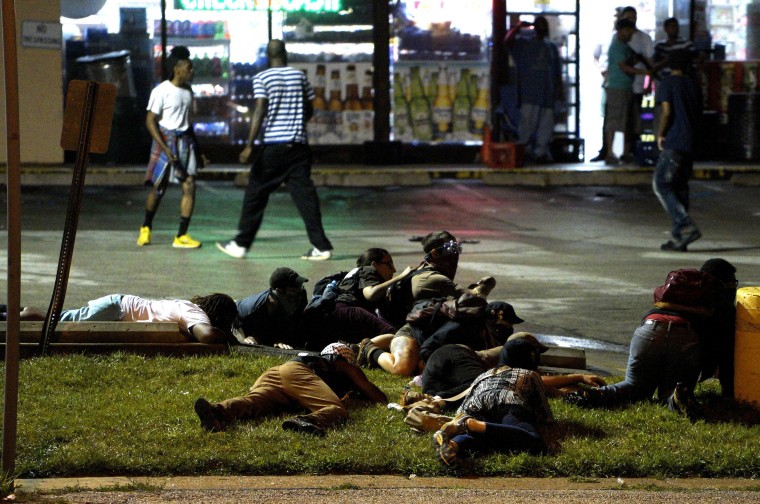 St. Louis County Police Chief Jon Belmar told reporters early Monday that the man, aged around 20, was in critical condition after being shot in Ferguson, Missouri.
Belmar said that while uniformed officers were deployed to monitor businesses following protests and reports of looting, four plainclothes officers were tracking an individual they suspected was armed.
The man opened fire on the officers, who were in an unmarked car, according to Belmar. The gunfire struck the police vehicle several times. The officers returned fire and pursued the man on foot. The suspect — who had a stolen 9mm gun — again opened fire and the officers fired back, Belmar said.
Belmar added that the police shooting took place after two separate groups in the vicinity had traded a "remarkable" amount of gunfire — between 40 and 50 shots.
"They were criminals — they weren't protesters," Belmar said, calling the violence "avoidable" for a community still struggling to rebuild from the often-violent aftermath of Brown's death.
"This didn't have to happen," he said. "People in our community… worked too hard for this to happen… This really is an impediment to positive change."
Belmar said the four plainclothes officers have been placed on administrative leave.
Related: Why Move to Ferguson? Newcomers Tell Their Stories
Two other separate shootings — which didn't involve officers — had been reported early Monday morning, he added.
St. Louis County Police later said that two teenage males were taken to the hospital with non-life threatening injuries. The young men told police they were walking near the Michael Brown memorial in the Canfield Apartments when an unknown gunman opened fire from the backseat of a car.
Tear gas was used before dawn to disperse protesters on West Florissant Avenue — the frontline in the often violent demonstrations that rocked Ferguson in wake of Brown's death.
Ferguson had marked the grim anniversary earlier on Sunday with 4½ minutes of silence at 12:02 p.m. — to remember the 4½ hours that the 18-year-old's body was left in the street on Aug. 9, 2014.
As a torrential downpour later hit Ferguson, umbrellas sprouted and protesters gathered at Ferguson and West Florissant avenues despite police warnings to disperse or face arrest.
County police said that three officers were injured in the protests — one officer was hit in the face with a rock while two others were pepper-sprayed.
Brown had just graduated from high school and was planning to go to trade school to study to become a heating and air conditioning technician before he was killed.
Relatives and friends described Brown — who stood around 6-foot-3 and weighed nearly 300 pounds — as a quiet, gentle giant.
But police said Brown stole items from a convenience store and shoved the owner who tried to stop him on the morning of Aug. 9, 2014. Moments later, he and a friend were walking on Canfield Drive when Officer Darren Wilson, who is white, told them to move to the sidewalk.
That led to a confrontation inside Wilson's police car. It spilled outside, and Wilson claimed that Brown came at him, menacingly, leading to the fatal shooting. Some witnesses claimed Brown had his hands up in surrender. Federal officials concluded there was no evidence to disprove testimony by Wilson that he feared for his safety, nor was there reliable evidence that Brown had his hands up in surrender when he was shot.
The shooting sparked nightly protests in Ferguson for weeks. The unrest was reignited in November when a St. Louis County grand jury determined that Wilson had done nothing wrong. He resigned days later.
Related: Ex-Cop Who Killed Michael Brown Says Ferguson Isn't a Racist City
Brown's family filed a civil lawsuit in April against Wilson, the city of Ferguson and its former police chief Thomas Jackson.
Lawyers for Brown's family said they plan to show that Wilson "unjustifiably shot and killed" the teen and used "unnecessary and unreasonable" force when he shot the unarmed 18-year-old at least six times.
The suit did not specify how much money the family is seeking, but it includes at least $75,000 for compensatory damages, such as for psychological treatment.