Authorities donned helmets and shields again Monday in preparation for what could be another night of unrest in Ferguson, Missouri, where more arrests were made amid protests of the shooting death of unarmed teenager Michael Brown.
Law enforcement officers were intent on not allowing people to gather in one spot for long. Officers arrested a man Monday afternoon in the parking lot of the convenience store where demonstrators have gathered to organize the nightly protests, and when asked why, one of the officers told NBC News: "He was supposed to keep moving, just as you're supposed to keep moving."
A second man was arrested Monday night and accused of failing to disperse. Missouri Highway Patrol Capt. Ron Johnson, whom Gov. Jay Nixon put in charge of security in Ferguson, was present at the arrest, and he told NBC News: "There's not freedom of speech when you say I'm going to hurt someone, going to pull something out. That's not freedom of speech."
Getty Images, meanwhile, confirmed that one of its photographers, Scott Olson, was also arrested. He was released several hours later and was back at work in Ferguson, it said Monday night. Widely circulated photos appeared to show officers taking other people into custody, as well, which NBC News couldn't immediately confirm.
National Guard members joined Ferguson and St. Louis County police and state Highway Patrol troopers on the streets of Ferguson, and protests remained peaceful well into Monday night.
At least six people were arrested Sunday night in the worst night of clashes between police and demonstrators so far. Johnson said the demonstrators who caused trouble Sunday were pursuing an agenda of their own.
"Their tactics are planned and calculated. I watched those in anger," Johnson said on MSNBC's "All In With Chris Hayes." "Those individuals last night are not reflective of who we are or what we want, and they are being disrespectful to Mike Brown and Mike Brown's family."
Johnson promised again that "we are not going to stop peaceful protesters from having a voice."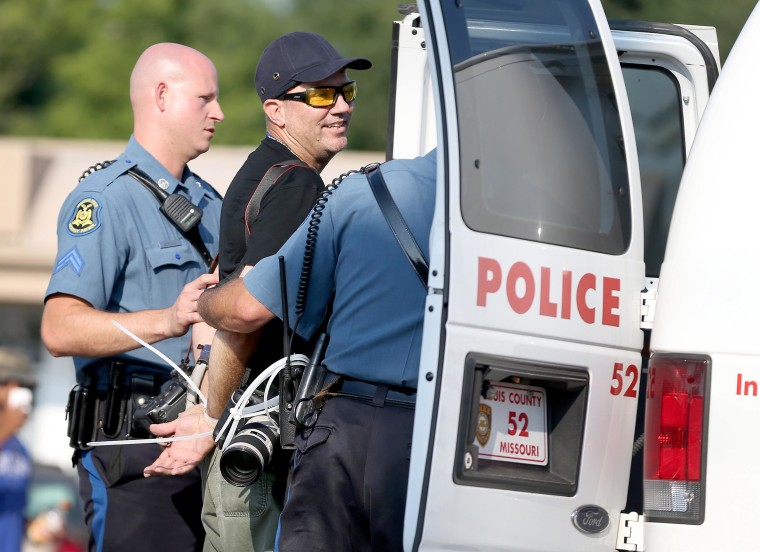 Commanders told NBC News on Monday that they will keep changing tactics until they find the right balance between allowing peaceful protests and maintaining public safety. A curfew that was imposed over the weekend was lifted Monday night — but with the National Guard out in force, there were many more men and women in uniform on the streets with protesters.
They were once again being allowed to wear certain types of protective gear intended for riot situations after the St. Louis County Fraternal Order of Police threatened to go to court to overturn an order that they not wear or carry such equipment as a way to cool tensions, Gabe Crocker, president of the organization, told NBC News. Such equipment is vital "when they're throwing Molotov cocktails," he said.
President Barack Obama took note of "those who are using this tragic death as an excuse to engage in criminal behavior by tossing Molotov cocktails or looting stores," saying Monday that Attorney General Eric Holder will travel this week to Ferguson, where dozens of FBI agents are conducting a civil rights investigation nine days after a Ferguson police officer shot Brown to death the night of Aug. 9.
Ron Allen, Bill Angelucci, Rick Brown, Erin Delmore, Mary Murray, Robert Rivas and Tom Winter contributed to this report.