A day of civil disobedience in and around St. Louis began Monday with a testy exchange between protesters and police in Ferguson, Missouri, where an unarmed teenager was shot and killed by a police officer more than two months ago. Forty-three protesters were arrested, including Cornel West, a prominent activist. West was among the first to be led away, followed by other protesters who were walking up to police officers and state troopers and demanding they be allowed into the police station.
About 100 civilians and clergy members met at Wellspring Church in Ferguson and marched in the name of Michael Brown to the police station, where about two dozen officers stood guard. The group walked right up to a line of officers standing behind yellow police tape. Another line of officers was standing farther back, dress in riot gear.
"They're armed" said one protester. "We come in peace, and they're armed."
After organizers established a memorial to Brown as a priest held a candle over his head, protesters turned their attention to the police officers. Calls for the officers to "repent" came from the crowd, while other protesters spoke with the officers standing closest to the group. The cops smiled during the conversations that were punctuated by handshakes and embraces between the protesters and police. "I must put my trust in the system. If the system is broke, we have to fix it," said one officer to a protester.
But the smiles disappeared when some of the protesters breached the police tape and advanced toward the front doors of the station. Police used batons in an attempt to hold back those who were getting too close to the entrance. "Hands up, don't shoot," the crowd chanted. One officer used his baton to push two protesters and briefly flashed a pair of handcuffs. He was immediately escorted away from the crowd by other officers. The protesters were then instructed by apparent clergy members to step back and remain peaceful, but some flooded forward instead, prompting the arrests.
"Arrests were not made until protesters started bumping police officer's shields and eventually forcing through the police skirmish line," Brian Schellman, a spokesperson for the St. Louis County Police Department, said in a statement.
At about the same time, on West Florissant Avenue, six more people were arrested in clashes with police. This time the charge was "Refusal to Disperse," according to Schellman, who cited the protesters for "continuously blocking traffic and not listening to officer's instructions."
As many as 10 acts of civil disobedience "aimed to move officials to end their complicity and enact a justice agenda" are planned for Monday, according to organizers. "We are calling attention to the economic injustice we live with in Ferguson," organizers said in a statement released after the gathering.
IN-DEPTH
SOCIAL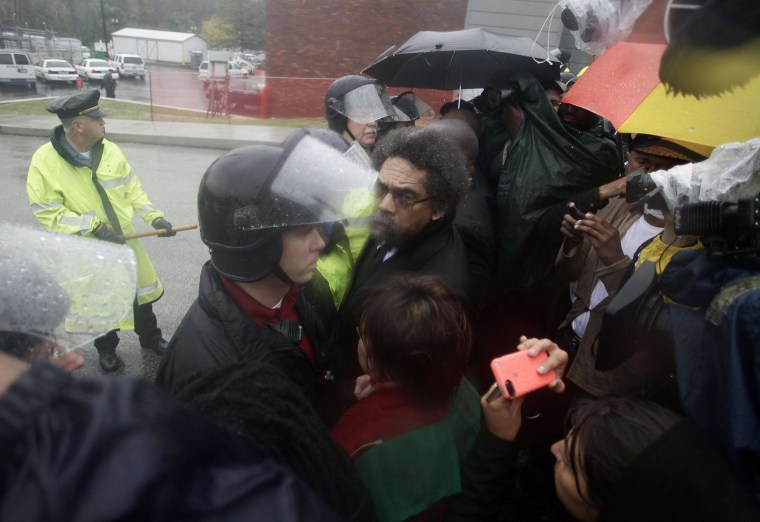 — Rick Brown and Elisha Fieldstadt