St. Louis County authorities declared a state of emergency Monday and more than 100 people were arrested on the second day of protests marking a year since a police officer killed Ferguson, Missouri, teen Michael Brown.
The move was announced by County Executive Steve Stenger, who cited the violence that marred protests Sunday night in Ferguson.
"The recent acts of violence will not be tolerated in a community that has worked so tirelessly over the last year to rebuild and become stronger," Stenger said in a statement.
The St. Louis County prosecuting attorney's office announced criminal charges against a man authorities say exchanged gunfire with police officers Sunday night. Tyrone Harris, 18, who remained in critical condition, was charged with four counts of assault on law enforcement, five counts of armed criminal action and one count of shooting at a motor vehicle.
More than a dozen people were arrested Monday night after protesters blocked a traffic lane on West Florissant Avenue, The Associated Press reported.
It was the third location where arrests were made Monday, after about 60 people were taken into custody Monday afternoon when they blocked all 10 lanes of Interstate 70, which runs through Ferguson.
Cars on the interstate were backed up for more than a mile at the height of rush hour as authorities cleared demonstrators defiantly blocking traffic with barriers that read, "Ferguson is everywhere," NBC station KSDK reported.
And earlier in the day, police arrested 57 non-violent protesters outside the federal courthouse in St. Louis following a noontime march through the city's downtown.
The demonstrators arrived at the Thomas F. Eagleton Federal Courthouse a half-hour after setting out from Christ Church Cathedral, pounding drums and shouting, "If we don't get no justice, then they don't get no peace."
At the courthouse steps, clergy members encouraged the others to spread anointing oil — a symbolic effort to bring equal justice to people of all races. Several protesters, including Princeton University professor and civil rights activist Cornel West, then hopped a temporary gate, linked arms and sat outside the building's entrance.
"This is what democracy looks like," the protesters chanted.
After about 20 minutes, a cadre of officers showed up and began taking them into custody. Among those led away in handcuffs were West and activists DeRay Mckesson and Johnetta Elzie.
A few miles away, in the city of Ferguson, business owners spent Monday morning cleaning up damage done by vandals overnight, when protests commemorating the anniversary of Brown's death spun into violence, culminating in the shooting of Harris by plainclothes officers who said he'd shot at them.
"It's stressful. It's so frustrating," said Dellena Jones, whose hair salon on West Florissant Avenue was ransacked. She had only recently begun to recover from damage suffered during looting that followed Brown's death a year ago.
Last year, her young children were inside the salon when rocks and other objects came crashing through the windows, an experience that traumatized them. Jones said she had been crying all morning, trying to figure out how to reopen.
"I've been trying to keep going for my children," Jones said. "So... failure is not an option."
Waiting for a bus on West Florissant, Cecilia Williams said she was saddened by the renewed violence.
"This isn't the way to solve anything," she said.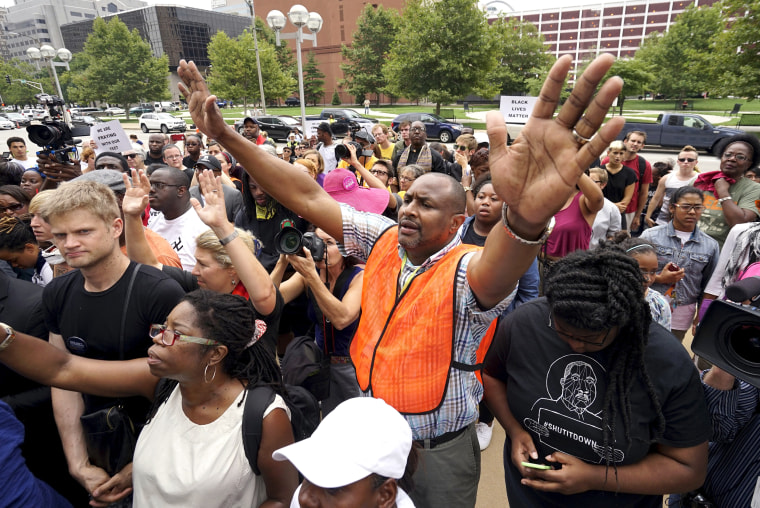 Ferguson Mayor James Knowles also expressed frustration with the all-too-familiar scenes of unrest. "We are deeply disappointed with the violence that took place last night," he said. "This kind of behavior is counterproductive, and cannot be tolerated if we want to continue bettering the community for all our residents."
Gov. Jay Nixon released a statement Monday listing the prior night's mayhem: the police shooting, a drive-by shooting, burglarized businesses, an attack on a reporter.
"Those who terrorize communities with gunfire and commit violence against police officers are criminals, and their reprehensible acts must not be allowed to silence the voices of peace and progress," Nixon said.