Clouded by racial bias and a narrow-minded drive for municipal court revenue, police in Ferguson, Missouri have habitually violated citizens' civil rights, with black residents bearing the brunt, a U.S. Justice Department investigation has found.
The probe, prompted by the shooting of an unarmed black teenager by a white Ferguson police officer last August, uncovered a pattern of unfair traffic stops, questionable arrests, unreasonable use of force and interference with free speech, according to information provided to NBC News by a Justice Department official.
At the heart of the unlawful practices were racist attitudes that investigators found rampant in Ferguson officials' emails.
The result of all this, Justice Department officials said, was a profound erosion of trust between police and the public, particularly blacks. Critics have pointed to that lack of trust as one of the conditions that fueled the rioting and violent demonstrations following the Aug. 9 shooting of Michael Brown, 18, by officer Darren Wilson. A grand jury declined to indict Wilson in November, touching off another wave of unrest.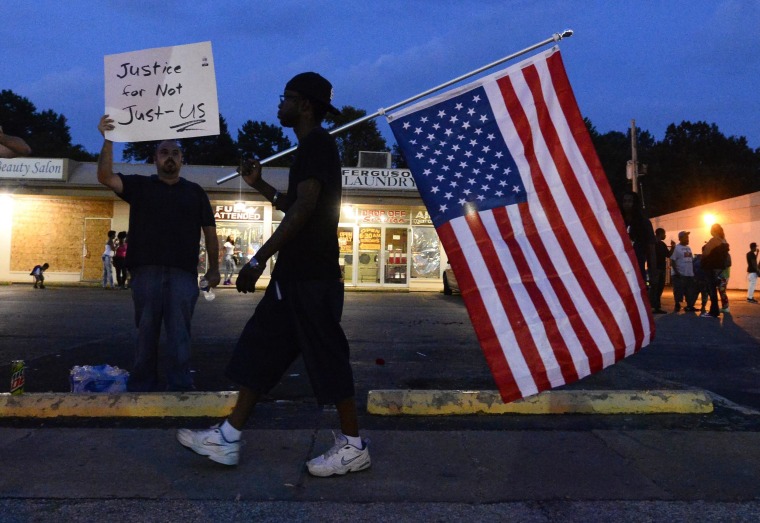 The events in Ferguson polarized the country and prompted a national debate on race, justice and use of force by law enforcement. That discussion continues to reverberate; on Monday, a task force appointed by President Obama to explore ways to improve relationships between police and the public released a report outlining a myriad of proposed reforms.
Ferguson officials, who spent Tuesday meeting with Justice Department officials, said they would speak publicly about the report when it is officially released on Wednesday. The city may have to decide whether to enter some sort of settlement with the government to force reforms or face a civil rights lawsuit.
The Justice Department examination found that Ferguson's black citizens, who make up about 67 percent of the city's 21,000 residents, were subject to 85 percent of traffic stops, and 93 percent of all arrests from 2012 to 2014. Black drivers were more than twice as likely as whites to be searched during traffic stops, but were less likely to be found holding anything illegal. Blacks were also the focus of 88 percent of instances in which police used force to subdue someone.
A similar pattern emerged inside Ferguson's municipal court, where data indicated that the town targeted blacks for arrests on outstanding warrants, the Justice Department said. From October 2012 to October 2014, 96 percent of those arrested during traffic stops solely because of an outstanding warrant were black, investigators found.
Blacks were also far more likely to be hit with petty offenses like jaywalking, disturbing the peace and "failure to comply," according to investigators. From 2011 to 2013, blacks accounted for 92 percent or more of people who faced such charges.
Blacks were also 68 percent less likely than people of other races to have their cases dismissed, the investigators found.
Seeking an explanation for those discrepancies, investigators from the Civil Rights Division blamed a sustained focus on generating revenue at the expense of citizens' constitutional rights of due process and equal protection. The charge that the city relied on more than any other was "failure to appear," meaning the person didn't show up for a scheduled court date. In 2013 alone, the court collected $442,901 in fines for that offense. That accounted for a quarter of the municipal court's entire revenue that year. The "failure to appear" charge was dropped by the city in September.
The burden of this misguided court operation fell disproportionately on the town's poorest citizens, many of whom fell into massive debt, lost their drivers licenses, could not keep a job, or ended up behind bars, investigators found. As of December 2014, 16,000 people had outstanding arrest warrants issued by the Ferguson Municipal Court, most of them for minor violations such as parking and traffic infractions.
IN-DEPTH