It's been 100 days since Mike Brown was killed in Ferguson, Missouri, and the grand jury responsible for deciding whether to indict Police Officer Darren Wilson in the death of the 18-year-old could deliver its decision any day.
The incident on the afternoon of Aug. 9 sparked outrage, riots and protests in and around the St. Louis suburb, and has inspired a national debate about police brutality, race relations and civil rights.
Now officials, business owners and residents in Missouri are worried that protests over Brown's death — which sparked violent standoffs with police, looting and vandalism in the immediate aftermath — could resurface with renewed fervor if the grand jury decides not to indict Wilson, 28. And Because a grand jury hearing is secretive by nature, few have any idea which way the panel might go.
The prosecutor in the Brown case, St. Louis County Prosecuting Attorney Bob McCulloch resisted calls and petitions calling for him to recuse himself from the case, and pledged to make sure the 12 jurors — seven men and five women — hear each and every detail relevant to the case.
Here's some of what the grand jury may hear or may have already heard:
Officials' account
A day after Brown was shot, St. Louis County Police Chief Jon Belmar said Brown was unarmed, but had gotten into a "physical confrontation" with an officer, who was later identified as Wilson. Police also said that Wilson was taken to the hospital with injuries to his face, but the extent of Wilson's injuries and treatment weren't disclosed.
A report released by police a week after the shooting revealed that Brown was suspected of stealing a box of cigars and assaulting a clerk minutes before he was shot to death. But Ferguson Police Chief Thomas Jackson later said that Wilson had no idea that Brown was a suspect in the robbery, and that Brown and a friend were stopped simply "because they were walking down the middle of the street blocking traffic." Yet Wilson's testimony and recently released audio from the fatal incident suggest that Wilson was aware of the description of the robbery suspect.
Audio and video
After releasing its report in August, Ferguson police also made public a surveillance video from the store where Brown had allegedly stolen cigars and confronted a clerk. The video shows a physical altercation between Brown, wearing a white shirt and red cap, and a smaller man — the clerk — in a yellow shirt.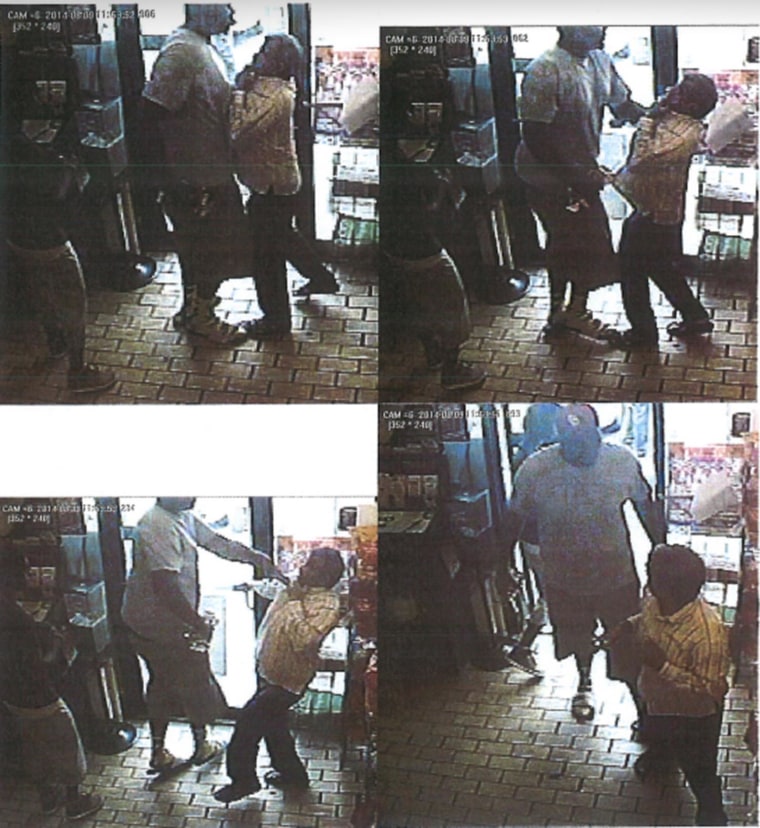 Dispatch calls obtained Friday by the St. Louis Post-Dispatch revealed that the description of the black male in the white shirt and red cap was broadcast to officers, and after dealing with another call, Wilson asked if he should help search for the alleged robbers. It is unclear whether Wilson heard the description of the suspects, but at 12:02 p.m., just two minutes after Wilson offered to help, he radioed: "Put me on Canfield with two." Canfield is the street where Brown was shot. The audio was obtained by the Post-Dispatch under Missouri's Sunshine Law. Ferguson police did not follow up on NBC News' request in August for audio recordings regarding the shooting.
The calls released to the Post-Dispatch don't include the point when shots were fired, but an unidentified man who said he was trying to make a video message using the app Glide near where Wilson encountered Brown said he captured the gunshots. Glide verified that the recording — which includes what sounds like a volley of six shots, a brief pause, and then another four or five shots — was taken at the time of the shooting. The St. Louis County prosecutor's office spokesman said if the recording was validated by the FBI, it could prove to be a key piece of evidence in the case.
In the police recordings, an officer called for more units at 12:07 p.m., as someone was heard sobbing in the background. "Get us several more units over here. There's gonna be a problem," the officer said.
Autopsies
The results of two autopsies on Brown's body — one by the St. Louis County medical examiner and one performed at the request of Brown's family — have come to light. The Justice Department also ordered an autopsy on Brown's body by a federal examiner, but its findings have not been made public.
The private autopsy, performed by Dr. Michael M. Baden, showed that Brown was shot at least six times. Baden's report showed that Brown could have survived all the shots except for the last blow, a bullet to the top of his head. Baden has been called to testify before the grand jury, an attorney for the Brown family said Wednesday.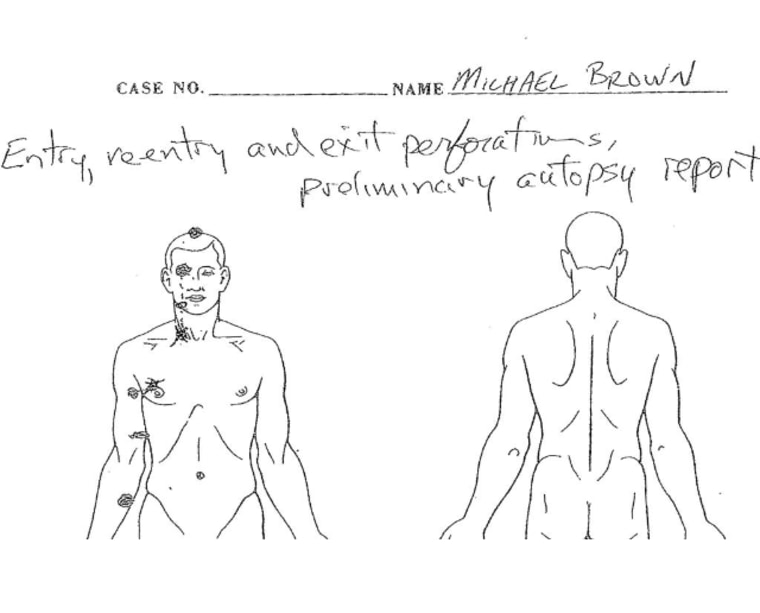 Baden has said his autopsy didn't reveal signs of a physical struggle. But the official autopsy told a different story.
The Post-Dispatch also obtained the St. Louis County medical examiner's report, which suggested that Brown was shot in the hand at close range and there may have been gunpowder in the wound. Experts not related to the case told the Post-Dispatch that the report lines up with Wilson's testimony of a physical struggle in the car.
Wilson's account
Wilson has told investigators he feared for his life, and Brown reached for his gun during a scuffle in his car before he fatally shot the teen outside of the vehicle, according to a report in The New York Times last month. The report cited "government officials briefed on the federal civil rights investigation." Wilson said that Brown scratched and punched him repeatedly, leaving his face swollen and his neck cut, according to the report.
Wilson, a six-year police veteran, testified before the grand jury in September, according to NBC affiliate KSDK.
Witness testimony
Dorian Johnson, a 22-year-old friend who was with Brown during the shooting, said the teen "never once attempted to grab for the officer's weapon." Johnson has told multiple media outlets that Brown ran from Wilson with his hands in the air, shouting, "I don't have a gun, stop shooting!"
What's next?
McCulloch, the prosecutor, has said that if the grand jury does not indict Wilson, he will release transcripts and audio recordings from their proceedings. McCullogh ordered the entire process, which has been underway since late August, to be documented — which is a highly unusual move in Missouri, KSDK reported.
McCullough has also promised school districts in and around Ferguson that they would be notified 24 hours in advance of a grand jury decision if it is announced on a weekend and given three hours advanced notice if the decision comes on a weekday. The school districts have requested that the announcement be made after 5 p.m. if the decision comes on a weekday and specified that a collective 20,000 students would be least affected if the prosecutor's office released the decision on a Sunday.
Gov. Jay Nixon said this week that violence will not be tolerated in the event the grand jury does not indict Wilson. Police have been specially trained to encourage peaceful protests, but the Missouri National Guard is on call nonetheless. Brown's family also called for restraint from protesters and authorities if Wilson is not indicted.
Missouri State Highway Patrol Capt. Ron Johnson, who was called to take control over security in Ferguson in August, said Friday that he expects protesters and police in Ferguson will be able to honor requests for calm from Brown's family and from officials.
"We all have to work together more than ever now to make sure that our community stays whole," he told a group of students at one of six high schools he has visited in preparation for the grand jury decision. Johnson told NBC News he thinks the turmoil on the streets over the past few months has solidified a "better understanding" between residents and cops, which he hopes will lead to a "softer approach" from both sides.