Dr. Michael Baden has examined more than 20,000 dead bodies, but even in a celebrity-spiked career as a forensic pathologist, fiction writer, and television host, few of his reports have drawn as much attention as the autopsy of Michael Brown, the unarmed black teenager shot dead by a police officer in Ferguson, Missouri.
On Sunday, at the request of Brown's family's legal team, Baden performed a four-hour autopsy on the young man's body in a mortuary office turned makeshift examining room. The county of St. Louis already conducted its own autopsy and the Justice Department followed with an autopsy of its own.
For now, though, Baden's word is the only first-hand expert commentary on what might have happened the day Brown died, a situation that has thrown the 80-year-old doctor into a place where many say he's most comfortable — the spotlight
"Michael never saw a camera he didn't like," said Dr. Lowell Levine, who has known Baden since the 1960s, serving with him as co-director of pathology for the New York State Police. "He used to yell at me about the press: 'They're just trying to make a living — why don't you help them?'"
"He knows how to give a good quote," added Marion Roach, a writer who helped Baden write the book "Dead Reckoning," his 2003 memoir-cum-crime saga on the future of forensic science. "He's usually right."
"Michael never saw a camera he didn't like."
On Monday, as President Obama called for peace in Ferguson, Roach and Levine praised Baden as someone the nation could trust, the kind of independent, yet lion-hearted expert needed to assist in a case where every outcome leads to controversy. Baden did not respond to requests to be interviewed by NBC News.
"He is absolutely one of the brightest people you will ever run across," said Levine. "Why Mr. Holder has an independent autopsy going, I don't know, because they're not going to find anything different from what Michael found."
"He is a great man," added Roach. "Michael Baden gets up every day wanting to do good in the world. He can't be bought. He can't be convinced of the wrong story line. He is a pure scientist with a great heart."
He is also a lifelong public performer. The thrill of crime-solving captivated him at New York University in 1960, where he graduated with an MD and went to work as a pathology resident at Bellevue Hospital. He then worked almost continuously in the office of the New York City Medical Examiner, rising briefly into the chief position in 1978, before joining the state police. He retired to full-time private practice in 2005.
Throughout his decades as an unsung public servant, unzipping body bags and working the bone saw, he consistently found the limelight. At first it was still within the confines of government. He chaired the federal committee that re-investigated the deaths of President Kennedy (Baden said it was Oswald) and Martin Luther King, Jr. (Baden said it was James Earl Ray).
After 1985, however, his work for New York State was only part time, and it allowed for private consultation. Suddenly, Baden was released into a world of six-figure court fees, national television audiences, and moody studio head shots.
Working with journalists, producers, and private legal teams, he investigated the deaths of the lost Tsar Nicholas, John Belushi, the president of Poland, Nicole Brown Simpson, Liz McPherson, Kathleen Savio, and, earlier this month, Eric Garner, who died in an alleged choke hold on the streets of New York City. Along the way, he also hosted HBO's hit series "Autopsy" and landed a contract — active for more than a decade — as a "Death Correspondent" for FOX News.
He now lives in a sprawling 18th-floor apartment overlooking New York's Museum of Modern Art, according to the New Yorker. He keeps a dog, a red-headed poodle named after the older, smarter, lazier brother of Sherlock Holmes. And he writes crime thrillers, with the main characters modeled after him and his second wife, Linda Kenney, a high-profile defense attorney.
But Baden's success has not been without controversy. In 1979, after just 11-months as the chief medical examiner of New York Mayor Ed Koch fired Baden. He claimed that the hot-shot examiner had lost evidence and worked poorly with prosecutors. Baden later won $100,000 in a wrongful termination case, but he was pushed out of the office nonetheless.
"He is very bright, but he has a propensity for giving out statements and testimony which are not entirely accurate."
A few years later, Baden was fired again, when he worked as the deputy medical examiner in Suffolk County on Long Island, according to the Los Angeles Times. An article in Oui Magazine quoted him giving advice for getting away with "high tech murder." He later denied the quote, but one of his fellow pathologists grumbled about the ethics of a medical examiner giving "advice on how to kill people," and Baden was forced out.
In 2007, Baden was again in the news for questionable conduct, this time as he took the stand in the Phil Spector murder trial. He had a fresh theory of how Spector's alleged victim had died, one that provided room for the defense to explain some blood on Spector's jacket. During cross examination, the prosecutor asked Baden if he had any conflict of interest in this case.
"None that I can think of," he said, according to the Los Angeles Times. Moments later it was revealed his wife was one of Spector's main attorneys.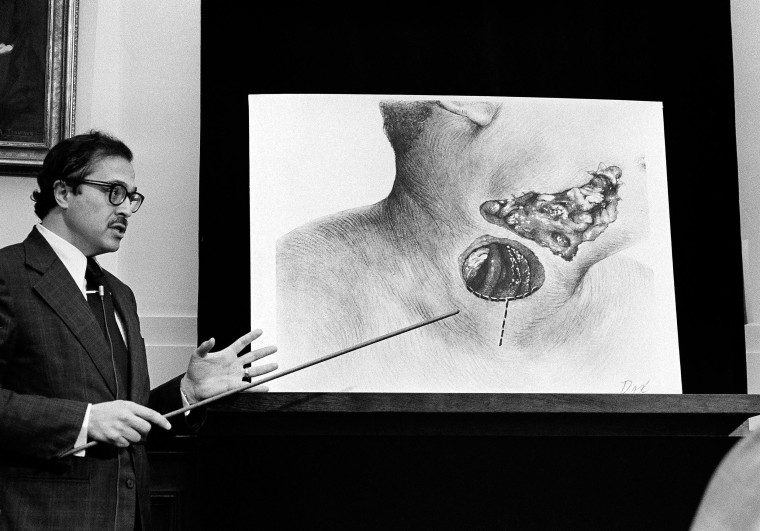 "He is very bright," said a former classmate of Baden's, who ran a big city medical examiner's office around the same time Baden did. "But he has a propensity for giving out statements and testimony which are not entirely accurate."
This pathologist, who requested anonymity because of the extraordinary controversy of the Brown case, was particularly critical of Baden's work in Missouri. He said Brown was way too confident for someone who hadn't seen x-rays, clothing, or lab reports, "all of which can be important." It was also worrying that Brown had been embalmed, because that would alter the color of the wounds, potentially throwing off Baden's analysis of entry and exit wounds, and his count of six bullets.
"It could be that only three bullets made those wounds," the pathologist said.
As it stands, Baden's testimony aligned with the portrait of events provided by Michael Brown's lawyers. He said there were "no signs of struggle" and he predicted that his report would be supported by the official ones that follow.
"My impression," he said, lingering at the podium until Brown's lawyers pulled him away, "having done this for 40, 50 years, is that they are going to be very similar."
A member of the public wanted to know why the officer involved had yet to be arrested. "Who gets arrested is a political, district attorney decision," Baden said, "not a forensic science decision — for good or bad."