TEL AVIV, Israel — Bethlehem was once the town with no room at the inn. But a year of heightened conflict and political tension between Israelis and Palestinians means that hasn't been the case in the West Bank city this Christmas season.
Tens of thousands of pilgrims typically visit Jesus' birthplace each December. However, Palestinian officials say many overseas tourists abandoned their plans in the wake of the Gaza war that left 2,000 people dead.
Around 60 percent of accommodation bookings for the Palestinian territories for the rest of the year were canceled following the invasion, according to Tourism Minister Rula Ma'ayah. About 100,000 fewer tourists were expected to visit Palestine this year than in 2013.
The conflict has had a major impact on Bethlehem's tourism-dependent economy, said Leila Sansour, the founder of Open Bethlehem, which works to preserve the city's heritage and promotes tourism there.
"Tourism is the only lifeline for the city, so if you care about sustaining Bethlehem's livelihood it is very very key — economically, politically and culturally," said Sansour, who is also a documentary filmmaker. "A whole culture that dates back to biblical times is dying."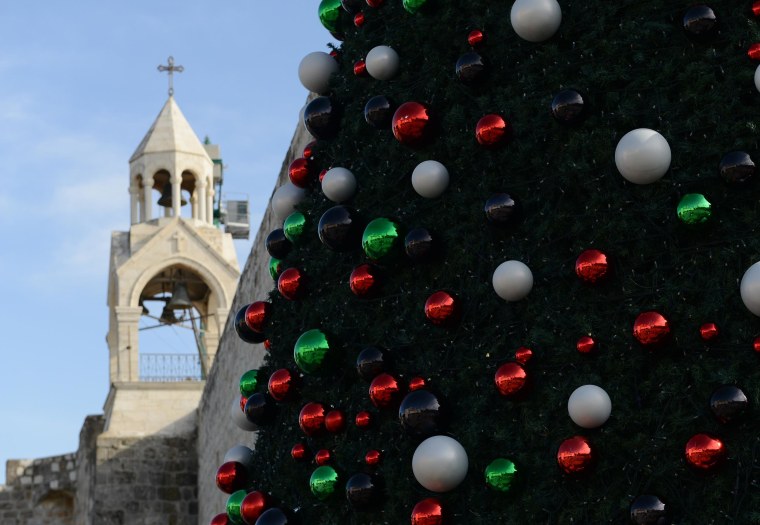 A planned extension to the Israeli-West Bank barrier, which Israel says protects it from terrorism, will also further damage the city's economy, Bethlehem Mayor Vera Baboun said.
If these plans go through it would be "the last suffocation of Bethlehem," she said. According to Baboun, 40 families have left the city "in search of better lives" in the past two months alone.
Palestinians see the occupied West Bank as part of a future Palestinian state and feel Israel is robbing land that belongs to them, while Israel views it as part of its territory.
"When we lit the Christmas tree our slogan was, 'All I want for Christmas is justice,'" she told NBC News. "As long as there is no political solution, Bethlehem will be victimized more and more."
And this perceived victimization has an impact on the bottom-line for many of the city's businessmen.
Maher Qanwati, owner of Bethlehem's Saint Michael Hotel, told NBC News that 70 percent of his bookings from September to November had been axed and that business was looking down for 2015. Christmas season bookings from abroad have plunged by 40 percent from last year, he said.
While he was still fully booked over Christmas, Qanwati said most of these reservations were made by Christian Arabs from Israel instead of the usual influx of foreign pilgrims and tourists.
Israelis tend to spend less money on tourism, food and accommodation than people coming from abroad, Baboun said.
Palestinian Tourism Ministry adviser Fadi Kattan said that in Bethlehem's Church of Nativity, which is built over the cave considered to be the birthplace of Jesus, visitors are handed a brochure with a map on the back that does not mention Palestine or the Palestinian territories.
"In Jerusalem, tourists are being told it is unsafe to go to the Palestinian areas of the city," Kattan added. "
Asked about these complaints, Israeli Foreign Affairs spokesman Emmanuel Nahshon said: "This outrageous claim is totally denied. Tourists can visit the Palestinian territory, and they do." He declined to comment further on the Palestinian officials' comments.
Whatever is behind the contraction in visitor numbers, a lot hangs on the fate of Bethlehem, long a cosmopolitan and mixed city, Sansour said.
"Especially today when the fabric of the Middle East is changing, preserving cities like Bethlehem is absolutely key," she said.
Alexander Smith reported from London. NBC News' F. Brinley Bruton contributed to this report.