Graphic and visceral accounts from the deadly conflict in Gaza are streaming around the world in real time – along with a parallel rise in fake images and propaganda.
It's not just Twitter that is changing the way each side is tackling its enemy: from drones to smartphone apps, innovation in information has changed the pace of one of the world's oldest conflicts. Here are 8 ways that technology is at the forefront of the war in Gaza.
1. APPS
More than 750,000 people have downloaded Red Alert, an unofficial smartphone app that uses real-time information from the Israel Defense Forces and Homefront Command to give a warning of between 15 and 90 seconds when a rocket is fired into Israel from Gaza. Developed during the 2012 Operation Pillar of Defense, it allows users to select push alerts based on where they live.
For those concerned about kidnappings – the current military flare-up was triggered by the capture and murder last month of three Israeli teens – there is SOS, which triggers a personal safety alert with a single right-swipe, making it easier to raise the alarm when a phone call is not possible.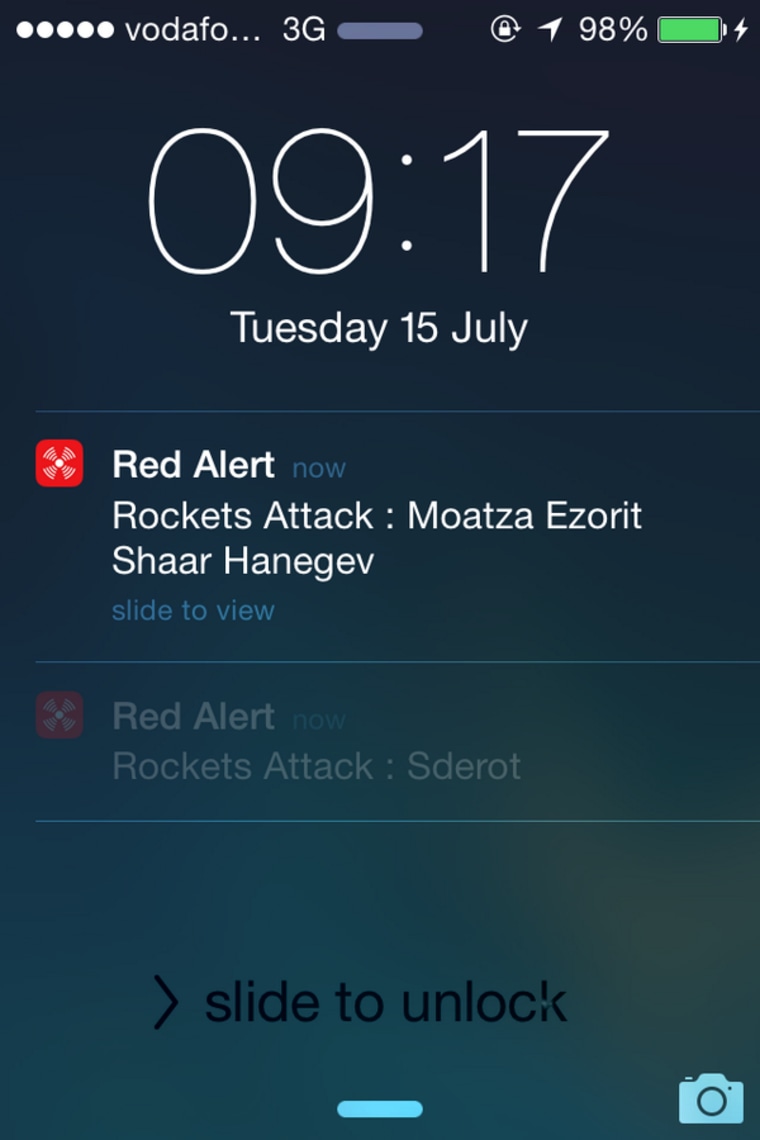 There's also an app that helps Israelis find their nearest bomb shelter. Not all apps have endured: a Palestinian-made iPhone app promoting a third intifada (Arabic for uprising) Palestinians against Israel was reportedly removed by Apple because it was deemed offensive.
2. TWITTER
The fastest-moving social media battleground is Twitter, where breaking news and eyewitness accounts are rapidly changing the course of diplomacy as well as events on the ground.
The Israeli Defense Force public information account has almost 350,000 followers and supplies a constant stream of official statements and updates about IDF activity, including reports of targeted strikes against militants who it euphemistically describes as having been "neutralized." Israeli police spokesman Micky Rosenfeld also shares pictures and updates on his own feed.
"Social media is actually a war zone for us here in Israel," Lt. Col. Avital Leibovich, who founded an IDF unit dedicated to producing online postings, told CNBC. "Here we can have our own campaigns, we can decide on the size of the headline, what that headline will be and exactly which pictures and which footage to upload."
On the Palestinian side, the military wing of Hamas, the al-Qassam Brigades, has several similar accounts in different languages including an English feed with more than 11,000 followers. The accounts are sometimes suspended - but new ones routinely pop up to take their place. Visceral eyewitness pictures of dead and dying are often shared by activists under hashtags including #GazaUnderAttack and #PrayForGaza.
3. YOUTUBE PROPAGANDA VIDEOS
Both Israel and the Palestinians have uploaded polished videos to YouTube as part of their social media war. The IDF has an official YouTube channel that includes a clip from spokesman Lt. Col Peter Lerner explaining the Israeli military's position on civilian targets as well as military footage of attacks on Hamas targets.
The al-Qassam Brigades has produced its own slick propaganda videos including a clip boasting of its home-made rocket arsenal. The clips are similar to those created by ISIS – the al-Qaeda-linked terror group running rampant in Iraq - and lean heavily on music which appeals to young supporters and recruits. Al-Qassam has even designed a Hebrew version of one of its existing videos, taunting Israelis with images of Hamas fighters in fatigues.
4. BLOGS, FACEBOOK AND GOOGLE+
In response to the popular #GazaUnderFire Twitter hashtag, a group of students at the Interdisciplinary Center in Herzliya (IDC) has convened a propaganda "war room" to promote Israel's case under a website called Israel Under Fire.
"In view of the incomplete information provided by many international news outlets, it is in our hands to ensure that our friends and neighbors abroad are properly informed of the events taking place in Israel," the students say. (They also invite you to 'like' them on Facebook.)
The students aim to counter the tide of images posted by Palestinians illustrating the horrifying human toll of Israeli airstrikes. These often gruesome pictures are shared extensively by the Palestinian Interior Ministry on its website, and by the al-Qassam Brigades via its Google Plus account.
5. DRONES
The current conflict has seen Hamas deploy drones for this first time, according to Israel. The first was intercepted by the Iron Dome defense system and shot down by a U.S.-made Patriot missile close to the port of Ashdod. The al-Qassam Brigades said earlier this year that it had found an Israeli drone which it said had crashed in the Gaza Strip.
6. HACKING
As technology comes to the fore, so does the risk of enemy infiltration. The Free Syrian Army hacked into the IDF Twitter account earlier this month, posting a false claim that rockets had hit an Israeli nuclear plant.
Hackers reportedly took control of the Facebook page of Domino Pizza in Israel earlier this month, publishing warnings in English, Arabic and Hebrew. "Today will strike deep in Israel, Tel Aviv, Haifa, Jerusalem, Ashkelon, Ashdod more than 2000 rockets. We'll start at 7. Counting back towards the end of Israel…Be warned!"
7. INTELLIGENCE
In the 2012 conflict, the IDF warned Israelis that Hamas was using information in posts on Facebook and Twitter to help improve the aim of its rockets. Posts revealing the exact locations of rockets which had fallen in open areas could help militants reach their intended targets in future, according to the IDF.
The rapid rise of online propaganda by the likes of ISIS and al-Qassam poses a headache for counterterrorism experts who fear a surge in Western recruits to Islamic jihad. However, it also creates an opportunity for intelligence agencies to use the material to help identify suspects and glean information about the locations and activities of individual terror cells. The Pentagon, which monitors militant contributions to social media, takes on some of postings by reporting the accounts or flagging them for suspension or removal.
It recently emerged that the activities of Twitter and Facebook users were recorded and analyzed as part of a project funded by the Department of Defense's military research department, Darpa. The study, which examined how users are influenced by information, included analysis of the tweets of celebrities such as Lady Gaga and Justin Bieber, according to The Guardian.
8. TEXTS … AND TELEPHONE CALLS
For those without smartphones or apps, Israel's Homefront Command can deliver urgent SMS updates to Israelis with warnings of incoming rocket attacks. It has used automated calls -- similar to Reverse 911 alerts in the United States - to warn residents in northern Gaza to evacuate ahead of planned airstrikes.
Sometimes the oldest technology can prove to be the most effective. Israel released a recording of a telephone call it says was made by the IDF to a house in Gaza warning those inside of an impending direct missile strike on a nearby target.