TEL AVIV – Israel's air force dropped leaflets on northern Gaza early Sunday, warning residents to evacuate ahead of a new wave of airstrikes in the coming hours, military officials said. "To the residents of Beit Lahiya, the [Israeli Defense Force] intends to attack terrorists and terror infrastructures in the area east of Al-Atatra and Al-Salatin St., and in the area west and north of Ma'bscar Jabalyia," the leaflets said. "Israel is currently attacking, and will continue to attack, every area from which rockets are being launched at its territory."
The warning came ahead of what Israel's military spokesman described as a "short and temporary" campaign against northern Gaza to begin sometime after 12 p.m. local time (5 a.m. ET). It was not clear whether the attack would be confined to stepped-up airstrikes or whether it might include a sizeable ground offensive — something that Israel has so far been reluctant to undertake in its six-day offensive. Earlier Sunday, Israel briefly deployed ground troops inside the Gaza Strip for the first time to destroy what it described as a rocket-launching site, an operation the military said left four soldiers slightly wounded.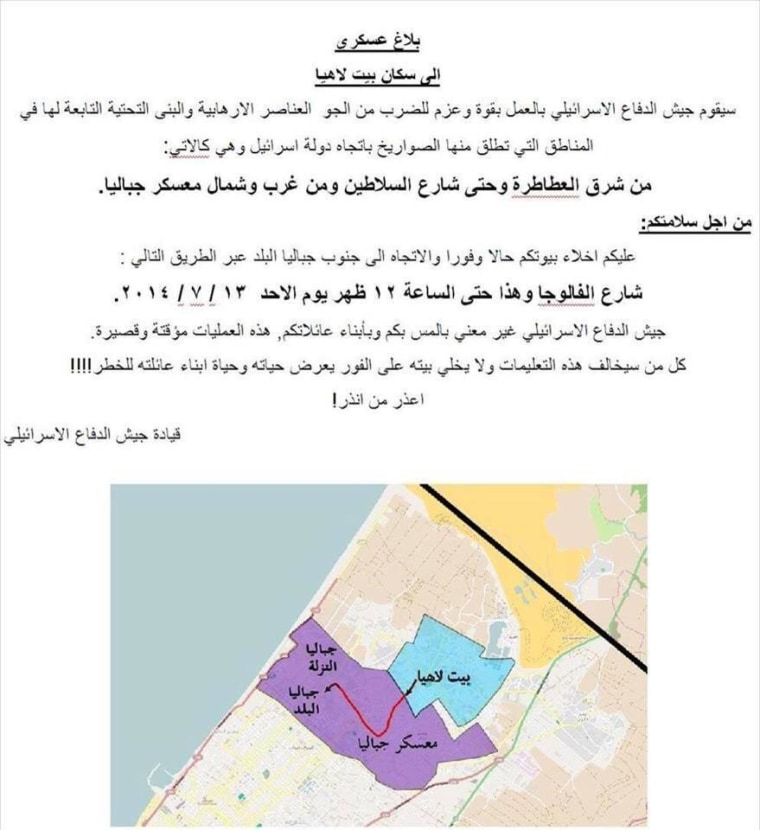 In-Depth
Social
- Paul Goldman and Alastair Jamieson
The Associated Press contributed to this report.