TEL AVIV, Israel — A Palestinian Cabinet minister died Wednesday after a confrontation with Israeli forces in the occupied West Bank, the Palestinian government confirmed.
Palestinian President Mahmoud Abbas' announced three days of mourning and halted all contacts and security coordination with Israel after Ziad Abu Ein died in an incident at a protest in the village of Turmus Aya.
Chief Palestinian Negotiator Saeb Erekat also condemned what he called an "assassination."
"The Israel government bears full responsibility for the killing of Minster Abu Ein and the systematic crimes committed against the Palestinian people," he said in a statement. "This new assassination will have severe consequences."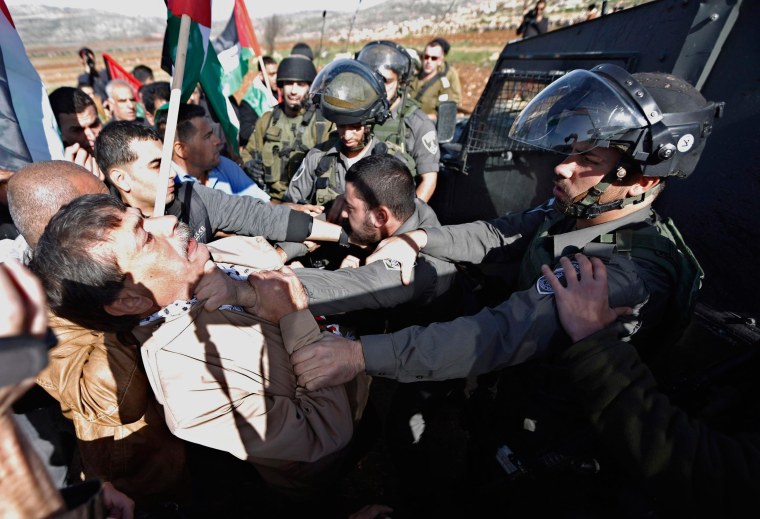 Mahmoud Aloul, a leading member of Abbas' Fatah movement, told The Associated Press that Abu Ein had been among dozens of protesters carrying olive tree saplings during a demonstration against land confiscations when Israeli troops fired tear gas at them.
"The minister came to the hospital in a very critical situation, his heart was beating very fast and he had difficulty breathing and bruises on his body," Dr. Rami Abu Khalil told NBC News. "They tried to save his life inside the hospital, but they couldn't." An autopsy was being conducted, Abu Khalil added.
Israel said it was investigating the incident.
"Earlier today, approximately 200 rioters gathered in Turmus Ayya, near Ramallah. [Israeli] forces halted the progress of the rioters into the civilian community of Adei-Ad using riot dispersal means," the Israeli Defense Forces said in a statement. "The IDF is reviewing the circumstances of the participation of Ziad Abu Ein, and his later death."
Adei Ad is a Jewish settlement near the Palestinian town of Turmus Aya.
An Israeli pathologist will join a delegation from Jordan to investigate the circumstances of Abu Ein's death, the IDF added.
Abu Ein headed a Palestinian Authority department dealing with Israeli settlements and the Israeli separation barrier, and had the rank of Cabinet member. Previously, he served as deputy minister for prisoner affairs.
NBC News' Yara Borgal and Paul Goldman, Reuters and The Associated Press contributed to this report.