Despite Turkey's desire to create a "no-fly zone" in northern Syria along the Turkish border, Pentagon officials say the U.S. "has no such plan."
The U.S. and Turkey are in discussions that would allow, for the first time, U.S. warplanes and drones to conduct combat operations from four separate Turkish air bases against ISIS targets inside Syria. As part of the deal, Turkey wants the U.S. and coalition aircraft to enforce a "no-fly" zone to prevent Syrian warplanes from conducting airstrikes along the Turkish border.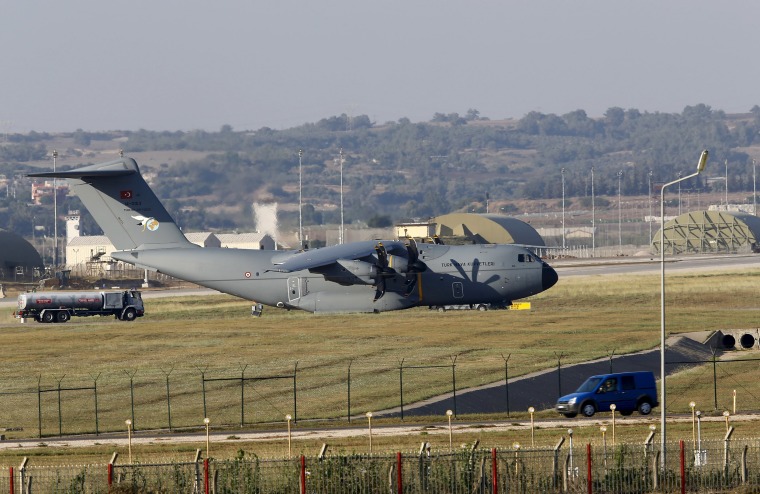 Related: Captured ISIS Fighter: Joining Extremists in Syria Ruined My Life
Long a reluctant member of the U.S.-led coalition against Islamic State, Turkey last week made a dramatic turnaround by granting the alliance access to its air bases and bombarding targets in Syria linked to the jihadist movement. Struggling with more than 1.8 million Syrian refugees, Turkey has long campaigned for a "no-fly zone" in northern Syria to keep Islamic State and Kurdish militants from its border and help stem the tide of displaced civilians trying to cross.
While no such formal arrangement has been struck with Washington, Prime Minister Ahmet Davutoglu said the two allies saw eye to eye on the need to provide air cover for moderate Syrian rebels fighting Islamic State.
"What we have now is air coverage to clear a region from Daesh (Islamic State) and support the moderate opposition so they can gain control of that region," Davutoglu told Turkey's ATV in an interview broadcast live.
Pentagon spokesman Capt. Jeff Davis said today, the U.S. is "not committed to any specific zones."
Davis said the U.S. and Turkey are still locked in ongoing consultations about "deepening cooperation" but appeared to rule out any U.S. participation in a no-fly zone. U.S. military and administration officials fear that establishing a no-fly zone could draw the US into direct combat with Syrian forces.
Davis predicted it will take "weeks not days" to reach an agreement.