TEL AVIV, Israel -- Tens of thousands of people turned out in Jerusalem on Wednesday to mourn an American who died fighting in the Gaza Strip after volunteering to join Israel's military.
Originally from California's San Fernando Valley, Max Steinberg was among thousands of so-called "lone soldiers" who leave their lives behind to serve in the Israel Defense Forces.
The 24-year-old was the second American to die in the Gaza conflict. A funeral for Nissim Sean Carmeli, 21, from South Padre Island, Texas, drew thousands in the Israeli port town of Haifa on Monday after a Facebook campaign called for people to attend.
"Max was a small guy with a very big heart ... He wasn't eight feet tall but he acted like he was"
Because they are not required to fight, "lone soldiers" are considered heroes in Israel, and Steinberg's ceremony was attended by around 30,000 people, according to Israel's Haaretz newspaper.
"I never thought I'd have to bury my child, it's not supposed to be that way," his mother Evie Steinberg told NBC News at a candle-lit vigil for her son in Los Angeles on Sunday. "But he wasn't afraid, he wasn't afraid for himself."
Steinberg, a member of the elite Golani Brigade, was one of 13 Israeli soldiers and scores of Palestinians killed in the Gaza Strip over the weekend. He joined the force six months after he visited the country for the first time on a Birthright Israel trip in the summer of 2012.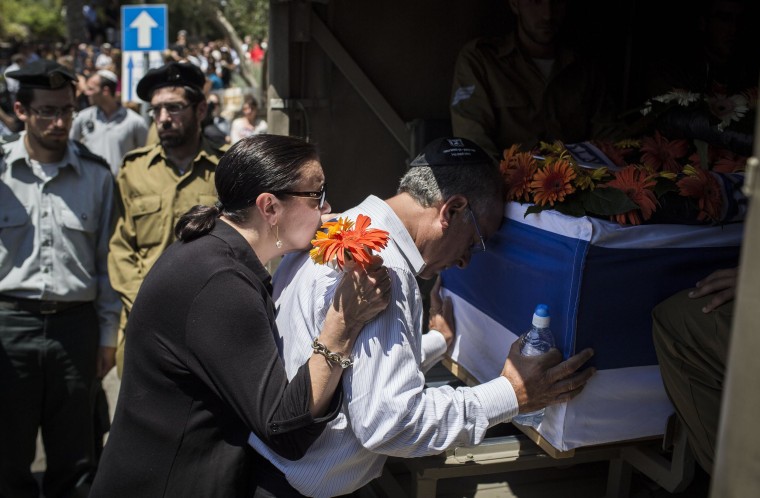 "Max had an amazing connection with the people, the experience was beyond anything he could have personally imagined," his mother told NBC News, speaking of the Birthright trip. "Here in Los Angeles he was having challenges in regard to what he wanted to do, how he was going to apply his time. And when he went to Israel he saw an opportunity to connect with a place that welcomed him."
Hours before Steinberg's funeral, Secretary of State John Kerry flew into Tel Aviv to meet Israeli Prime Minister Benjamin Netanyahu, Palestinian President Mahmoud Abbas and United Nations Secretary-General Ban Ki-moon.
The weeks-old conflict that began with Israel airstrikes and rockets fired from Gaza has now expanded into an Israel ground invasion on the enclave and claimed the lives of 630 Palestinians, most of whom were civilians and about 30 Israelis, mostly soldiers.
Josh Flaster, from Phoenix, Arizona, served three years in the IDF and now leads a group called Lone Soldier, which supports families of foreign soldiers who serve in Israel.
"As a grandchild of Holocaust survivors, when Jews are attacked anywhere in the world, especially, sadly, when it happens here in Israel … I decided that I needed to do something more than write op-eds and do things like that," Flaster, who has three siblings fighting in Gaza, told NBC News of his decision to sign up. "I wanted to really give up myself and serve in the Israeli army and defend the Jewish people so that is why I came."
Flaster said he knew Steinberg and assisted him before he decided to join the IDF. "Max was a small guy with a very big heart," he added. "He put himself at risk throughout his service to look after other soldiers who might have been in danger. He wasn't eight feet tall but he acted like he was."
Alexander Smith reported from London.