Scientifically speaking, there's no reason the airplane fragment found Wednesday on Reunion island in the Indian Ocean, couldn't be from Malaysia Airlines Flight 370 — even though it's 4,000 miles away from MH370's last known position before it vanished.
Investigators said it's too early to tell for sure whether the fragment really is from Flight 370, which disappeared with 239 people aboard in March 2014.
Related: Airplane Debris is 'Major Lead' in MH370 Hunt, Australia Says
But the Joint Agency Coordination Centre, the Australian agency working with Malaysia to oversee the mammoth search, said the location of the fragment would be "consistent with other analysis and modelling that the resting place of the aircraft is in the southern Indian Ocean."
John Cox, chief executive of Safety Operating Systems, an aviation safety consulting company, told NBC News that the fragment doesn't look as though it was violently ripped off. Instead, he said, it suggested that the plane made something of a "soft" crash landing — perhaps in the water.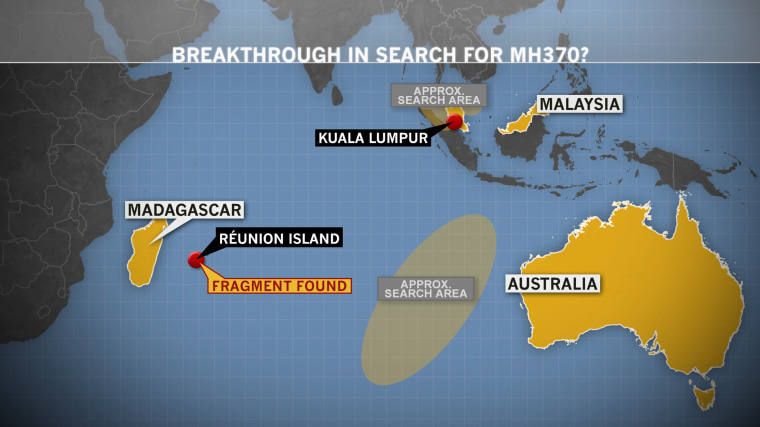 The fragment itself may make it clear where it came from — sources say Boeing Corp. investigators already believe it appears to have come from one of the company's 777s, sources told NBC News, and the only 777 missing in the world right now is MH370.
But if it doesn't include distinctive identifiers or other markings, however, it's still possible to figure out where the fragment came from.
Related: Girlfriend of MH370 Passenger: Wreckage Could Dim Hope of Survival
"The question is how long that part has been sitting on that island," Greg Feith, a former senior investigator for the National Transportation Safety Board, told NBC News. "Someone's going to have to really reverse-engineer the flow pattern of the ocean and try and backtrack where this may have floated from."
Other clues to where it came from — and how it could have traveled so far from where MH370 is generally believed to have gone down — could come from the layer of sea life encrusted on the surface, Feith said. The age of the barnacles and other shells could help pinpoint when the piece entered the water, for example.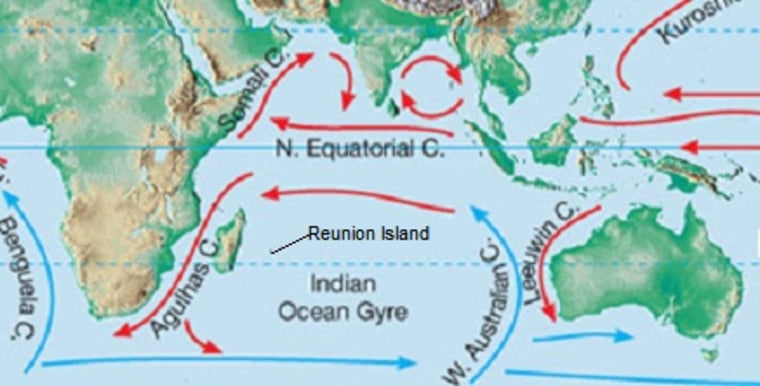 Deep ocean currents can carry things thousands of miles — they're sometimes called the "global conveyor belt." Reunion Island is in what oceanographers and meteorologists call the Indian Ocean gyre — one of five "ocean-wide gyres" on Earth, which are major spirals of currents driven by surface winds.
In the Southern Hemisphere, those currents are counterclockwise — toward where the fragment was found Wednesday, according to the National Ocean Service of the U.S. National Oceanic and Atmospheric Administration.
Such currents can be very strong, moving at more than 2.2 mph. That might not seem fast, but it's a rate of more than 300 miles in a single week — and MH370 has been missing for more than 70 weeks.
Such currents usually don't move in a straight line, meaning any debris could be carried thousands of miles away in a wide arc of directions — including to Reunion, which is about 4,000 miles southwest of MH370's last known position.
In 2013, for example, a lifeboat from the merchant cargo ship MS Olivia washed ashore on a national park beach in southeast Australia — two years and 5,000 miles from where the Olivia capsized in the South Atlantic on a voyage from Brazil to Singapore.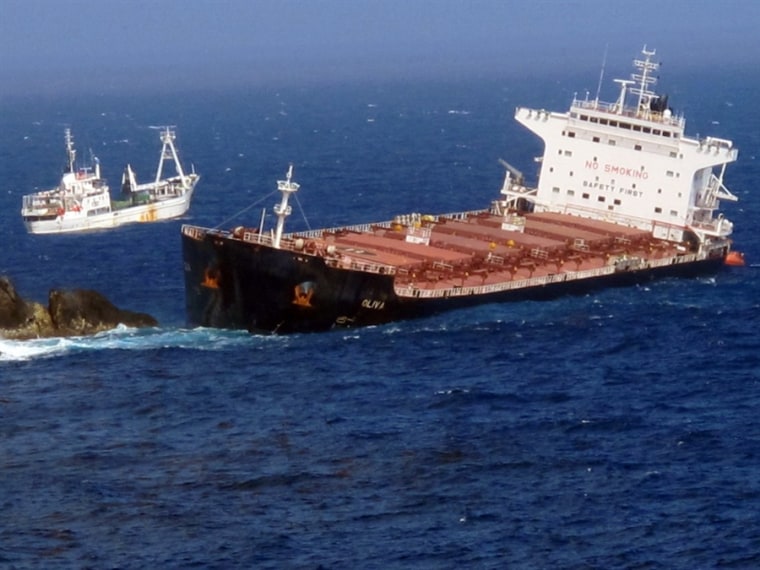 Officials on Reunion said the fragment found Wednesday appeared to have been in the water for more than a year, making it "very plausible" that it came from MH370, said Robin Robertson, an oceanographer at the University of New South Wales in Sydney, Australia.
"It's about the right time for something," given what was known about Indian Ocean currents, Robertson told Reuters. "It depends on where it went in, but it's about the right time for debris to wash up."