Air disaster experts — who readily admit they are as baffled as everyone else about the disappearance of Malaysia Airlines Flight 370 — say it is technically possible but almost unimaginable that the plane landed somewhere.
A week and a half after the jet vanished over Southeast Asia, the possibility of an intact landing, perhaps on a remote airstrip, seems to survive because no other theory of the case cleanly matches all the facts.
But safely landing a 209-foot-long jetliner without anyone noticing — and keeping it hidden from the world for the 10 days that have followed — would be an unprecedented disappearing act.
"You can't completely eliminate it, but it's unlikely," said Bill Waldock, a professor of safety science at Embry-Riddle Aeronautical University in Prescott, Ariz., and an aircraft accident investigator.
Investigators figure that the jetliner was along one of two arcs, each thousands of miles long, when it last made contact with a commercial satellite at 8:11 a.m. Malaysia time on March 8.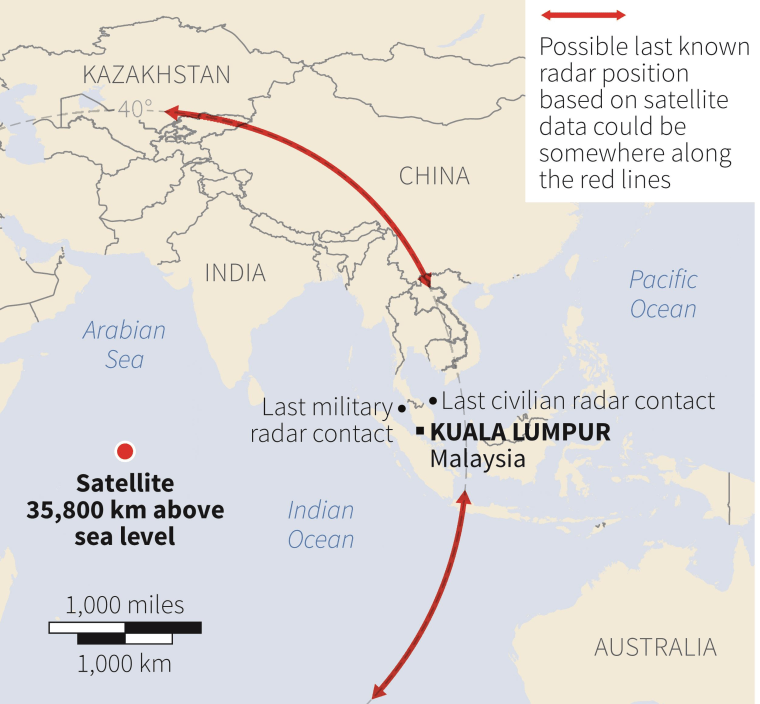 Along the northern arc, China, India and Pakistan have reported no sign of the plane, according to The Associated Press. Kazakhstan and Kyrgyzstan have also said nothing was amiss in their airspace. U.S. intelligence officials believe the southern arc is the likelier possibility.
The southern arc stretches from Indonesia into the yawning expanse of the Indian Ocean, where radar coverage is more scarce. It brushes close to Australia, where there is vast, mostly uninhabited outback where it might be possible to land a plane.
"Probably there would be some places flat enough to put an airplane down," Waldock said. "The question is, isn't somebody going to see it? It's 200 feet long and 200 feet wide (counting wingspan). That's going to show up like a sore thumb."
"The fact that there was no distress signal, no ransom notes, no parties claiming responsibility, there is always hope."
And in the remote islands along the southern arc, "there's nothing built up enough to put an airplane down on," he said.
Besides the problem of landing a 777 in the territory of a sovereign country, a sinister pilot, crew member or hijacker would have to take control of the more than 230 people left on the plane. And using it in a nefarious plot would require refueling it.
"There's a lot of moving parts to do that," Don Borelli, an NBC News national security analyst, said Monday on TODAY. "And to what end? And the fact that there's no chatter in the intelligence community talking about such a plot."
"It seems unlikely," he concluded, "but I'm not going to rule it out."
Robert Hager, who covered aviation for NBC News for 25 years before retiring, said that even if civilian radar didn't pick up the plane, "spy satellites or radar that we don't know about" probably would have.
"I just don't see it," he said. "If they find the plane on the ground, it's going to be in little pieces, in the Himalayas or the bottom of the ocean."
The theorizing is complicated by the fact that the families of the 239 people on the plane are increasingly distraught and desperate for answers about what happened to their loved ones.
Hishammuddin Hussein, the Malaysian defense minister, told a news conference Monday that finding the plane was still the focus of investigators, and he did not rule out finding it in one piece.
"The fact that there was no distress signal, no ransom notes, no parties claiming responsibility, there is always hope," he said.
Chinese Premier Li Keqiang, whose country is home to more than half the passengers, sounded a similar note: "As long as there is one thread of hope, we will continue an all-out effort."
Tom Casey, a retired American Airlines pilot who flew the Boeing 777, said that it could land and stop on a runway as short as 3,500 feet if it were coming in light on fuel, as Flight 370 would have been after flying for seven hours.
And the New York public radio station WNYC, relying on data from the aviation site X-Plane, found 634 runways of 5,000 feet or more in the countries surrounding Malaysia, including Micronesia and the far-flung Maldives.
"If they flew over the wrong place, they would show up on air-defense radar," Waldock said. "And all the sudden you get lit up by a missile."
Casey, too, questioned how a landed 777 could be hidden, especially given the enormous media attention paid to the missing plane. And anyone who wanted to land the plane would have had to know exactly where they were going, he said.
Still, he added: "It makes a lot more sense to me that you'd fly a plane to somewhere than fly a plane into oblivion."
He questioned whether other countries might have missed Flight 370's radar blip — at the time, the world was just learning about a missing plane — or might be loath to admit that a plane had penetrated their radar systems without anyone noticing.
"We know they flew for six or seven hours," he said. "It doesn't make any sense at all for a plane, whether it's a rogue crew or an intervention, to fly like that for seven hours and then crash and die."
An intact landing is difficult to imagine, he said, but "I think it's as likely as any scenario. … This is the first disappearance of its kind that we know about, period."