The airplane fragment found on the Indian Ocean island of Reunion is from a Boeing 777 — the same as missing Malaysian Airlines Flight MH370 — sources told NBC News on Thursday.
The barnacle-covered plane piece was found by a crew cleaning the coastline Wednesday. On it was a number — 657-BB — which sources said is attached to a Boeing 777.
MH370, which disappeared in March 2014, is the only 777 known to be missing anywhere in the world.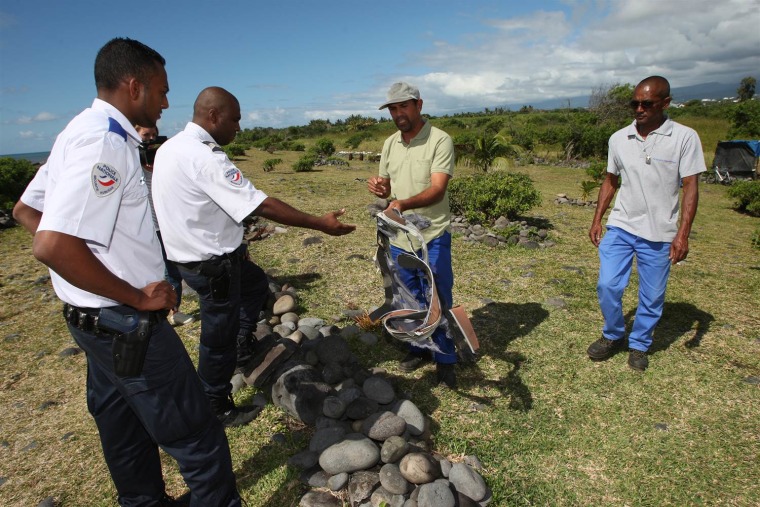 The remains of a suitcase were also reported to have been found in the same area Thursday as air, land and sea crews combed the beaches and scoured the waters off Reunion Island, a French territory east of Madagascar off the southern tip of Africa.
Officials had no immediate comment on the suitcase.
Related: Reunion Island Scoured for Clues After Debris Washes Ashore
The debris found Wednesday is a flaperon from the wing's trailing edge, sources confirmed. That's a mashed-up word describing a combination of a flap — which helps determine a plane's altitude, or vertical direction — and an aileron, which controls how it "rolls" into a new direction horizontally.
Agnes Thibault, a spokeswoman for the Paris prosecutor's office, told NBC News that the fragment would be sent to a division of the French Defense Ministry in Toulouse to be examined in a few days. France is leading the official judicial investigation because the debris was found on French territory. The co-pilot and some of the victims also were French.
Related: Relatives in Agony Over Debris Find
"This is obviously a very significant development," Australian Deputy Prime Minister Warren Truss told reporters Thursday in Sydney. "It's the first real evidence that there is a possibility that a part of the aircraft may have been found It's too early to make that judgment, but clearly we are treating this as a major lead."
The wreckage is 6½ to 8 feet long, according to photographs. John Cox, chief executive of Safety Operating Systems, an aviation safety consulting company, told NBC News that the fragment doesn't look as though it was violently ripped off. Instead, he said, it suggested that the plane made something of a "soft" crash landing —perhaps in the water.
MH370 was carrying 239 people when it disappeared about an hour into its journey from Kuala Lumpur, Malaysia, to Beijing on March 8, 2014. The fragment was found 4,000 miles from its last known position before it vanished, but oceanographers and search officials said especially strong eastward currents in the southern Indian Ocean easily could have carried the piece that far.
Related: How Currents Could Have Carried Wreckage to Reunion
Still, it remains unclear how valuable the fragment could be, said Greg Feith, a former senior investigator for the National Transportation Safety Board.
"That one single piece isn't going to answer all the questions," Feith said Thursday on TODAY. "But I think it will answer enough questions, especially with the conspiracy theorists who said this landed somewhere, and I think this confirms it went down in the water."