Aircraft and merchant vessels have been involved in scouring a search zone drawn up after suspected debris of the vanished Malaysia Airlines jet was spotted by a U.S. satellite in distant waters off Australia.
It takes a craft four hours to fly there — and each plane can only spend about two hours searching the 22,300-square-mile area in the remotest reaches of the southern Indian Ocean before it has to turn back to refuel.
NBC News joined a New Zealand Air Force P-3 Orion, a reconnaissance aircraft, on one such trip.
Capt. Brett "Skinny" McKinzie said that while his crew is highly experienced in search and rescue missions around the Indian and Pacific oceans, the search for Flight 370 is massive on an unprecedented scale.
The Kiwi crew of about a dozen airmen, joined by two British pilots, utilized radar and sonar technology — as well as old-fashioned looking out the windows of the aircraft — to search for any signs of the airliner.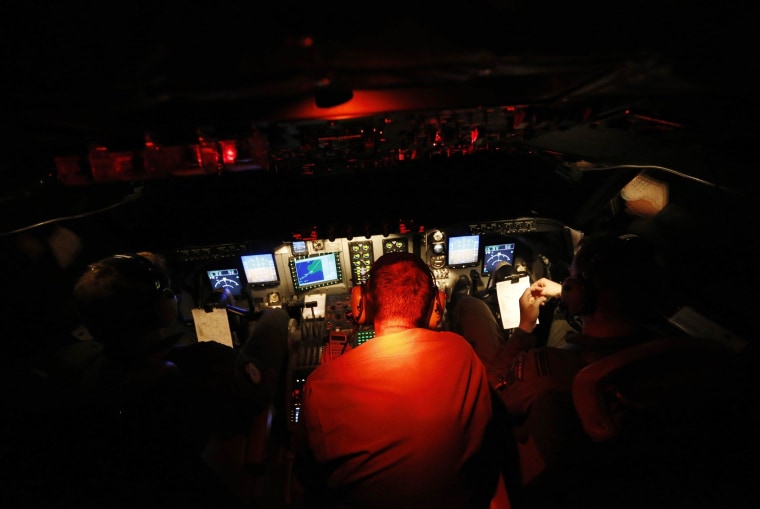 After two hours on station, the aircraft rapidly descended to just above the ocean's surface at around 500 feet, before depleted fuel reserves forced it to turn back to the Australian airbase just outside of Perth — empty-handed.
Before flying home, the crew also deployed two GPS buoys at the request of the Australian military. The beacons allow the Australians to track water currents in the extremely remote region, potentially providing insight into the movement of any possible objects associated with the missing aircraft.
At one point in the otherwise monotonous journey, the crew was asked to divert course to a potential debris sighting, but their excitement quickly faded after only finding a pile of floating seaweed at the site.
— Ziad Jaber