BEIJING -- Hundreds of family members of passengers aboard missing Flight 370 marched on the Malaysian Embassy in Beijing on Tuesday, demanding "the truth" about what happened.
The protest came hours after Malaysia's prime minister announced that new satellite analysis suggested the flight "ended" in the southern Indian Ocean.
Linking arms, many of the tear-stained protesters chanted: "Malaysia, return our relatives, Malaysian government cheated us."
Some held banners accusing Malaysia of "delays and deception" while others said they were still waiting for their relatives to return home.
"MH370, Don't let us wait too long," one read, while others wore matching T-shirts saying: "Best of luck to MH370, return home safely."
Many said they were angry at the lack of evidence provided by the Malaysian government to back up claims that the plane had crashed.
"Why did you declare that the plane crashed and everybody died?" one family member who did not wish to be named told NBC News. "Where is the proof? We demand that they continue the search and we demand the truth."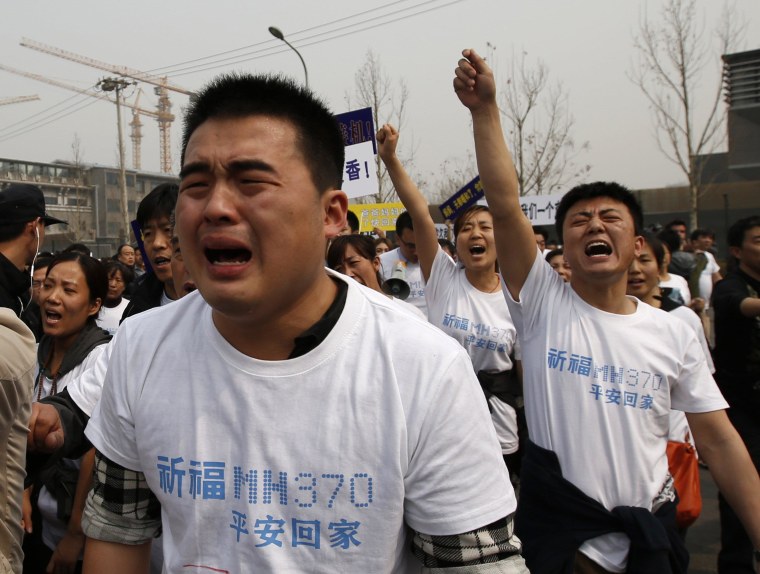 Another accused the Malaysian government of "cheating" family members and not showing them any respect, while a third accused them of predicting what happened to the plane, rather than knowing the truth.
Malaysia Airlines officials early Tuesday defended their handling of the notification of family members on the presumed final fate of missing jet by text message.
After a few hours outside the heavily guarded building in the northeast of the Chinese capital, the protesters were bused back to the hotel where they have been staying since the Boeing 777 vanished on March 8.
Wendy Min and Henry Austin of NBC News contributed to this report.