Crews used planes, boats and helicopters to search the South China Sea off of Malaysia Saturday for any sign of a Malaysia Airlines plane -– carrying 239 people, including three Americans -– that lost contact with air traffic control en route to Beijing more than 12 hours ago.
The airline said a search-and-rescue mission was under way for Flight MH370, a Boeing 777-200, and that relatives of those on board were being notified.
The flight from Kuala Lumpur, carrying 227 passengers from 14 countries — including two infants, one an American — and 12 crew members, had been scheduled to land at 6:30 a.m. in Beijing (5:30 p.m. ET Friday). But Subang Air Traffic Control in Malaysia reported that it lost contact at 2:40 a.m. (1:40 p.m. ET Friday). The airline earlier said 228 people were onboard, with four Americans among them, and did not explain the change in the numbers.
In a statement on the official Vietnamese government website, the army said contact with the plane was lost one minute before it entered Vietnam's air traffic control jurisdiction.
It still wasn't known where the plane was, the army said.
Malaysia, Vietnam, China, the Philippines and Singapore all were participating in the search, according to various media reports. Malaysian navy vessels reached the area where the plane last made contact off the country's northeast coast but didn't find anything, Reuters reported.
As unconfirmed rumors swirled, Malaysian Transport Minister Seri Hishammuddin said at a news briefing in Kuala Lumpur that there was still no information on wreckage more than 12 hours after the plane broke contact.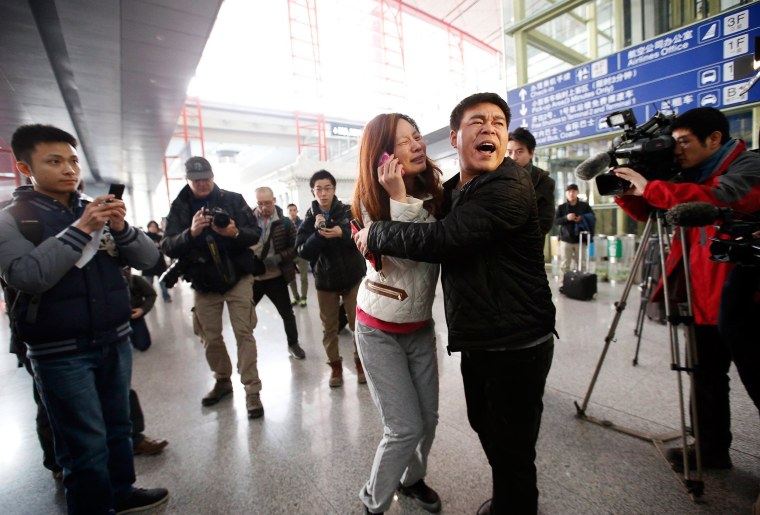 "It is, indeed, a mystery," Andrew Herdman, director-general of the Association of Asia Pacific Airlines, told the BBC on Saturday. "There's no evidence so far of what happened to this aircraft."
Herdman said it was shocking that a jet with such sophisticated communications could simply vanish without some sort of signal.
"It's extremely unusual, indeed," he said — especially given the 777-200's "extraordinary safety record."
Most of the passengers — 153, including one of the infants — were Chinese, the airline said Saturday. The other infant was an American, one of four on the plane, it said. Thirty-eight people were from Malaysia, and 12 were from Indonesia.
Families of the passengers were shepherded into a room behind closed doors at a Beijing hotel.
The airline identified the pilot as Zaharie Ahmad Shah, 53, a 32-year veteran of the airline with 18,365 hours of flight experience. The first officer, Fariq Hamid, 27, joined the airlines in 2007 and had 2,763 hours of flight time.
"Our thoughts and prayers are with all affected passengers and crew and their family members," the airline said.
Hishammuddin Hussein, Malaysia's defense minister and acting transport minister, took to Twitter to say echo the sentiment, saying he was "shocked."
Boeing told CNBC it was aware of the report and was monitoring the situation.
Michael Palmer, a meteorologist for The Weather Channel, said there were no significant weather conditions in the area.
"It's pretty much clear skies" from Kuala Lampur to Vietnam and the rest of Southeast Asia, Palmer said.
The 777-200 is considered one of the safest aircraft in the world. U.S. aviation records show fewer than 60 incidents, most of them minor, since it made its debut in 1995.
The jet's fire-resistant interior and strong seats were credited with limiting casualties in July when another 777-200, this one operated by Asiana Airlines, crashed at the San Francisco airport. Only two of the 307 people aboard were killed.
Catherine Chomiak, Tracy Connor, Sossy Dombourian and Miranda Leitsinger of NBC News contributed to this report.