BEIJING — Chinese relatives of those on board missing Flight MH370 said Thursday they were torn over the discovery of possible debris from the missing plane, adding it would mean nothing until their loved ones were found.
"Without finding the bodies, we won't believe anything, a part of the plane wing doesn't prove anything," Li Ping posted in a group on WeChat, China's popular messaging service.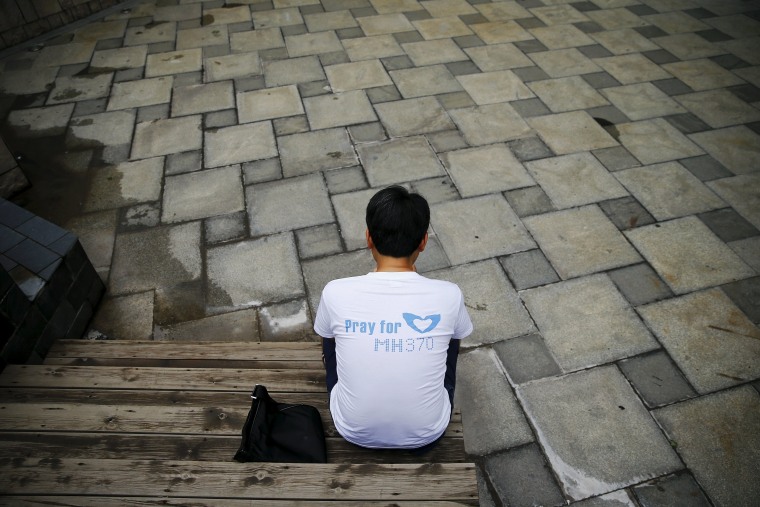 "Proof, proof! Plane debris doesn't say anything, where are the bodies?" wrote another relative who identified themselves only as Xiu.
Of the 239 people on board the Malaysian Airlines Boeing 777 that disappeared on March 8 last year, 153 were Chinese citizens.
Many relatives have lost faith in authorities over the handling of the investigation — a situation underscored by distrust of Chinese state media — and anger at officials has often boiled over in public.
Wang Le, an Internet company executive whose mother was aboard the plane, told NBC News: "I have no reaction yet because it's not confirmed. There have been too many updates before and many were not reliable, so I think I'd rather wait for confirmation."
Zhang Qian, whose husband Wang Houbin was a MH370 passenger, said she had seen reports of the discovery but remained unconvinced.
"We still can't be sure. How could it have traveled so far?" Zhang, 29, told Reuters. "They've given us so much contradictory information so far, how can we believe them now?"
Related: How Currents Could've Carried Wreckage to Reunion
"I'd rather the plane never be found," wrote one relative on social media. "At least under that, we have hope."
Chinese Foreign Ministry spokesman Hong Lei said Thursday that Beijing has been in contact with other countries over the debris found at the Reunion Island, adding that it was watching closely for any progress.