Satellite images taken on Sunday show 122 "potential objects" in the search for debris from missing flight MH370, Malaysian investigators said Wednesday.
Analysis of the images, which were supplied by France-based aeronautical firm Airbus Defence, revealed objects in the southern Indian Ocean around 1,588 miles from Perth, Australia – close to where other objects were previously seen.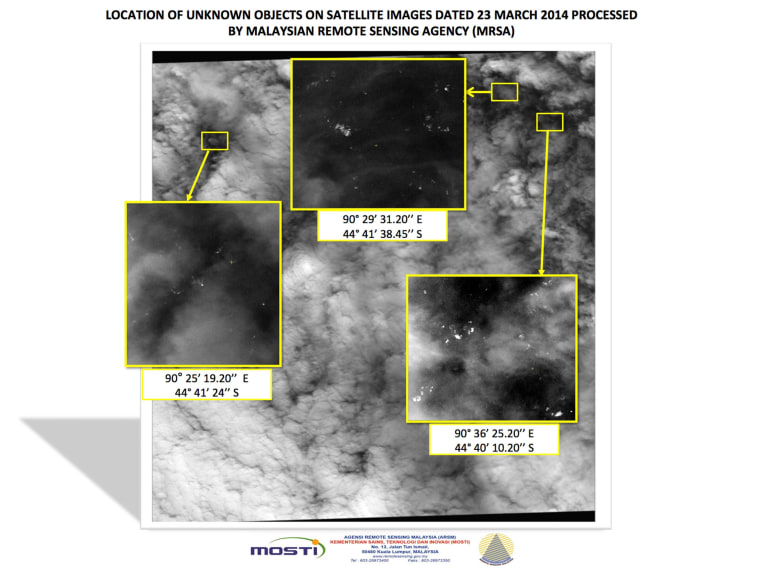 The objects were between one meter (3 feet) and 23 meters (72 feet) in length and were seen across an area of ocean approximately 154 square miles wide, acting transport minister Hishamuddin Hussein told reporters.
"Some of the objects appeared to be bright, possibly indicating solid materials," he added.
The Malaysia Airlines Boeing 777 disappeared on March 8.
The Airbus images are the fourth set of satellite pictures to show potential debris in the remote corner of the southern Indian Ocean which marks the farthest area where the jet could have flown before running out of fuel.
Searchers from six countries are scouring the sea to recover debris from the missing airliner.
Meanwhile, a Chicago law firm representing the families of passengers aboard MH370 has taken the first step toward a potential multimillion dollar lawsuit against the airline and the aircraft's manufacturer.
RibbeckLaw Chartered, a law firm that specializes in aviation cases, filed court documents Monday demanding that Malaysia Airlines and Boeing Co. turn over evidence of possible design and manufacturing defects.