A satellite spotted two objects in the southern Indian Ocean that could be related to the disappearance of Flight 370, Australian authorities said Thursday in what they called "the best lead we have" in the search.
The objects are "relatively indistinct" but the larger of the two appears to be about 75 feet across, according to John Young, emergency response general manager for the Australian Maritime Safety Authority.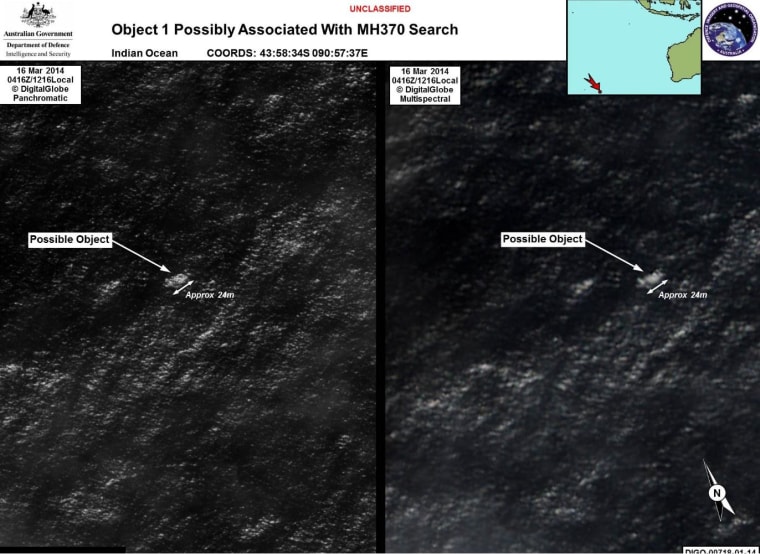 They were spotted about 1,400 miles west of Perth by a satellite on Sunday and "an expert assessment" of the images was received by Australian rescue coordinators on Thursday.
Addressing Parliament, Australian Prime Minister Tony Abbott said more analysis was needed before it could be determined whether the objects were from the missing Malaysia Airlines jet. However, Young called the discovery "the best lead we have right now."
Visibility is poor in the area, and two of five military planes over the search zone - including a U.S. Navy P-8A Poseidon - found "nothing" by 6.30 a.m. ET.
"The task of locating these objects will be extremely difficult, and it may turn out that they may not be related," Abbott said. However, he characterized the find as "new and credible information" in the search for the Beijing-bound Boeing 777, which disappeared March 8 after leaving Kuala Lumpur.
Young cautioned that the objects could be seaborne debris along a shipping route where containers can fall off cargo vessels, although the larger object is longer than a container.
The current images are not sharp enough to determine any markings. Better data could be obtained once commercial satellites are redirected to help out "in due course," Young said.
Military planes from Australia, the U.S. and New Zealand have been searching in a region over the southern Indian Ocean that was narrowed down from 232,000 square miles to 117,000 square miles.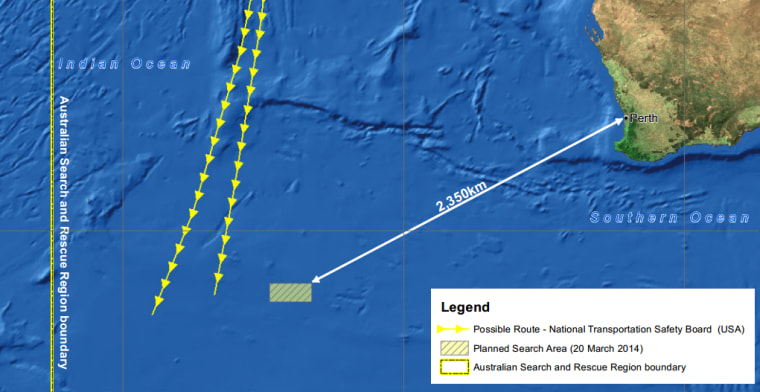 Australian Defense Minister David Johnston called the operation "a logistical nightmare."
"This is a terribly complex logistical operation to identify what we have found via the satellite," Johnston told Sky News Australia. "We are in a most isolated part of the world — in fact, it probably doesn't get, if I can be so bold, more isolated."
An Australian warship equipped to recover large objects was also diverted to the area, but it isn't expected to arrive for several days, he said.
Hishamuddin Hussein, Malaysia's acting transport minister, urged patience and caution. "We need to verify," he added.
But "with every lead, there is hope," Hishamuddin told reporters before a meeting with an Australian delegation.
The majority of the plane's passengers were Chinese citizens, and a spokesman for the Chinese Foreign Ministry said Beijing was "highly concerned" about the findings, the official Xinhua news agency reported.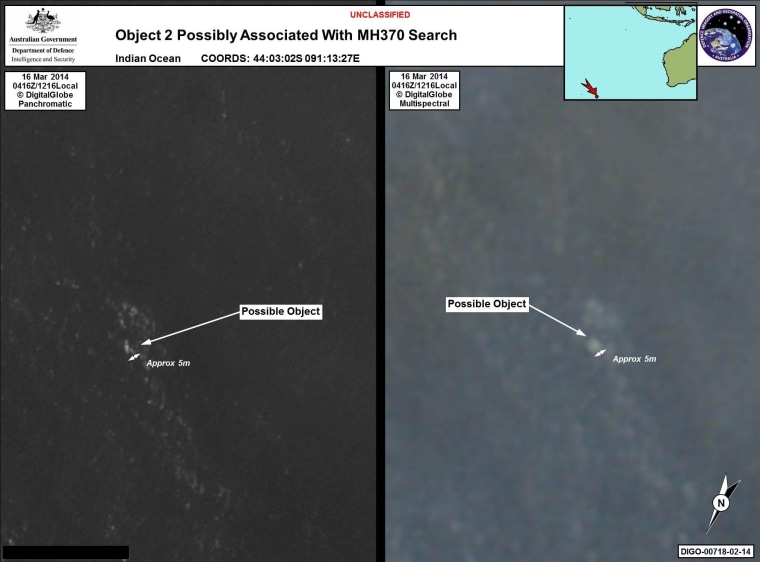 The objects are about 4,350 miles from the Boeing 777's last known location, over Penang, Malaysia. Much attention has focused on a region north of the Strait of Malacca, south of Phuket Island, Thailand, and west of the Malaysian peninsula.
Ziad Jaber, Alastair Jamieson Justin Kirschner and Sarah Burke of NBC News and The Associated Press contributed to this report.