The "towfish" sonar vehicle used in the search for missing Malaysia Airlines flight MH370 has been lost on the seabed after it crashed into an underwater volcano, officials said.
The device was being towed by the Fugro Discovery search vessel when it collided with a 7,400-foot mud volcano Sunday, the Joint Agency Coordination Centre (JACC) responsible for the search confirmed.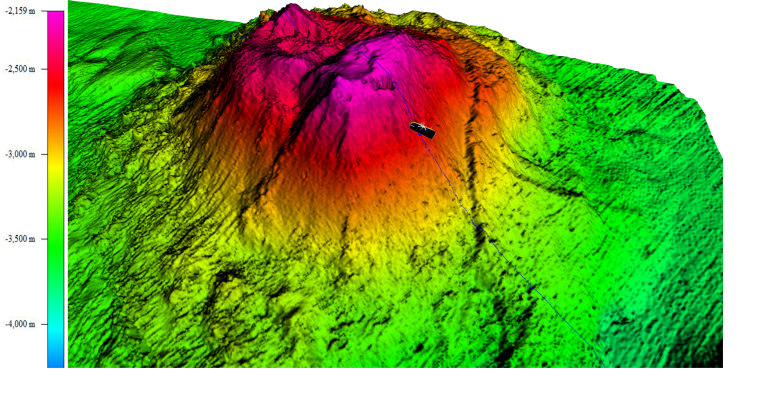 The towfish and 14,700 feet of cable broke free from the ship and are now resting on floor of the southern Indian Ocean.
"There were no injuries to crew and it is believed it will be possible to recover the towfish at a later date," the JACC said in a statement. A spare towfish is being readied.
It was the first of two setbacks this week in the hunt for the missing Boeing 777, which disappeared in March 2014 en route from Kuala Lumpur to Beijing with 239 people on board.
In a separate operational update Wednesday, the JACC said another ship involved in the mission, the Havila Harmony, sustained damage when a fish net bent its underwater communications pole.
The vessel is being repaired in a dry dock at the BAE Systems facility in Henderson, near Perth, Australia, and is expected to set sail again Thursday to restart searches on Feb. 2, the JACC said.
Just over 70 percent of the internationally-agreed 46,000 square mile search zone has been covered so far in the hunt for the missing airliner — an area of ocean floor larger than the state of South Carolina.
The operation is due to be completed by the middle of this year. The JACC says that if no "credible new information" about the jet's location emerges, the search will end.
The only piece of the plane found so far is a flaperon that that washed up July on the French island of Reunion, near Madagascar.
However, the sonar operation has turned up a 19th-century shipwreck.