More than 300 floating objects have been spotted close to the spot where investigators believe Malaysia Airlines Flight MH370 crashed, the owner of a Thai satellite said Thursday.
The objects were spotted by the Thaichote - or Thailand Earth Observation Satellite, the executive director of the Geo Informatics and Space Technology Development Agency (Gistda) told NBC News.
"Our satellites have located numerous amounts of floating objects at the area about 1700 miles southwest of Perth and those objects have been identified as real and not just a silhouette or fish or anything else," Anond Snidvongs said. "It's probably manmade but we cannot identify or confirm its origin."
He added: "The area is within the general area that we were notified to look in. There are 300 objects or even more. One of the satellites has seen about 175 square miles."
The images have been forwarded to Malaysian authorities for further analysis, according to Snidvongs.
Gistda is a state-owned company that reports to Thailand's defense ministry, a company representative told NBC News.
The company posted the images on its website, saying they had been taken on Monday - the day after a French satellite saw 122 potential objects floating in the southern Indian Ocean.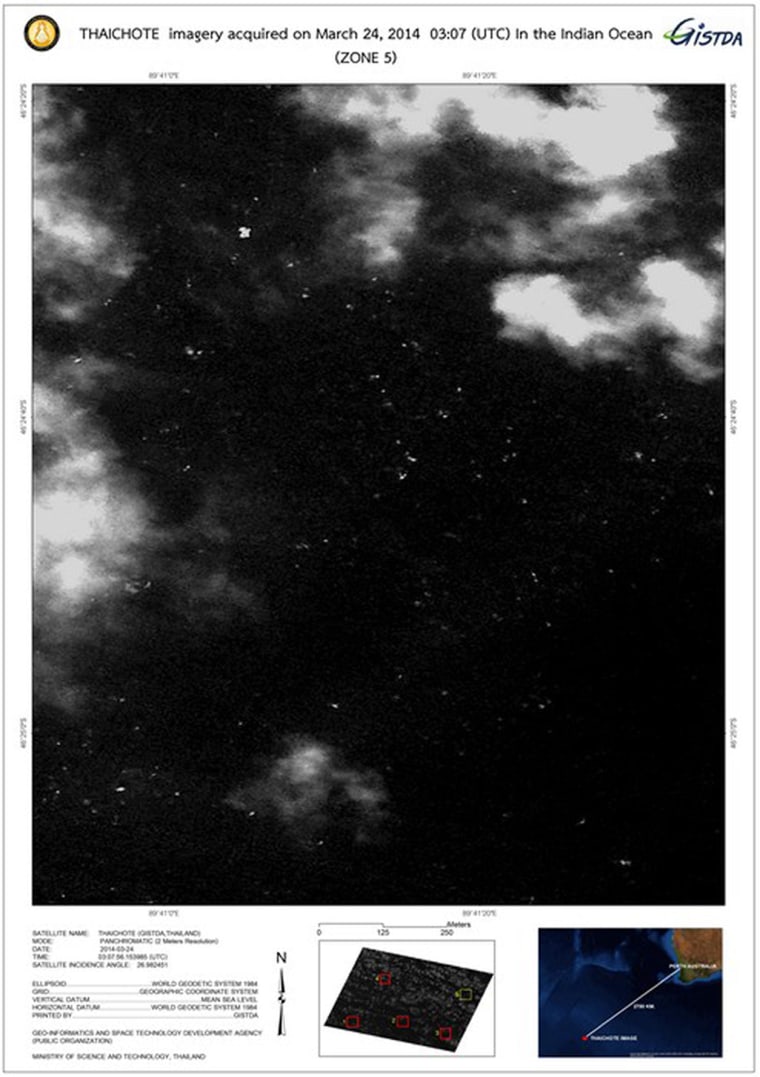 The images put the objects about 125 miles southwest of the suspected crash site, Snidvongs told the Straits Times.
The Australian Maritime Safety Authority, which is coordinating the international air and sea search of the southern Indian Ocean, referred questions about the images to Thailand.
There was no immediate word from Malaysian investigators, who earlier cancelled their daily news briefing in Kuala Lumpur.
Alastair Jamieson in London, Ziad Jaber in Perth and John Boxley in Kuala Lumpur contributed to this report.