Online scammers rarely let a big news event go by without trying to exploit it. The case of Malaysia Airlines Flight MH370, which disappeared more than a week ago and still has not been found, is no exception.
Fake news stories and videos about the vanished Boeing 777 are appearing on Facebook and Twitter. But anyone who clicks onto one to get new information about the missing passenger jet will likely be giving up some of their own personal information to scammers.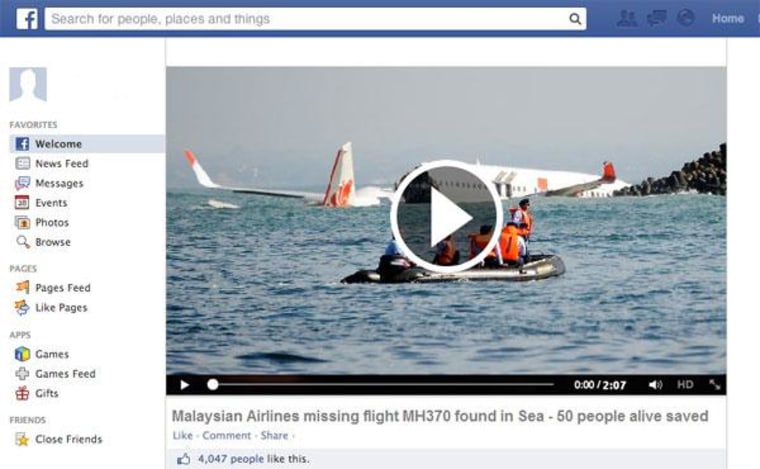 MORE: Best PC Antivirus Software 2014
"Video of Malaysia MH370 Plane found in Bermuda Triangle! Passengers alive! Breaking news video footage of this miracle just released on CNN!" promises one headline, found in both English and French, spotted on Facebook by independent security expert Graham Cluley.
"MH370 Malaysia plane has been found. Shocking videos released today. Last video of passengers crying released," reads the headline of another fake story found by Malwarebytes malware expert Chris "Paperghost" Boyd.
Boyd also saw spam tweets leading to a fake Facebook page entitled "Malaysian Airlines missing flight MH370 found in Sea – 50 people alive Saved."
The headlines are accompanied by photos of planes floating in water, but the images are of past events: the January 2009 "Miracle on the Hudson" water landing of a disabled US Airways Airbus A320 in New York City, and the April 2013 water landing of a Lion Air Boeing 737 that missed the runway in Bali, Indonesia. (Neither crash had any fatalities.)
In most cases, clicking on the links will take users out of Facebook to websites pretending to be YouTube, CNN, the BBC or Facebook itself. There, they'll find videos promising exclusive information claiming to solve the mystery of flight MH370.
But anyone who clicks on the videos will be disappointed. None of the videos play; instead, would-be viewers are asked to verify their ages, invited to fill out brief surveys (which makes the scammers some money), share the video with their Facebook friends (perpetuating the scam), or all three.
— Paul Wagenseil, Tom's Guide
This is a condensed version of a report from Tom's Guide. Read the full report.
Follow Paul Wagenseil at @snd_wagenseil. Follow Tom's Guide at @tomsguide, on Facebook and on Google+.