An air, land and sea search was launched around an island in the Indian Ocean on Thursday following the discovery of an airplane fragment deemed to be a "major lead" in the hunt for missing Flight MH370.
Beaches were being combed and boats were scouring the waters off Reunion Island as helicopters flew overhead the French territory, east of Madagascar off the southern tip of Africa.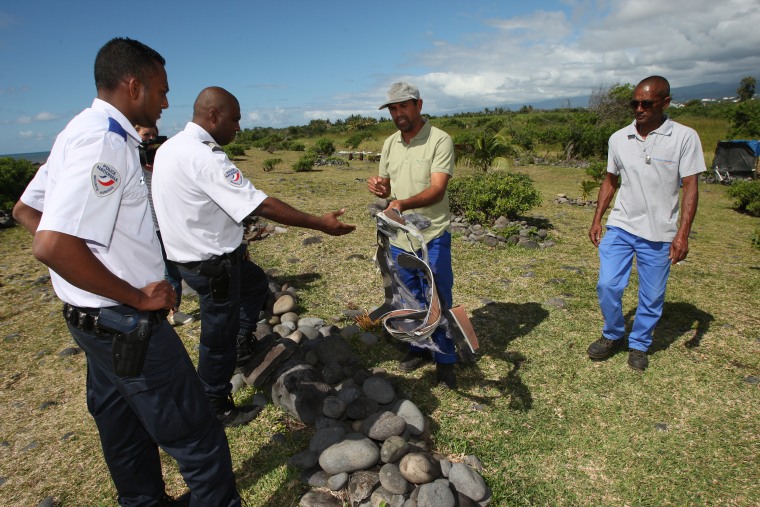 The barnacle-covered plane piece was found by a crew cleaning the coastline on Wednesday.
Boeing investigators have looked at photos of the fragment and say that they believe it is from one of their 777s, sources told NBC News. It appears to be a piece of a flap from a wing. There is only one such aircraft missing in the world right now — Malaysia Airlines Flight MH370.
Local media also reported Thursday that the remains of a suitcase had also been found in the same area where the debris was recovered. Officials did not immediately comment on the reports.
"This is obviously a very significant development," Australian Deputy Prime Minister Warren Truss told a news conference in Sydney early Thursday.
Truss said a "piece of debris could've floated a long, long way in 16 months" — the period since the Malaysia Airlines jet vanished.
"It's the first real evidence that there is a possibility that a part of the aircraft may have been found. It's too early to make that judgment, but clearly we are treating this as a major lead," the deputy prime minister said. "It is credible that wreckage from the search area could've reached Reunion Island."
The plane wreckage is roughly 6.5 feet to 8 feet in length, according to photographs. It appeared fairly intact and did not have visible burn marks or signs of impact.
Truss told reporters that a number stamped on the piece of debris would help to identify it.
Related: Relatives in Agony Over Debris Find
BEA, the French counterpart to the National Transportation Safety Board, said that it could not officially confirm yet that the fragment was from a Boeing 777.
However, Malaysia's Prime Minister Najib Razak said Thursday that the plane debris was "very likely" from a Boeing 777.
"The location is consistent with the drift analysis provided to the Malaysian investigation team, which showed a route from the southern Indian Ocean to Africa," Najib said in a statement.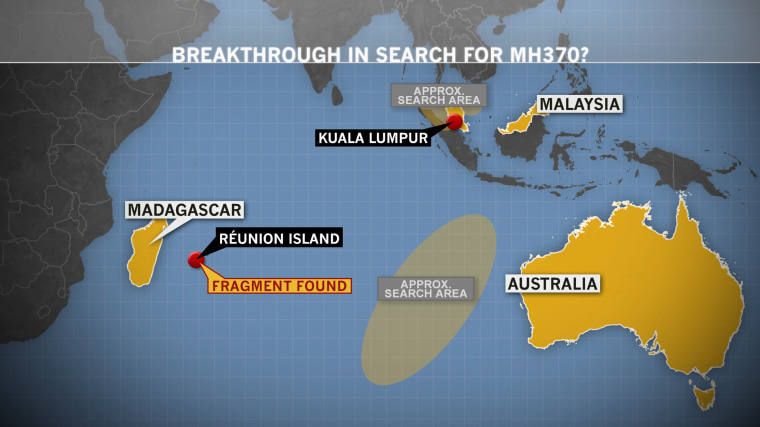 He said the fragment would be shipped to Toulouse where French authorities would determine whether it came from MH370.
Earlier, Malaysia's deputy transport minister told Reuters it would take about two days to verify if the piece was from the missing jet.
MH370 was carrying 239 people when it disappeared about an hour into its journey from Kuala Lumpur, Malaysia, to Beijing, China, on March 8 last year.
Search efforts led by Australia have focused on a broad expanse of the southern Indian Ocean off Australia, roughly 2,300 miles from Reunion Island.
Related: How Currents Could've Carried Wreckage to Reunion
Professor Charitha Pattiaratchi, of the University of Western Australia Oceans Institute, told APTN that finding a piece of the debris on Reunion was "entirely consistent with current patterns in the Southern Indian Ocean to be originated from the area that they're doing the current search for the wreckage."
He added: "It would not surprise me if more debris will be washing up in that part of the region in the coming weeks."
In an earlier briefing with reporters, Truss said that the development could finally provide answers for relatives of those aboard the jetliner — including Sarah Bajc, the girlfriend of missing Texan Philip Wood.
"If the wreckage is identified, what that does is give some degree of closure to the families who are waiting for information," he said. "If it can be established beyond doubt that the aircraft has gone into the water then that helps people to understand what happened."