BEIJING - Relatives of Chinese passengers on board missing Flight 370 accused Malaysian authorities of withholding information about the investigation Friday as the search entered its third week.
"I still believe they are continuing to hide crucial information," said a man in his 40s who gave his family name as Yang.
The accusation came despite the arrival in Beijing of a delegation - including high-ranking officials from Malaysian Prime Minister's office – aimed at reassuring the families that everything was being done to find their loved ones.
The officials met with a committee of family members that had been formed in order to press for more help and information.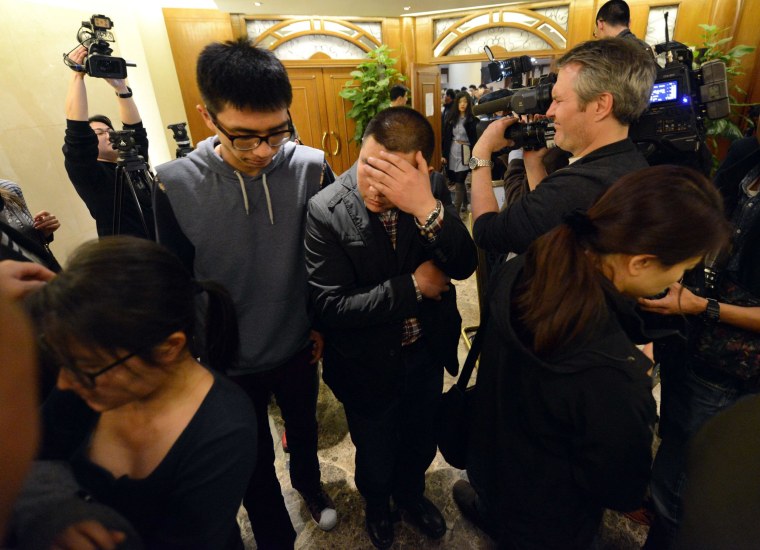 Wang said the delegation had shown "greater sincerity" compared to previous officials, but said it had still not met their "fundamental demand for all-out effort in search and rescue and disclosing the real truth."
"I am not satisfied," he said.
An elderly man from Baoding, in Hebei province, was walking his 1-year-old grandson at the lobby of the hotel where the meeting took place.
The man, who gave his family name as Bian, said that his 27-year-old son, who worked in Singapore, was among the missing passengers.
Bian said that the family had been calling the missing man's cell phone every day and that it was ringing but no one was answering. He believes that the missing passengers are being held hostage somewhere.
He also said the Malaysian delegation had simply repeated "old tunes." He added, "there is nothing new in what they are saying."
Lin Mang contributed to this report.